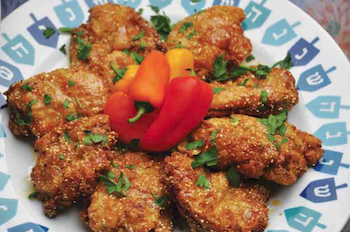 My son and I spend a lot of time in the car. Between 7 am and 7 pm I may drive 20-30 miles while schlepping him to and from his various commitments. I don't complain because I know soon he'll be driving himself, and we'll never see him!
My son is quite an accomplished musician, and recently he has become obsessed with vinyl records and classic rock. He is infatuated with the "Classic Vinyl" station on my car's satellite radio, where he listens to vintage artists like Led Zeppelin, Jimi Hendrix and Aerosmith. At the risk of sounding "long in the tooth," this is the music of my youth, and I am well acquainted with the time-honored tunes of this era. While music now is being produced digitally and downloaded instead of pressed onto vinyl and sold in a record store, today's music undeniably borrows many cues from those classics. Food trends are not dissimilar.
While music is composed of notes on a scale and textural sounds, food likewise
comprises flavor notes and textures. The classics may change with time, but the enjoyment of these definitive foods remains the same. Today's talented chefs have the ability to amplify their entrees with their own updated flavors and styles. Some of the hottest restaurants in town are featuring classics such as deviled eggs, fried chicken, meatloaf, house-pickled vegetables and green goddess dressing. Sandwiches, soups, salads, hamburgers, and even macaroni and cheese are showing up on popular restaurant menus updated with unexpected additions and creative changes.
Yesterday's upscale restaurants with white tablecloths and suited waiters are being replaced with casual, sometimes communal seating and ornately tattooed waitstaff serving family-style entrees that encourage shared dining. In open kitchens, chefs force steel to fire in front of diners in an elaborate performance instead of behind closed swinging doors. These innovative chefs collect notes from the classics and update them to reflect the trends of today, resulting in familiar food with deliciously modern pizzazz.
According to the National Restaurant Association's website, the five items that rank highest as waning trends in 2014 are foam/froth/air (thank goodness), bacon-flavored chocolate, fish offal, gazpacho and fun-shaped children's items. Conversely, the five items with the highest points as trends for next year are fried chicken, Italian cuisine, frying, barbecue and Eggs Benedict … all classics.
With Hanukkah right around the corner, I chose to put a spin on traditional fried chicken. I use boneless thighs because I think thighs are the tastiest part of the bird. Brining the meat pumps up moisture and flavor, insuring a perfect result. Dredging the thighs in a combination of flour, cornmeal and cornstarch adds a perfectly delicate crust. A salad of sweet melon, shaved fennel, julienned apple and briny olives becomes an updated accompaniment. It's tossed in a tangy citrus dressing that cuts through the rich fattiness of the chicken. Add your favorite latkes for an up-to-date spin on a classic Hannukah dinner.
Pan-Fried Crispy Chicken Thighs ——
8-10 boneless skinless chicken thighs (about 2 pounds)
1-2 cups vegetable oil
FOR THE BRINE:
1 cup water
1⁄4 cup brown sugar
2 bay leaves
1⁄2 cup dill pickle juice (right from the jar)
Place brine ingredients in a small saucepan and bring to a boil. Boil for 5 minutes and place in a bowl deep enough to hold chicken. Add 2 cups of ice to chill mixture. Add chicken thighs and cover. Chill for 12-24 hours.
SPICE MIXTURE:
2 teaspoons fennel seeds
1 teaspoon celery seeds
1 teaspoon whole black peppercorns
2 tablespoons seafood seasoning (such as Old Bay)
2 teaspoons sweet paprika
2 teaspoons kosher salt
1 teaspoon white pepper
1 teaspoon garlic powder
1 teaspoon onion powder
1 teaspoon ground mustard
Place fennel seeds, celery seeds and black pepper in a small dry skillet and toast until fragrant. Grind in a spice grinder and add to remaining ingredients in a small bowl. This will make more than you will need for recipe. Store remaining spice mixture in an airtight container for later use.
FOR COATING:
1 cup all-purpose flour
1⁄4 cup cornmeal
2 tablespoons cornstarch
2 tablespoons spice mixture
1⁄4 cup honey
A few shots of hot pepper sauce (such as Tabasco)
Heat oil to 375 degrees in a large frying pan. Oil should measure about 1 inch deep. Preheat oven to 350 degrees. Place coating mixture on a piece of aluminum foil and mix well with hands. Remove chicken pieces from brine and dry slightly with paper towel. Dredge chicken pieces in coating mixture, making sure to cover chicken pieces completely. Fry in hot oil until browned, in batches if necessary, about 3-4 minutes per side. Place on a baking sheet with a wire rack and continue to cook chicken in oven for additional 20-30 minutes. Place honey in a small saucepan and heat until boiling. Add hot sauce and remove from heat. When chicken is done, remove to serving platter and drizzle with honey hot sauce.
Sweet Melon, Fennel, Apple and Olive Salad —–
1⁄2 ripe melon (cantaloupe or honeydew) peeled, seeded and sliced as thinly as possible.
1 bulb fennel sliced in half, cored and thinly sliced
2 apples julienned on a mandoline or sliced thin
1 cup mild bright green olives such as castelvetrano, preferably pitted
DRESSING:
Juice and rind of 1 small orange
Juice of 1⁄2 lemon
1 teaspoon honey
Salt and freshly ground pepper
1⁄4 cup olive oil
Place melon, fennel, apples and olives in a bowl. Whisk orange juice and rind, lemon juice, honey, salt and pepper in a small bowl. Slowly whisk in olive oil. Taste and adjust seasoning. Toss vinaigrette with salad and serve immediately.
Lisa Glickman is a private chef and teacher who lives in Portland. She has made TV appearances on COTV in Central Oregon and appeared on the Cooking
Channel's "The Perfect Three." She can be reached at lisa@ lisaglickman.com.