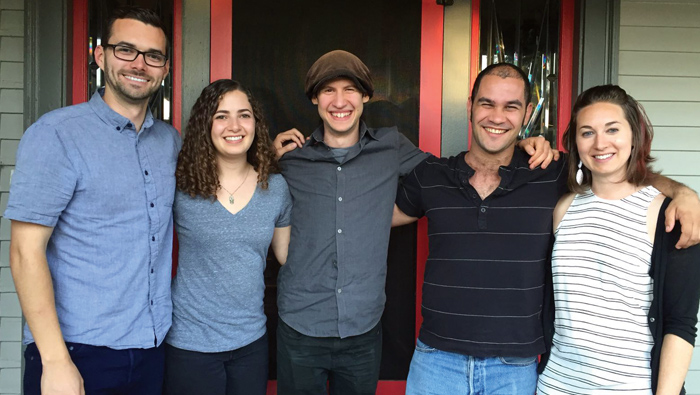 Portland Moishe House has gained two new residents and a new contingent of young adults to help create Jewish community for their peers.
Portland Moishe House is one of 89 Moishe Houses in 21 countries designed to help young, innovative Jews create their vision of an ideal Jewish communal space. House residents plan and host events for other young adults.
Shayna Sigman moved into the Portland house in June. Originally from Los Angeles, she moved to Oregon in 2009 to attend Willamette University. After graduation she became connected with Portland's Jewish community and attended many Moishe House events. Most recently she was in St. Louis, MO, where she completed a master's in social work at Washington University in St. Louis. She is excited to be back in Oregon and looks forward to exploring Portland's nonprofit community.
Alexander Friedman moved into the house in August. He grew up in the Bay Area in California before attending the University of Oregon and graduating in 2012 with a BA in history. He first became involved in the Jewish community after college, with the East Bay Moishe House in Berkeley, CA. In August 2015, after teaching English for a year in Be'er Sheva, Israel, he hung up his travel pack and settled in Portland with plans to build a home, join a community and start a career in real estate. He looks forward to better serving Portland's young adult community.
Moishe House Without Walls empowers young adults to build Jewish community as they envision it by planning and hosting programs. Participants, who were required to attend an Aug. 25 training, receive support to host up to two events a month.
Thanks to a grant from the Jewish Federation of Greater Portland, the local MHWOW is open to any Portlander 22 to 32 years old. In the past it was only available for Moishe House resident alumni and Moishe House retreat participants. About 20 young adults signed up for the MHWOW training and are eligible to receive subsidies to host events for their peers.
For information about September events and High Holiday events, check the calendar at:
moishehouse.org/houses/portland or visit facebook.com/groups/Moishehouseportland/
You can contact Shayna and Alex at shayna.moishepdx@gmail.com and alex.moishepdx@gmail.com.