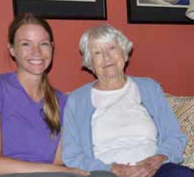 Helen Goldhammer was living alone in her Hillsdale condominium, doing just fine, says her daughter Carol Levy. Last July, though, Helen had a mild stroke and moved to the Robison Jewish Health Center for rehabilitation. She had a room of her own and, Carol says, "a team of very caring people" who helped helen recover well enough to the point where she was finally told that, even though she couldn't do much on her own, she could live at home.
"Mom has always valued her household time and her independence," says Carol. "She figured if she needed full-time care, and we would be providing it wherever she lived anyway, she could choose to be back at home." Today Helen is still frail and needs a lot of help with personal services, but she has improved a great deal over the last year.
The key to her health and safety is the 24/7 care she gets from Sinai Family home Services. Started in 2008 with the support of Jewish Family and Child Services and Cedar Sinai Park, the nonprofit took a couple of years to establish its reputation in the community, according to Executive Director Jack Honey. today they are very busy, offering three levels of care ranging from homemaker/companion services to complex care with nurse oversight.
Jack believes the reason for their growth is that they take the approach of "client-centered services." Carol Levy would agree. "Mom's caregivers are competent, but they also make an attempt to be good companions to her. They go with her everywhere, so it's good that they are integrated into the family."
Helen Goldhammer is 98.
David Molko is a senior outreach therapist and counselor at JFCS in Portland, and he says times are changing. Seniors are living longer, which is great, he says. However, that presents issues:
"A lot of folks run through their money and can't maintain their lifestyle. There can be tension between parents and adult children who, more often than not, are still dealing with the complexities of raising their own families. From a medical standpoint, we've done a good job of enhancing age. We've come up with fabulous drugs and other ways of extending life. I'm not sure we've always addressed the psychological and emotional needs of people living into their 90s and older. We haven't had to before. Our elders are now living with chronic diseases as they live longer… that raise the conflicting issue: living longer versus quality of life."
Helen Goldhammer's story is familiar to him: At JFCS, David works with the whole family – in one or two sessions or even over years – to get a road map for the future, a plan they can all agree on that makes the transition into the older years easier for all involved. And in increasing numbers, people are not moving into facilities. They are staying at home if at all possible, for as long as possible. hence, the explosion of home health and other services.
JFCS Executive Director Marian Fenimore is optimistic about some of the innovation and collaboration that can keep people at home, keep them healthier and cut costs at the same time. Governor Kitzhaber, for example, has put together reforms that allow Medicaid to pay for additional services to enable people to get what they need so they don't have to get so desperately sick. Experts across the state agree there will always be a need for residential care for seniors, but that the emphasis has changed. We need to encompass a continuum of care that includes a new model of residential care, but with increased emphasis on housing with services and on services provided in private homes. Kimberly Fuson was recently named chief operating officer of CSP, the Portland organization whose programs run the gamut from adult day services to assisted living to nursing care at the Robison Jewish health Center. She says the most important services for seniors are quickly becoming home care and inpatient or outpatient physical, occupational and speech therapy.
"Nursing homes and the rest of long-term care is going through a significant change: most people want to be home first, and at all costs. this means that, while nursing homes once provided a lot of palliative long-term care, they will now be primarily focused on short-term rehabilitation," Kimberly says.
"We are making the difficult decisions so that we can meet the changing needs of the Jewish community. People will need an excellent place to stay, and we want to be that place, recognizing that a growing percentage of today's and tomorrow's residents will be here short term and then will go back home."
Sinai Family Home Services, Adult Day Services and outpatient rehabilitation are all in place. "We are looking at enhancing our community-based services and exploring options like private case management, Jewish meals on wheels, a Jewish health and wellness center. All smart ideas are on the table," Kimberly believes.
Kimberly also envisions a system where, once you use Cedar Sinai Park in any context, you are "in" and can access the various CSP and even community services as you need them, where you need them and seamlessly.
"Maybe the story is about people," Kimberly says, "Not about walls. How do you take care of people where they want to be?"
Carol Brooker-Bardner is RN administrator and president of two Roseburg companies that grew out of people's desire to stay at home. the first is home helpers, which she and her husband opened in 2009. It provides comprehensive in-home care. Carol says they now have 100 clients and 95 caregivers; they provide 2,000 hours of service a week in individual homes.
The second business is Ralph & Millie's Adult Day Retreat, and it is the only one of its kind in Roseburg. Similar to CSP's Adult Day Services, it is an interactive daily community for people with dementia and other mental acuity issues. With mental activities, physical exercise and occupational therapy, it is, she says, "a safe place to bring your loved ones so you can take a breath."
"People want to live at home and their children are listening," Carol says. "But we talk with kids who worry their parents aren't safe. We check that the burners are off." In her crystal ball, she sees in-home and foster care "exploding."
"We know from studies that people live eight to nine years longer when they're in their own home rather than in nursing care. If people make a choice to go to an independent living facility, they're fine. But then they end up needing assisted living. We can actually go into the independent living facility, and they like it because that's their home now."
According to a recent survey, 80% of adults 65 and older want to remain in their current residence "as long as possible." (Aging in Place: A State Survey of Livability Policies and Practices; AARP Livable Communities, Sept. 4, 2012.) this summer, the Jewish Federation of Greater Portland helped distribute a survey by David, hibbits & Midghall, Inc., a communications and market research firm, commissioned by Cedar Sinai Park. Respondents included 650 people, 291 from the Jewish community, answering a range of questions about what is important to them as they think about various elements of senior care. The full report is not yet available, but CSP CEO David Fuks says it will help to confirm and shape their plans for growth.
"We do know already that there is strong loyalty from the Jewish community to Robison and Cedar Sinai Park as a health care asset," David says. People have a strong preference for private rooms, and the agency is already moving in that direction as it builds and remodels. And, he says, people have a strong interest in home care and community-based services, some of which CSP has, and others that they are interested
in developing.
"We envision a significant increase in our ability to provide post- hospitalization rehabilitation care that will enable people to return home," David adds. "And there they will have home care that will enable them to stay there as long as possible."
Not everybody, however, can choose to stay home. Depending on the person's condition, it can be a lot of work to take care of somebody, points out Dr. Mark Rosenbaum, program director, Internal Medicine Residency at Providence Portland. Finding the "right" caregiver, or combination of caregivers, can be difficult. And, he says, the cost of home care can be prohibitive.
"It is cheaper to provide care at home, but Medicare doesn't pay for it," Mark says. If it is out of pocket, that pocket can empty pretty quickly. In addition, at-home care isn't everybody's preference, even if they can afford it.
"I always said I'd stay in my home if I could," says Portland resident Rosalie Goodman. "But now I don't think so. I like people. I want to be around people. I'd probably go to the Rose Schnitzer Manor. And, if I needed more care and eventually ended up at Robison, I'd have no qualms about it."
Carol Brooker-Bardner of Roseburg had no home option for her own mother years ago. they moved her mom into a facility against her will at age 80. She wanted to go home, but Carol and her siblings had to insist. "It was a beautiful facility," Carol remembers, "but Mom was gone in less than three months."
"that was the impetus for us to get into this business," Carol says. "We want people to have a choice. the loss of dignity, the loss of grounding… . My mom said, 'the things that are important to me are gone.' I said, 'It's just stuff, Mom.' I didn't understand. that was her stuff, the stuff of memories, the stuff that held her on the Earth."
Liz Rabiner Lippoff is a Portland freelance writer and a marketing and PR consultant specializing in medical marketing. She serves on the boards of Cedar Sinai Park and Project Access NOW. LizRL@rabiner.com or LizInk.biz.