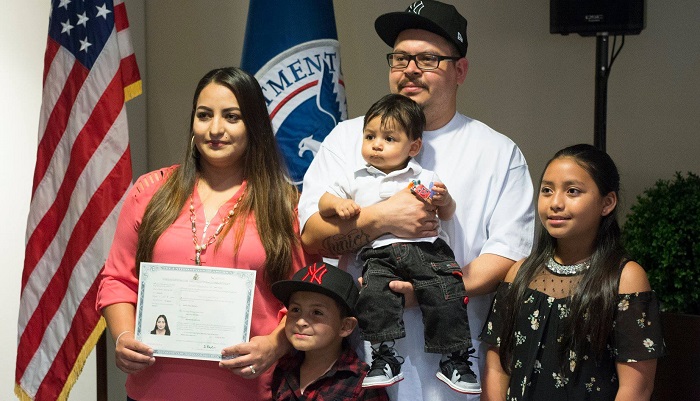 PHOTOS: New U.S. citizens, family and friends celebrate after a naturalization ceremony held at the Oregon Jewish Museum and Center for Holocaust Education. Photos by Paige Stoyer of The Immigrant Story
The Oregon Jewish Museum and Center for Holocaust Education was the perfect setting for somber and joyous celebration on June 20 as the U.S. Citizenship and Immigration Services Portland Field Office conducted a naturalization ceremony to highlight World Refugee Day.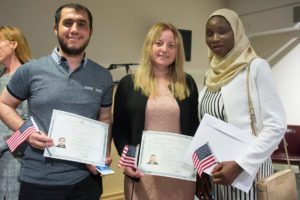 The naturalization ceremony at OJMCHE welcomed eight new citizens from Gambia, El Salvador, Ukraine, Mexico, Iraq, Bangladesh and Moldova. World Refugee Day acknowledges the courage and fortitude of those forced to flee their home nations due to threat of persecution. The day also brings attention to the approximately 14 million refugees throughout the world.
"We were honored to host the event and to welcome these new citizens to our community," says OJMCHE Director Judy Margles. "The event had many poignant and beautiful moments and brought delight to all of us in the room."
The event is followed by a reception for the new citizens and their friends and family. OJMCHE board, staff, community members, family and friends celebrated together.
"Whatever celebratory emotions we felt at the ceremony, however, were accompanied by the deafening roar of current news regarding the current administration's immigration policy," says Judy. "We are worried sick about the future of our country. The policy to force children to be separated from their parents at the U.S-Mexico border defiles American ideals of democratic values and basic human decency."
Later that day, President Trump signed an executive order to stop separating families, though plans to reunite children with their parents are uncertain. The order calls for detaining families at the same location, with some officials predicting military bases might be used to house up to 20,000 detained families.
"Have we forgotten the words of Emma Lazarus inscribed at the base of the Statue of Liberty that call upon us to protect 'the huddled masses yearning to breathe free'?" Judy asks.
World Refugee Day was established in 2000 by the United Nations General Assembly. On this day United Nations, United Nations Refugee Agency and countless civic groups around the world host World Refugee Day events in order to draw the public's attention to the millions of refugees and internally displaced persons worldwide who have been forced to flee their homes due to war, conflict and persecution.
"American Jews comprise a community deeply connected to the immigrant story," says Judy. "This history encourages us to shed light on the path that brought us here, for those who come after us."
The ceremony included remarks from Sankar Raman, publisher and president of the board of The Immigrant Story, a nonprofit that he founded in order to provide a platform for immigrant voices through photography and immigrant stories. OJMCHE is currently displaying photographs from the Immigrant Story series "Who We Are," an exhibit honoring Muslim women in our community. The Immigrant Story is a volunteer-led nonprofit organization based in Portland that documents and archives stories of immigrants.
"At OJMCHE we seek stories that humanize the collective themes of assimilation and acculturation; citizenship and belonging; values and social differences; social justice; and the varied reinventions of individual, national and cultural identity," says Judy. "The lessons are universal: the experiences of assimilation, cultural retention and transmission faced by 21st century immigrants to Oregon recapitulate the experiences that Jewish immigrants faced 100 years ago, just as they parallel such experiences around the globe today."