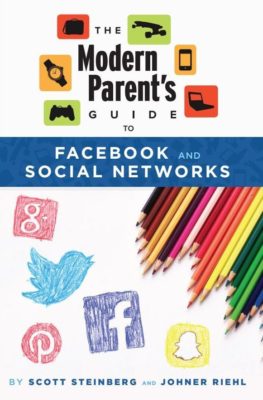 How can you keep children safe on social networks like Facebook, Instagram, Snapchat and Twitter, and protect their privacy on online apps? At what age should kids be allowed on these services? And what's the best way to monitor their social media activity – as well as address any concerns that may come up?
You'll find answers to these questions and more in new book The Modern Parent's Guide To Facebook And Social Networks (AKeynoteSpeaker.com/Parents) – the ultimate guide to navigating today's fast-moving social media landscape and keeping kids safe on the Internet – released Aug. 22 from bestselling keynote speaker and trends expert Scott Steinberg. Providing the answers that parents and teachers need to know to teach responsible social media habits, protect children's privacy, and make social networks a more positive part of household and classroom life, The Modern Parent's Guide To Facebook And Social Networks offers crucial insights for equipping kids with all the tools that they to succeed in a connected world.
Designed to help kids and parents stay ahead of fast-changing online apps and services, the book provides a vital resource for managing the use of high-tech devices and navigating today's rapidly-evolving social media landscape. Important questions you'll find answered inside include:
     How can you keep kids safe on social networks?
•       Which types of information are OK to share on the Internet?
•       What's the best way to handle online and high-tech threats?
•       How can you teach responsible online habits?
•       What can you do to manage your family's online reputation?
Want to keep your family safe? Know who your kids are connecting with? Teach positive online habits? Then The Modern Parent's Guide To Facebook And Social Networks will help any adult raising children in the digital and online age.
Recently named the Master of Innovation by Fortune magazine, award-winning professional speaker Scott Steinberg is among today's top trends experts and futurists, as seen in 600+ outlets from CNN to Time and The Wall St. Journal. The bestselling author of Make Change Work for You: 10 Ways to Future-Proof Yourself, Fearlessly Innovate, and Succeed Despite Uncertainty and Millennial Marketing: Bridging the Generation Gap, he heads management consulting and market research firm TechSavvy Global, which helps clients identify and adapt to emerging trends. A top-rated keynote speaker and the host of Next Up on NewsWatch, he provides presentations and training workshops at events, meetings and conferences.