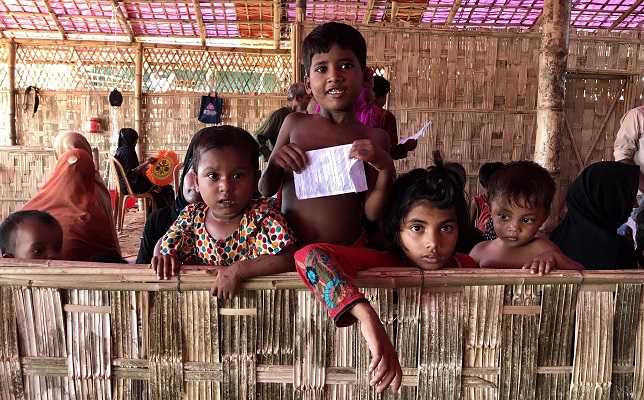 PHOTO: Rohingya children in a shelter at the refugee camp in Bangladesh. Photo by Aerlyn Pfeil
Speaking out for refugees
For more than a decade, a small group of committed volunteers motivated by the rallying cry "Never Again" have met each month to help Portlanders respond to genocide and other crimes against humanity.
Founded by Lauren Fortgang, 38, and Diane Koosed, who will soon be moving to Wisconsin, the Never Again Coalition initially drew members from the social action committees of three congregations (Kol Shalom, Neveh Shalom and Beth Israel) supporting refugees from the genocide in Darfur. Since then, people from most synagogues in town have participated in the effort. Dale Oller, 69, has been active in the group since it began. She was instrumental in expanding the group's focus to aid victims of two other conflicts – in the Congo and most recently Rohingya refugees fleeing ethnic cleansing in Myanmar.
"We are volunteer based and don't want to take too much on," says Lauren. "Dale was a big advocate that we need to take on this (Rohingya crisis). It was unanimous (to do so)."
The core group of 10 to 12 volunteers is augmented by about 65 subscribers to the Postcard Brigade and nearly 400 recipients of their email action alerts. Each month the Never Again Coalition sends Postcard Brigade subscribers several pre-addressed and pre-stamped postcards with timely messages for leaders who can make a difference. By signing and mailing the postcards, subscribers easily speak up on behalf of those suffering through genocide and human rights atrocities in Sudan, South Sudan, the Democratic Republic of Congo and, now, Myanmar.
"That makes an impact we are told," says Dale of the postcards sent to congressional representatives.
"It's shocking, amazing how little people know (about the Rohingya refugees) – even people who read the paper regularly," says Lauren, who serves as policy director of the coalition.
"I've had people ask me, 'Who are these people?' " says Dale. "Awareness is just on the cusp. We've known since the New York Times and (NYT columnist and Oregon native) Nicholas Kristof alerted us."
Dale has saved a quote from Kristoff's Dec. 15 column on her phone. For that column, Kristoff interviewed Noor Kalima, a 10-year-old Rohingyan in a refugee camp, who told him about seeing her father and little brother shot dead, her baby sister's and infant brother's throats cut, the machete coming down on her own head, her hut burning around her.
"It's tempting to say: That's terrible, but it's not our problem," starts the quote Dale has saved to remind her why the coalition's work is so important. "But Noor's plight, like Anne Frank's in the 1940s, should prick the global conscience, for one lesson of history is this: Crimes against humanity are an offense against all humanity and require a response from all of us."
So when Portland midwife Aerlyn Pfeil returned from a two-month stint with Doctors Without Borders/Médecins Sans Frontières at the Rohingya refugee camps in Bangladesh, Lauren and Dale met with her and Yusaf Iqbal, a Rohingyan who has lived in Portland since 2005.
"We were brainstorming ways to raise awareness," says Lauren.
Never Again Coalition helped plan a Jan. 29 program at the Oregon Jewish Museum and Center for Holocaust Education and hope to host additional speaking engagements. The Jan. 29 program featured Yusaf and Rabbi Joshua Rose, Rabbi Debra Kolodny, and Amanda Byron from PSU's Holocaust and Genocide Studies Project.
"Yusaf and Aerlyn can stand up and say why this is important … they can share experiences," says Lauren, adding that is more impactful than "just Dale and I who care."
Lauren, Dale, Yusaf and one or two other members of Portland's Rohingya community plan to travel to Washington, D.C., Feb. 10-12 for the Lemkin Summit to End Genocide and Mass Atrocities, presented by the Enough Project and Jewish World Watch, two of the national organizations the Never Again Coalition works with. Portland has a Rohingya community of about 800 to 1,000 people, one of the largest in the United States. Yusaf is the founder of Americans for Rohingya (afrusa.org), which provides information about the crisis and ways to help.
Dale, a psychiatrist specializing in women's issues, recently completed OHSU's Global Health Medicine Course; she then intended to go to Chad to work with the Darfur refugees in camps. Dale's curriculum for educators working with traumatized children is used in the camps by The Little Ripples program of iACT, another program the coalition supports.
But when Dale heard of the trauma Rohingya women and children have suffered, she shifted her focus to go to Bangladesh first, where she sees "the makings of a true mental health crisis."
"I'm looking into NGOS (nongovernmental organizations) active in the area to see about going," she says.
"Women want to tell their stories so the world can hear and they can start to grieve" says Dale.
"Our biggest drive and motivation is family history and Jewish history of connection to the Holocaust and to really mean Never Again," says Lauren. "There can be compassion fatigue, but when you look at Darfur and people who cannot go home, we cannot let go."
"I have two young children and see everything they have because of chance and being born here," says Lauren. "There is no reason other children born anywhere else should not have the same opportunities. I would not be comfortable raising my kids without helping others."
So the volunteers of the Never Again Coalition meet every month and look for ways they can help.
"We are a tenacious group," says Dale.
 neveragaincoalition.org
An eyewitness account of the Rohingya crisis
Portland midwife Aerlyn Pfeil spent two months in a Rohingya refugee camp in Bangladesh setting up services for women victims of sexual violence. She worked with six of the 17 clinics in the camp operated by Doctors Without Borders/Médecins Sans Frontières.
"The camp is like a frickin' ocean of people," says Aerlyn, adding that in January the 3-square-mile camp held roughly 800,000 refugees. "This isn't flat land with rows of tents. This is like post-earthquake Haiti on mountains. People come in with broken bones from climbing up wet sandy hills to get to their shelters."
The Rohingya minority in Myanmar was stripped of their rights in 1982. Aerlyn says this is the 10th influx of refugees from Myanmar and by far the largest.
She says a "very conservative" mortality report estimates that 6,700 people were killed from violence in Myanmar from Aug. 25 to Sept. 24, 2017.
"The influx (to refugee camps) has not slowed, nor have reports of violence," says Aerlyn. She adds that she heard reports of men being pulled out of huts and shot, women raped and huts set on fire.
"We were seeing 10 to 15 rape survivors a week, about half under age 18," she says. "Women in most cultures feel ashamed of being assaulted, regardless of who the perpetrator is. … I'm sure what we saw in the hospital was a fraction (of the victims)."
She also walked through the camp telling women about the services provided at the clinics and listening to their horrific stories.
"If women aren't given a voice, there is no healing," she says.
While termination of pregnancy is illegal in Bangladesh, Aerlyn says that "menstrual regulation" is permitted for nine weeks post-rape.
"The world has been silent," Aerlyn says, adding "No one is acknowledging the crisis, there is no refugee status, they can't apply for asylum."
Lauren Fortgang, policy director of Portland's Never Again Coalition, adds "With no sense of hope, how can someone recover."
Aerlyn says without adequate shelter, water, latrines and other basics, survivors "have no room to grieve and no room to get angry.
"When there's no one to hear you screaming in the dark, how can you heal?" Aerlyn asks.
UPCOMING EVENTS
Fifth Annual Chocolate for Congo
The Never Again Coalition is co-sponsoring the fifth annual Chocolate for Congo in participating restaurants and bakeries throughout Portland during February. Do a little good while indulging in some of the tastiest desserts in town.
Thirteen Portland restaurants and bakeries will serve up chocolate desserts made with Theo Chocolate, with $1 from each dessert sold going to the Eastern Congo Initiative, a nonprofit working on grant-making and advocacy with and for the people of eastern Congo. Theo Chocolate, which now sources more than 70% of its chocolate from Congo, has donated the chocolate for the benefit.
Participating restaurants and bakeries are Baker & Spice, Bar Avignon, Bistro Agnes, Coquine, Le Pigeon, Little Bird Bistro, Måurice, Oui! Wine Bar + Restaurant, Ox, Pacific Pie, Tusk and Quaintrelle.
The eastern Democratic Republic of Congo has been plagued by violence for far too long. The mining of "conflict minerals" (tin, tantalum, tungsten and gold – also known as 3TG) has been fueling armed militias in the Democratic Republic of Congo. Demanding that companies source minerals through a transparent supply chain can help bring peace to Congo. Through their partnership, Theo Chocolate and the Eastern Congo Initiative are making a real difference in the lives of the Congolese people. Theo's cocoa sourced from Congo now supports more than 4,500 farmers and some 32,800 family members. Since Theo has supported a new maternal health initiative, there have been no maternal or newborn deaths in these farming communities.
neveragaincoalition.org/chocolate-for-congo
Screening of "Desert Wounds"
Time 2 pm, March 11, at OJMCHE
With an international refugee crisis afflicting the entire globe, Desert Wounds follows the specific journeys of two women from Sudan and Eritrea who are fleeing war, dictatorship and religious persecution in their countries. Over a five-year period, they seek asylum in Israel, later in Uganda, attempting to build new lives while still remaining under the constant threat of deportation.
Screening of "Stand Up: Lessons from the Holocaust"
Noon-1 pm, April 10, at OJMCHE
Brown Bag Lunch: The Never Again Coalition will present the premiere of their short documentary featuring interviews with Holocaust survivors speaking about their experiences during the Holocaust and how to stand up against persecution today. Questions for the interviews were submitted by students in the Portland metro area.
Free