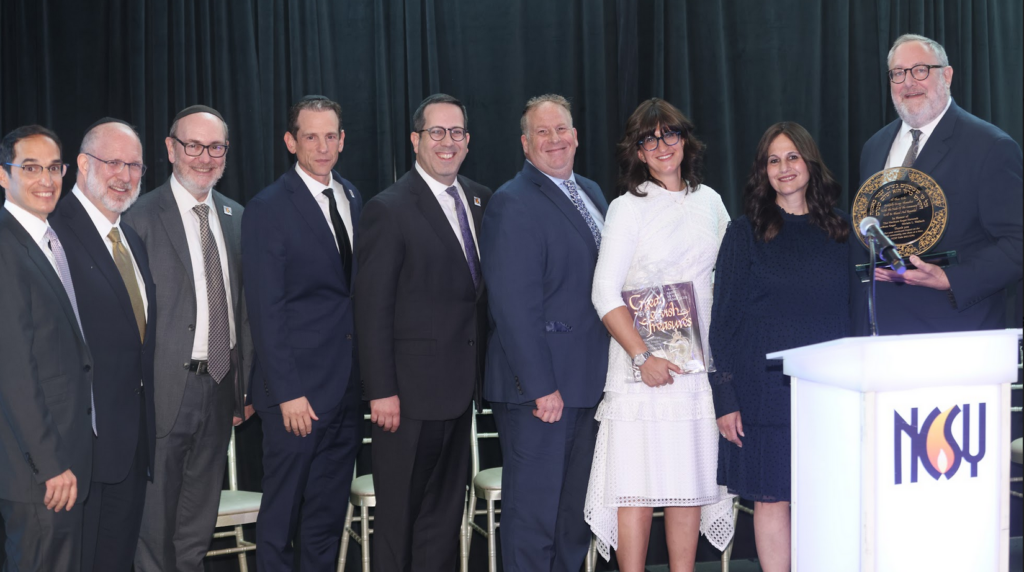 Photo: Laizer Kornwasser, National Vice President of the OU and Co-Chairman of NCSY Youth Commission; Moishe Bane, President of the OU; Mitchel Aeder, Chairman of NCSY; Rabbi Dr. Joshua Joseph, Executive Vice President and COO of the OU; Rabbi Micah Greenland, International Director of NCSY; Miriam L. Wallach and Nachum Segal of the NSN Network, along with their spouses Stephen Wallach and Staci Segal, Distinguished Service Award
At its recent Gala, NCSY, the flagship youth movement of the Orthodox Union (OU), feted communal leaders who have invested in programs that have fostered Jewish continuity and identity. More than 300 supporters attended the event in person, with an additional 300 screens viewing remotely. The guests of honor were long-time supporters, Becky and Avi Katz from Teaneck, NJ. Avi Katz currently serves as the chairman of the Orthodox Union's Board of Governors and previously was chairman of NCSY.
The event also honored Home Depot Founder Bernie Marcus and hospitality titan Mike Leven as "Champions of the Jewish Future." Over several decades, both have invested heavily in supporting initiatives geared towards inspiring teens to create stronger connections with their Jewish Identity, Marcus, through his sponsorship of RootOne Initiative, a program that heavily subsidized teens' trips to Israel and Leven, through his Jewish Future Pledge initiatives and ongoing support of Southern NCSY.
Marcus co-founded The Home Depot and was the company's first chief executive officer and chairman until retiring in 2002. Leven was president and chief operations officer of the Las Vegas Sands Corporation; chairman and chief executive officer of US Franchise Systems; president and chief executive officer of Holiday Inn Worldwide and president of Days Inn of America. Just before retiring in 2019, he was chairman and chief executive of the Georgia Aquarium.
"We're extremely thankful to Mr. Marcus and Mr. Leven for all they have done to help inspire the next generation of Jews to better connect with their heritage, faith and religious identity," said Orthodox Union President Moishe Bane. "Their commitment to the continuity of our heritage inspires the NCSY team daily to find better ways to connect with teens in the most meaningful and impactful manner possible."
For nearly seven years, Avi Katz chaired NCSY's youth commission and helped to cultivate the organization into the flagship international program it is today.
"The Katzes' contributions by participation in NCSY programs, in their opening their home regularly for NCSY events and in the analytically-based improvements to NCSY organizationally and programmatically that Avi created and helped to implement, will be felt by NCSYers for many years to come," said NCSY International Director Rabbi Micah Greenland. "Avi and Becky have done so much for us here at NCSY and words cannot begin to express what their support has meant to us and NCSYers across the globe, and to the Jewish future those NCSYers will build."
The event also recognized The Nachum Segal Network's Nachum Segal and Miriam L. Wallach for their continued partnership with NCSY and the Orthodox Union for many years. Segal serves as the network's president, executive producer, and host of the network's flagship "JM in the AM" morning broadcast. Wallach serves as its general manager and hosts her own show called "That's Life."
The Network plays a critical role in informing Jewish communities and individuals around the country about the latest news impacting American Jewry and Israel. Segal and Wallach have helped to share the incredible stories about NCSY advisors, participants, and programs over their airways for more than a decade.
In conjunction with the NCSY Gala, the evening showcased NCSY's 25th Annual Ben Zakkai Honor Society Scholarship Reception, which honored the legacy of Ben Zakkai member Ari Kahn. The event paid tribute to Isabelle Novak for her half-century of devoted service in support of NCSY. Rabbi Daniel and Leah (Feuerstein) Feldman from Teaneck received the Enid And Harold H. Boxer Memorial Award, and the Rebbetzin Ella And Rabbi Ahron Soloveichik Memorial Award was bestowed upon Rabbi Yerachmiel Fried from Dallas.