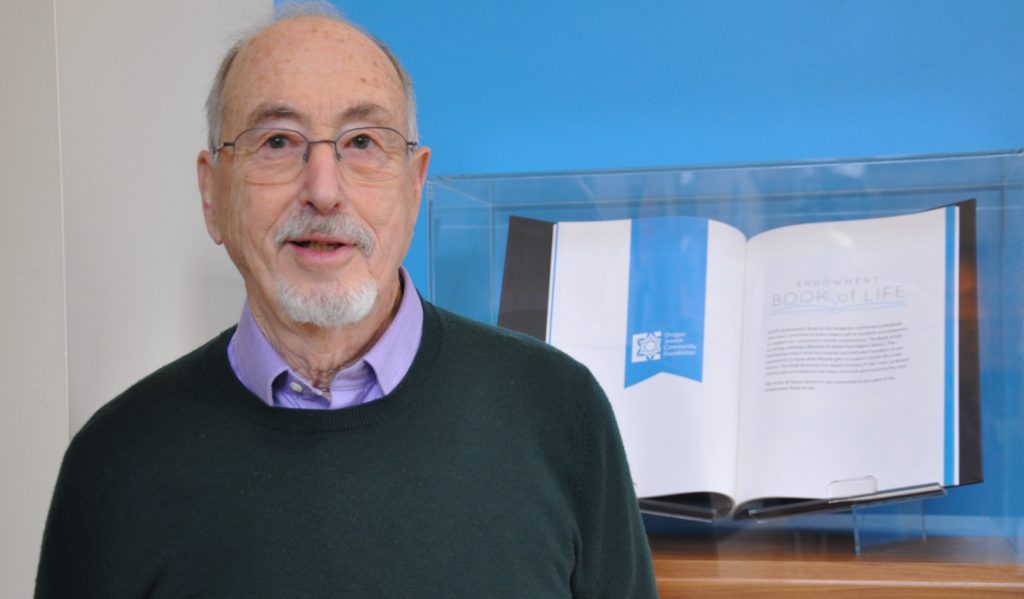 PHOTO: Nathan Cogan stands beside the Endowment Book of Life created by Oregon Jewish Community Foundation. In his entry in the book, Nathan says: "I don't see it as giving back, but rather giving forward." Photo by Deborah Moon
Nathan Cogan's lifelong commitment to tithing and volunteering gained new focus following the untimely death of his wife 13 years ago.
Married for 46 years, Nathan and his wife were each involved in various Jewish and social justice causes when Sara Glasgow Cogan was fatally struck by a car while crossing a street in Northwest Portland Feb. 1, 2006.
Nathan's many contributions of time and money are both interconnected and far reaching. He volunteers with or donates to Portland State University, Cedar Sinai Park, the Oregon Jewish Museum and Center for Holocaust Education, the Never Again Coalition, American Jewish World Service, and Jewish Family and Child Service.
A retired English professor from PSU, Nathan created the Sara Glasgow Cogan Memorial Lecture (see below) and Sara Glasgow Cogan Scholarship for PSU's Harold Schnitzer Family Program in Judaic Studies. Both are supported largely by the family fund the couple created in 1998 at the Oregon Jewish Community Foundation.
"Kudos to OJCF," says Nathan. "They have been very helpful to me over the past 12 years."
Nathan expects this year's lecture on the future of our democracy to draw students from across PSU's departments, as well as nonstudents from throughout Portland. Professor Daniel Ziblatt of Harvard University is the speaker; his focus on democracy at risk is a fitting sequel to last year's lecture on resisting tyranny by Yale professor Timothy Snyder. The two professors frequently appear on panels together.
Nathan feels fortunate to have access to PSU's large ballroom with seating for more than 500 for this popular program.
The Cogan lecturers are chosen by a committee of Nathan, OJMCHE Director Judy Margles, former CSP CEO David Fuks and Nathan's daughter-in-law Danielle Cogan, who is the communications director for the Children's Institute.
The first lecture in 2007 was delivered by Ruth Messinger, then president of American Jewish World Service. The following year, Nathan and 13 of his fellow Havurah Shalom members went to Uganda with AJWS on a two-week work program.
"AJWS is one of the great organizations I support," says Nathan.
The memorial scholarship Nathan established benefits not just a Judaic studies student, but also two Jewish organizations dear to Nathan's heart. Each year Judaic Studies Academic Director Natan Meir selects one or two students for the spring semester for an internship at the OJMCHE and/or CSP. Students receive a monetary stipend and course credit for their work.
The Holocaust and genocide have been a focus for Nathan for many years. In 1986 he developed a course on the literature of the Holocaust, which he taught until 2001.
"I was teaching Shakespeare and drama," says Nathan. "No one was teaching Holocaust literature at PSU at the undergraduate level. I thought I could teach it."
He calls the creation of the class and all that has grown from it the highlight of his life.
A colleague, Gregory Goekjian, took over the course in 2002 and expanded it to include literature of the Holocaust and genocides.
In addition to funding an intern for OJMCHE, Nathan works with Judy on several joint programs with PSU's Holocaust and Genocide Project, for which he provided initial funding in 2010. He also served on the advisory board during the early years of the project. Nathan also provides funds to bring students from the Oregon coast to see the museum and the Oregon Holocaust Memorial.
"I see something that needs to be done, and I get things going," he says.
During the 2008-09 recession, he volunteered with JFCS by helping individuals with financial counseling.
With that kind of directed energy, it is not surprising that Nathan ran marathons for many years, including the Boston Marathon twice and the New York Marathon. He ran the Portland Marathon until 2012. A foot injury in 2013 ended his running.
The family fund Nathan and Sara created "grew out of our life experiences," says Nathan.
Nathan grew up in Bath, ME, where his father, Morris Cohen – the family name later changed to Cogan – helped immigrants through the Hebrew Benevolent Society. Morris arrived in Bath from Germany in 1914 following the outbreak of World War I, and he served as the first cantor of Bath's Beth Israel. Morris died in 1946 when Nathan was 9 years old. Nathan was a triplet, the youngest of seven children. In 2009 Nathan returned to Bath and presented a program about those immigrants at the Beth Israel Congregation where he grew up. An expanded version of that talk is available online as A Memoir of Bath, Maine: Recollections of My Family and The First & Second Generation Jewish Immigrants, 1886-1960 (bathjewishhistory.org/memoir-of-bath-1886-2009).
Nathan moved to Portland in 1956 to attend Reed College, where he and Sara met. In 1958 Nathan left Reed to serve two years in the US Army, mainly in Korea. In 1960 he married Sara and resumed his studies at San Francisco State College. He earned his doctorate in English from UC-Berkley. The couple returned to Portland in 1974, and Nathan joined PSU's faculty in 1976.
Sara served as the refugee coordinator for the city of Portland from 1983 to 87. She created the Education Travel and Culture in 1996 and ran the educational exchange organization until 2006. ETC promotes international understanding and goodwill by providing high quality educational and cultural exchange programs in the United States and abroad.
They had three sons, with each now married – David to Nicole, Jonathan to Wendy, and Daniel to Danielle.
Sara was serving as president of CSP at the time of her death, and Nathan and his brother-in-law, Bob Glasgow, have ensured her legacy there is remembered. The two families donated funds to CSP's capital campaign, and in May 2018 the Sara Glasgow Cogan Memorial Chapel was dedicated in Robison, CSP's legacy building.
12th Annual Sara Glasgow Cogan Memorial Lecture
WHAT: Is American democracy in danger?
SPEAKER: Daniel Ziblatt, co-author of How Democracies Die and Eaton Professor of the Science of Government at Harvard University
WHEN: 7 pm, Thursday, Feb. 21
WHERE: Smith Memorial Student Union Ballroom 355, 1825 SW Broadway, Portland
FREE, but RSVP: bit.ly/sgc12