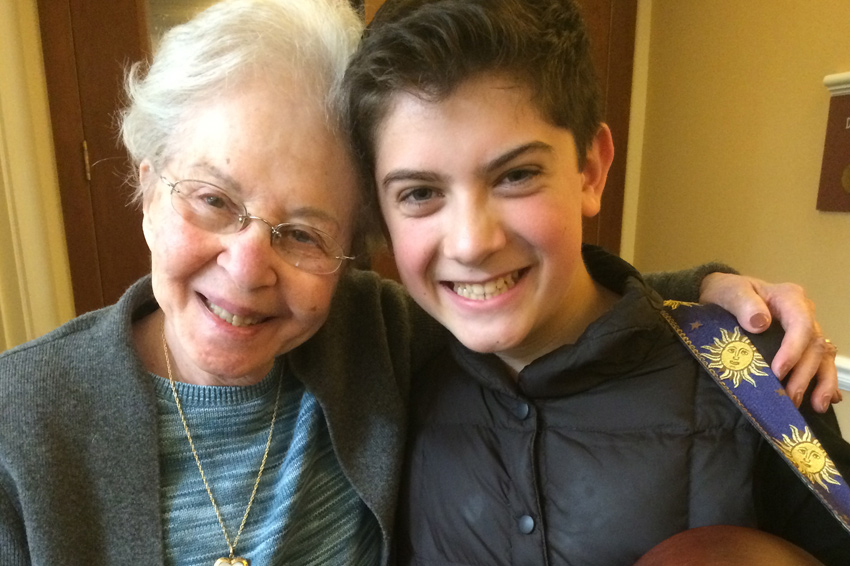 Seeking a culminating project for his years at Portland Jewish Academy, eighth-grader Sam Ellenby decided to combine his passion for music with helping the community's seniors.
"I have always had an immense passion for music, and I believe so strongly in the effects it can have on a person's life," says Sam.
PJA's Capstone Project is a multifaceted, interdisciplinary program in which eighth-graders consider PJA middot (values) as they each design, implement and facilitate a service project.
At the beginning of the school year, Cedar Sinai Park Campus Life Enrichment Director Jennifer Felberg spoke to PJA eighth-graders about the opportunities for l'dor v'dor (generation to generation) projects for their Capstone Project.
"Sam kept asking about music and how it helps seniors," says Jennifer. "Music memories linger in people's brains longer than other memories." She adds that long after many memories are gone, people remember songs and melodies and respond to them.
So for his Capstone Project, Sam decided to support the Music & Memory program at Robison Jewish Health Center through sharing music with seniors and through fundraising.
Though he has joined the PJA choir to entertain residents many times through the years, he is now performing solo as part of his project. On April 12 he sang and played the piano during "Tea Time" at Rose Schnitzer Manor, an independent- and assisted-living complex that shares the CSP campus with Robison. "I hope to play solo there more frequently," says Sam, the son of Robyn Tenenbaum and Miles Ellenby.
Jennifer says, "Sam is a phenomenal singer and entertainer. He's been coming with the PJA choir since he was little … now he will do it on his own."
In addition to performing, Sam has planned an event on June 7 that goes well beyond fundraising.
On June 7 "Alive Inside: Music and Memory" will screen at 4 pm at the Hollywood Theatre, 4122 NE Sandy Blvd., Portland. Admission is $8 for adults and $5 for students and seniors. Attendees are also asked to bring new or used iPods, iPhones or headphones for use by Robison seniors. Donations of cash, checks or iTunes gift cards are also welcome. Donations are tax deductible.
In addition to donations of money and equipment, Sam also hopes to raise awareness of the power of music. "Alive Inside" is billed as "a joyous exploration of music's capacity to reawaken our souls and uncover the deepest parts of our humanity. Filmmaker Michael Rossato-Bennett chronicles the astonishing experiences of individuals around the country who have been revitalized through the simple experience of listening to music." The film won the Audience Award at the 2014 Sundance Film Festival.
"After seeing this movie, 'Alive Inside,' I was instantly moved by the idea of the massive potential for this form of therapy and wanted to take action in my community," says Sam. "I am doing so by advocating and raising awareness, in addition to directly helping the cause by playing music for the residents at the Robison Jewish Health Center."
In May of 2014, Robison received a grant from Music & Memory, a national nonprofit created to bring "personalized music into the lives of the elderly or infirm through digital music technology, vastly improving quality of life." According to the organization's website (musicandmemory.org), Executive Director Dan Cohen "founded Music & Memory with a simple idea: Someday, if he ended up in a nursing home, he wanted to be able to listen to his favorite '60s music. Why not bring used iPods as well as new ones into nursing homes to provide personalized music for residents?"
Sam wants people to be aware of the power of music and how Robison uses the program.
"I hope to help show the world how transformative a pair of headphones and an iPod can be in shaping the last years of one's life," Sam explains.