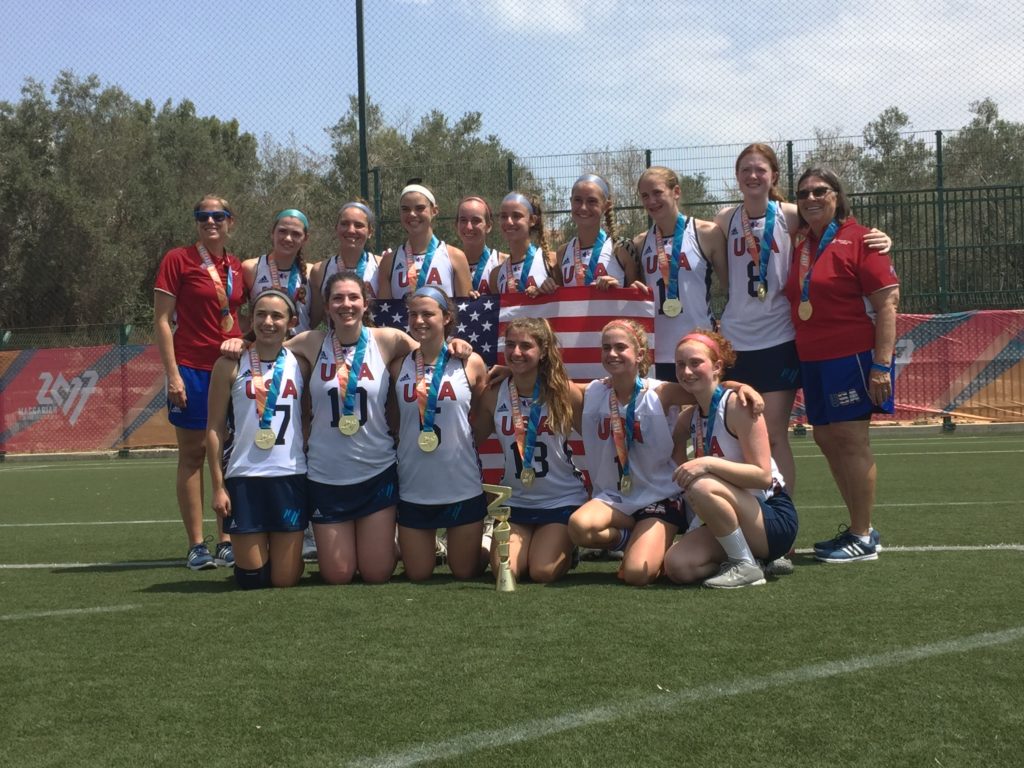 PHOTO: Maccabiah Gold Medal Junior Lacrosse Team includes Oregonians Claire Rosenfeld (front row second from left, #10) and Kaisa Autumn (front row, far right, pink headband). 
More Oregon teens picked up gold medals at the 20th Maccabiah Games held in Israel this July (See separate story on Maya Rayle's wins). Portlanders Claire Rosenfeld and Kaisa Autumn competed as members of the US Junior Lacrosse Team that won gold. Beaverton High School player Isaac Rosenthal was on the gold-medal winning boys' basketball team.
Billed as the third largest sporting event in the world, the Maccabiah Games take place in Israel every four years. The United States took more than 1,100 athletes to Israel to be part of an event in which 10,000 Jewish athletes from 80 countries participate in 43 different sports.
"With just graduating high school,  playing in the Maccabiah games seemed like an unique way to travel to Israel and spend my last summer before college doing something meaningful and exciting," says Claire, a Portland native who graduated from Catlin Gabel. "I had never seen so many Jewish people in one place! The way the Games were organized and structured was flawless, and I commend Maccabi USA and the larger Maccabiah organization for doing such a seamless job of planning the athlete experience."
Claire is the daughter of Eric and Tiffany Rosenfeld, both native Portlanders who grew up attending Congregation Beth Israel, where Claire recently completed 16 years of Jewish education. During all four years of high school, she was a member of the Oregon Jewish Community Youth Foundation, and she played lacrosse for Lincoln High School.
Kaisa will be a senior at Wilson High School this fall.
The USA lacrosse team beat Great Britain 19 to 2. Both USA boys basketball teams won gold. The 15-16 team beat Argentina 53 to 33. The 17-18 team beat Israel 92 to 80.
Claire says the highlight of the experience for her was the training camp.
"For the first week of our Maccabiah trip we stayed in Ramat Gan, training in the mornings and touring in the afternoons," she says. "The days were long (we'd wake up at 6am and get back from touring after 10pm), but exciting. I loved the lifestyle of waking up with the team early to train, then quickly changing gears, hopping on a tour bus, and visiting a local historic site or landmark.
"Traveling to Israel with the Maccabiah games was the first time I had ever been to Israel. I couldn't have asked for a better first experience."