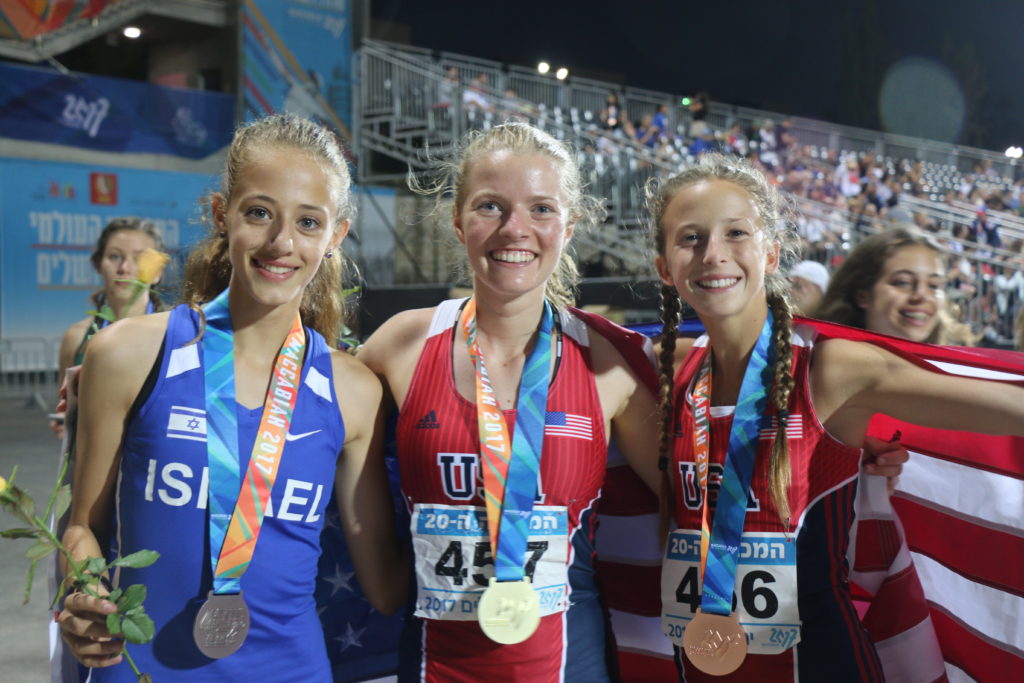 PHOTO Portland teen Maya Rayle shows off  the gold medal she won in the 800-meter race at the 20th Maccabiah Games in Israel this summer. On her left is Noa Yaish is from Israel with the silver medal; on her right is American teammate Rylee Pustilnik with the bronze. 
Portland teen Maya Rayle won a gold medal and two silver medals as a member of the US Junior Track Team at the 20th Maccabiah Games held in Israel this July. Billed as the third largest sporting event in the world, the Maccabiah Games take place in Israel every four years.
The United States took more than 1,100 athletes to Israel to be part of an event in which 10,000 Jewish athletes from 80 countries participate in 43 different sports. This was Maya's first time in Israel and her first time surrounded by so many Jewish people.
Maya, a 17-year-old senior at Catlin Gabel, participated on the US Junior Track Team. Within the Maccabiah Games, there are four separate competitions: Open, Juniors, Masters and Paralympics. Juniors games are open to qualifying athletes ages 15-18.
The track competition took place in the early evening to avoid the humid desert heat. On July 13, on the third day of racing, Maya dominated the 800-meter race, winning a gold medal with a time of 2.19.28.
The previous evening Maya grabbed a silver medal, running her personal best in the 1500-meter race, clocking in at 4.39.04, second to another American, Abigail Goldstein from Pennsylvania (4.34.88).  The American junior team swept the podium in the 3000-meter race. Abigail won the gold in 10:09.26, Maya the silver and Rylee Pustilnik from Florida the bronze.
The July 6 opening ceremonies celebrated with a parade of nations similar to the Olympics where nearly 10,000 individuals from 80 countries, including Macedonia, Kazakhstan and Gibralter, entered Jerusalem's Teddy Stadium. Open to Jewish athletes from around the world, the Maccabiah Games also allows all Israeli athletes, including Arab Israelis, to compete. The games began in 1932, when many Jewish athletes were prohibited from competing in international sporting events. The Maccabiah Games are intended not only to encourage athletic excellence, but also to foster a sense of Jewish belonging and pride among the participants.
Maya is the daughter of Ruth Berkowitz and Tim Rayle. Maya's uncles, Ethan and Zach Berkowitz won a bronze medal in sailing at the 1981 Maccabiah in 1981 to compete in sailing
"Maya has had limited Jewish experience," says Ruth. "But she felt incredibly moved and connected when her grandmother took her on a tour of Belgium, including a small synagogue near Breda where my great grandfather was a rabbi and refused to leave his congregation. Tragically, the Nazis got him and many other relatives.  … I have a sense the Maccabiah Games added to the connection."
(Following the Games, Maya headed to Canada for an experience in a high mountain region with no internet and was unavailable for comment on her win and experience immediately following the Games. Oregon Jewish Life will include her full story in a fall issue.)