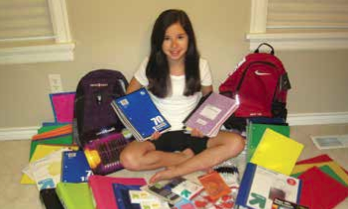 For Beit Haverim student Emily Anderson, who has loved to read since she was very little, figuring out what to do for her bat mitzvah project was easy – she wanted to find an opportunity where she could help at-risk kids with their reading skills.
"I thought I'd be helping kids who were at the same age I was when I learned to read. Or, if they were older, I'd help them improve their reading skills.
"When I volunteered with the organization, Friends of the Children, I learned that many children in less fortunate situ- ations don't have basic reading skills, even at age 8 or 9. They don't have parents who can spend time with them to help them with schoolwork."
Emily also found out that most of the 400 children enrolled in the program have parents who were high school dropouts, in prison, had addiction problems or were teen parents.
Deciding to volunteer at the free summer two-week reading camp called Book Buddies, she read and spent time every day reading with elementary school kids.
Two of the children especially tugged at Emily's heart.
"Elliott was 7 years old and going into second grade. Even at that age it was hard for him to read simple words such as 'dog,' 'put' and 'hi.' Elliot was shy, and he lived with his grandmother and three siblings. And then there was Aubrey, who was 9 and going into fifth grade; she was a slow and not very confident reader."
It was stories such as these that helped Emily decide that as part of her mitzvah project she'd create a school supply drive for the kids in Friends of the Children.
The focus was on the needs of teenagers, since most dona- tions go to younger children.
Emily became a bat mitzvah Aug. 31. She wants to share this advice with kids who are thinking about what to do for their project: "Don't just pick a project that sounds good, pick something meaningful to you. You will enjoy it more and do a better job for the cause you choose."