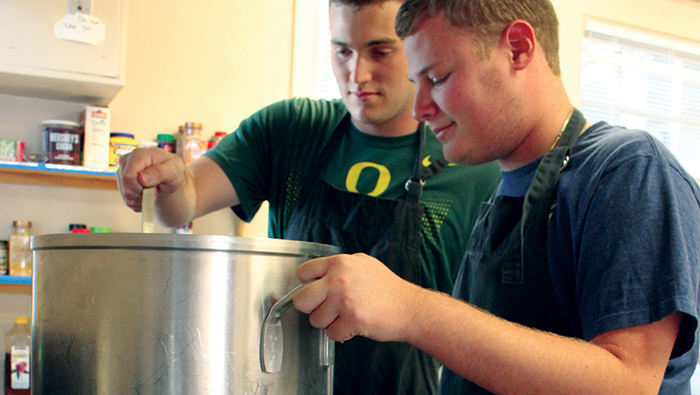 By Andrew Goldberg
If there's one thing Jewish parents are known for, it's worrying. All parents worry, of course, but according to the cliché, Jewish parents worry more. It's an expression of love. Many parents are anxious about sending their kids off to college, on their own for the first time. Parents wonder, "Is my kid going to thrive on their own? Will they keep up with their schoolwork? What happens if they get sick?" Jewish parents add another question: "Will my child remain connected with the Jewish community?"
At the University of Oregon, parents can rest a little easier – Oregon Hillel is there to help.
Oregon Hillel offers all the things one would expect: engaging programs, meaningful services, delicious (not to mention free) Shabbat meals and a welcoming community. But it also offers the Min Zidell Matzah Ball Soup Hotline. The hotline is just what it sounds like: Call the number to have free, homemade matzah ball soup delivered right to a student's door. Students can call themselves, or parents can order for their kids. It is a perfect way for students to get a little "Jewish penicillin" when they feel sick, or cold or  just want some homemade Jewish cuisine.
The brainchild of Oregon Hillel Director Andy Gitelson, the hotline has been around for about four years. He brought the idea from his previous job at the Indiana University Hillel. Beyond the inherent mitzvah of bringing food to the sick, the program is a way to enhance the Jewish community on campus.
"We were hearing the same thing from families. 'My kid's not involved,' and some kids didn't even know we existed," says Andy. "This is a really good thing for us to put into place because it'll help let the community know that we're here and available." He says that thanks to the hotline, "Your kid doesn't have to come to High Holidays …Your kid never has to step foot through Hillel's doors to be connected with the Jewish community."
Ordering soup does not just benefit students – it's also a comfort for parents. Beyond knowing their child will have soup when he or she is sick, it allows them to have Andy check in on their kids without appearing overbearing.
"We tell parents, if you want to check in on your kid every now and then, order them some soup," he says.
He also understands that parents are often torn between wanting to give their kids independence and wanting them to get involved in the Jewish community. When a parent orders soup for their uninvolved child, it is a chance for Hillel to get a foot in the door. "Just like in a class or a fraternity, if someone comes up and reaches out to you, shakes your hand and says 'hello,' it's an icebreaker, right? And it creates an opportunity," says Andy.
Of course, that opportunity would not even exist without the woman for whom the hotline is named, Min Zidell, z"l. When the program first started, her daughter, Charlene, was on the allocations committee for Hillel and was impressed with the work Andy was doing. "I think in one of my conversations with Andy, he was telling me about when they first started (the hotline). So when I was discussing that with my mother, she thought it was a great program and had some interest helping fund that," Charlene says. Min Zidell provided a $100,000 endowment for the hotline. Hillel takes about 4% annually of that balance, which is invested so that it will continue to grow, essentially funding the hotline in perpetuity.
Min Zidell passed away in May at the age of 92, and the matzah ball soup hotline is just one of many meaningful legacies she left behind through Jewish philanthropy. In addition to the hotline, she donated extensively to B'nai B'rith Camp, a Jewish summer camp near Lincoln City, and provided an endowment for Hesed Shel Emet, which helps provide Jewish burials for those who don't have the means.
"I didn't really know what was driving that in her," says Charlene. "She told me that when she was young, her brother passed away and they did not have enough money to bury him."
"It was just like I had been punched in the stomach," Charlene says, adding it made her "realize the pleasure she got knowing that forever, at least in Portland, no Jewish family would have to live with that … struggle."
She says her mother's endowment to Hillel stems from that same principle. "I think in terms of the matzah ball soup hotline, again it was … just coming from deep inside of her … for her to be able to endow something that would give students forever just that little touch that they might need at any given moment, that would make a huge difference – that was incredibly important to her."
Her mother recognized that college is "the critical time in young people's lives, when having a Jewish influence when they're away at school can be very important, and because we knew (Hillel) was an incredibly well-run organization," Charlene says. "I think every Jewish student on campus should have the opportunity of having a Hillel available to them … particularly a Hillel that's progressive in their approach … doing some innovative, nontraditional kinds of things, meeting students where they are. I think that's what the University of Oregon Hillel is really good at – reaching out to that student and finding a comfortable way to bring them in so that they have the opportunity to have the experience and then decide what they want to do," says Charlene.
Andy and his staff recently started a Hillel at Oregon State University, and the endowment will allow the same program to exist there, as soon as they have a place to store the soup.
Whether it is connecting young people to the Jewish community, giving parents some peace of mind, or just giving a sick kid a hot meal, there is no doubt that Min Zidell's gift has touched so many lives in ways large and small. Whether her gift makes a big or little difference in a student's life, there is no doubt it is a meaningful difference. The hotline will be Min's legacy for generations to come, a legacy that she made for no other reasons than kindness and compassion. She left the world better than she found it.
If you want to take part in that legacy, call 541-343-8920.