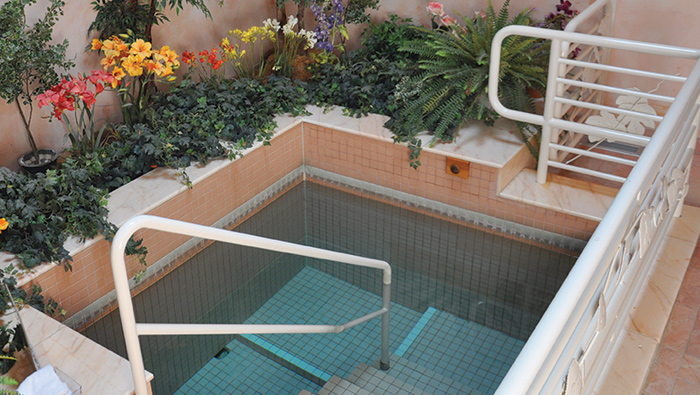 Mikvah before marriage is an awesome and auspicious way to start a new life together with one's beloved, says Simi Mishulovin, who helps women prepare for immersion in Portland's Mikvah Shoshana.
Immersion in the mikvah on the threshold of marriage is the first step to fulfilling the Jewish call for the consecration of human sexuality.
"Tremendous amounts of time and energy are expended in planning a wedding," notes Simi. "There is an innate human hope that a perfect wedding equals a perfect start in life. Yet all thinking individuals recognize human limitations. That which we most need and want – health, good fortune and children –is beyond our control. … Immersion in the mikvah is an important way of drawing God and His blessing into the marriage."
Following are some local women's impressions after experiencing this mitzvah.
Marie Gouz:
"I loved going to the mikvah before I got married. I've never felt so connected to my Jewish heritage. Jewish women have been going to the mikvah for thousands of years; it was humbling to feel so connected to my roots. Plus, it felt like a spa! I had no idea what to expect, and I loved it."
Michelle Iimori-Goldenberg:
"When I went to the mikvah before my wedding, even though I was nervous because it was my first time, I received a warm introduction to the mikvah itself and the process, which enabled me to have a truly spiritual experience. As a result, going to the mikvah became a part of my life and has brought me closer to G-d and my husband."
Jaimie Harper:
"Going to the mikvah was a very meaningful part of my wedding preparation. In the frenzy and excitement of the days preceding our wedding, it was like an oasis of spirituality and meaning. I loved the space – it was calm, peaceful and supportive. I felt like I was at a spa. My friends could be there with me to enhance the experience and the celebratory spirit. I loved singing with them after my immersion.
"Having never been to the mikvah before, Simi was so gracious and made me feel absolutely comfortable helping me to understand the mitzvah and how to prepare for my immersion.
"I look back on the experience positively and am so glad I made it a priority as I planned for this very important transition in my life."
Anonymous:
"Because it was not our first marriages, and we wanted to do it right this time, we were encouraged to use the mikvah. With its beauty and sacredness the mikvah meant more to us than the big wedding that we had the following day. This was very cleansing and a great beginning to our new life together."
Mikvah Shoshana is open to women from the entire community regardless of level of observance and affiliation. For more information, contact Simi at 503-309-4185 or Simi@ChabadOregon.com.