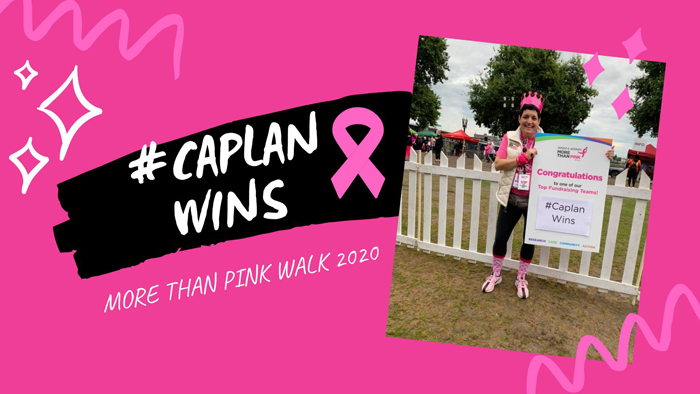 The Susan G. Komen Race for the Cure and More Than Pink Walk Series looked very different this year, like most events. Instead of people donned in their pink attire, taking to the streets in support of breast cancer, they met virtually with their teammates.
Michelle Caplan met with a small group on the day of this year's walk and made a three-mile loop around her neighborhood. She started her team, #CaplanWins began back in 2016, following her breast cancer diagnosis, and is a More Than Pink Walk Committee Member and one of Susan G. Komen Oregon and SW Washington's top team fundraisers.
Although Michelle does not have the BRCA gene, she has a family history of breast cancer and started having routine mammograms at 35. At 47, after having a clear mammogram six months earlier, she was at her OBGYN for her annual visit when her doctor discovered the lump.
"It was one of those situations where we were sitting there chatting and talking about everything and all of a sudden, her whole face changed," remembers Michelle.
After one mammogram, two ultrasounds, one breast MRI, and a biopsy, the results were in. She was diagnosed with Invasive Ductal Carcinoma Stage 2. Invasive Ductal Carcinoma is a type of cancer that begins growing in the milk duct and invades the fibrous or fatty tissue of the breast outside.
"They didn't feel like they could save the breast," says Michelle. "I said, 'Well, if you're going to take the left breast, you take the right one, too.'"
Michelle had very vivid memories of how her grandmother looked with just one breast after her surgery in 1985, which led to her decision. She was diagnosed in April 2016, and a month later, she had a double mastectomy. Because of her levels, she did not need to have chemotherapy or radiation following her surgery.
Michelle had been an active participant in the Komen walks in the past, but her own diagnosis got her more involved. She also reached out to Sharsheret, the Jewish breast and ovarian cancer community, and Breast Friends for support.
"One of the things I'm realizing is that although I'm going on five years, there's still stuff that comes up every year that I have to work through," shares Michelle. Some of that process is dealing with survivor's guilt. She just lost a good friend a month ago to breast cancer.
"Breast Friends is a very local grassroots organization that is very supportive of the Portland community," says Michelle. "It was really nice to have that. I think if I had not gotten involved with Komen, I wouldn't have the connection I have with them."
Michelle has also participated, and helped plan, ReJewvenation. A women's retreat held at B'nai B'rith Camp every year. ReJewvenation started in 2004 through the shared vision of five BB Camp alumna wanting to rekindle the fun and magic they experienced as campers.
This year, ReJewvenation will also be virtual. "It's exciting, but I'm sad that we can't all be together," says Michelle. "It's the one thing we all look forward to every year."
In the past, if the retreat fell on the same weekend as the Komen walk, they would do a walk at camp. This year they are planning a "Shabbat Walk" in addition to exercise classes and discussions. She is hoping that more women can join from other states that wouldn't usually be able to attend.
Michelle was the development director at BB Camp from 2010-2011 and was also member services director at Congregation Neveh Shalom from 2004-2010. She did "a few odds and ends" and then landed at Nike for about six years. She is currently the membership and engagement director at Neveh Shalom. Her return to Jewish communal work was serendipitous.
She had just been laid off from Nike two weeks earlier and was at the synagogue. Michelle was chatting with Fred Rothstein (executive director at Neveh Shalom, Michelle's previous boss and also a cancer survivor) and explaining to him that she was looking for a new job.
"He asked me, 'What do you want to do?' and I said, 'I want to be somewhere where I wake up every morning, and I want to go to work, and I'm happy to be there, and I know I can contribute something," recalls Michelle.
They chatted for a few more minutes, and Michelle went home. A couple of hours later her phone rang, and it was Fred. "He says, 'Michelle, Lindsay (Lindsay von Colditz, membership and engagement director) just walked in and turned in her resignation. Can we chat?'"
She continues, "I was like, 'Come on, Fred, don't pull my leg like that. It's not nice.'
The timing was amazing. I felt like I came home, and I'm right where I should be."
For more information on Michelle's work with Susan G. Komen, visit her page here. For information on ReJewvenation, visit bbcamp.org/rejewvenation.