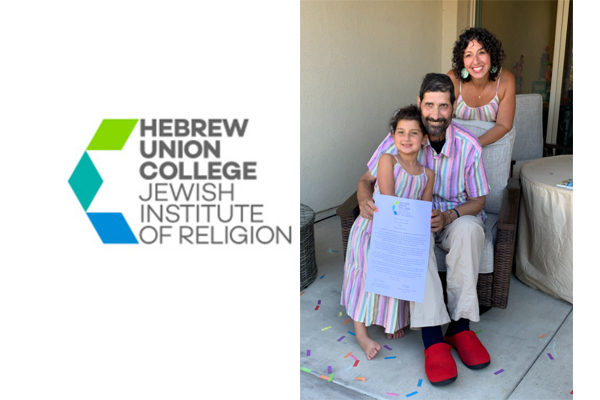 Photo: Michael, his wife Laura, and his four-year-old daughter Eleanore.
Hebrew Union College-Jewish Institute of Religion (HUC-JIR) awarded Michael Jeser, a graduate of the Zelikow School of Jewish Nonprofit Management (then School of Jewish Communal Service), with the Sherut L'Am Award on July 6, 2021. The Sherut L'Am Award recognizes exceptional service to the College-Institute or to the Jewish People. Jeser was honored for his years of dedicated service to the Jewish people as Chief Executive Officer of the Jewish Federation of San Diego County, which cares for Jews in need, connects San Diego to Israel, and strengthens Jewish identity. Past recipients of the distinguished award have included Debbie Friedman, Ilene and Stanley Gold, Gideon Kaufman, Deborah Lipstadt, and Lenny Thal.
Jeser's Sherut L'Am Award was presented by Marla Abraham '85, Director, Western Region, United States Holocaust Memorial Museum, in a private ceremony in the presence of Jeser's parents Faye and Paul, his wife Laura, and his four-year-old daughter Eleanore, who helped to explode a confetti cannon and shout mazal tov after Abraham presented the Award. The citation accompanying his Sherut L'Am Award is below.
Erik Ludwig, Director of the Zelikow School of Jewish Nonprofit Management, shared "The Sherut L'Am Award is well-deserved recognition of Michael's exemplary service to the Jewish people. The professional achievements, the friendships, and the quiet repair of a broken world are testament to the sacred intention of Michael's leadership and his gift to future generations."
As a fundraiser at heart, Jeser helped to establish the Michael Jeser and Paul Jeser Scholarship Fund at the ZSchool (then SJCS) in 2005. He recently created a new fundraiser, sharing, "Nearly 4 years after being initially diagnosed with esophageal cancer, I am sadly losing the insidious war being waged against my body and my family. As we prepare for the inevitable, we are all focusing on my quality of life and spending invaluable and unforgettable time together as a family. We are cuddling, hugging and holding each other a little bit tighter. Hugs and kisses from Laura and Eleanore are undoubtedly the brightest part of my day." Learn more and make a gift here.
Jeser has served as CEO of the Jewish Federation of San Diego County since 2018 after serving as director of financial resource development at the Jewish Federation of Greater Portland, where he oversaw all aspects of the organization's annual and supplemental fundraising campaigns for three years and also created its flagship leadership development and mentoring program for young Jewish leaders. His career has included significant roles in and out of the national Federation system, serving in senior management, fundraising and program positions with Jewish Community Centers, Jewish summer camps, and as the executive director of Hillel at the University of Southern California for four years.