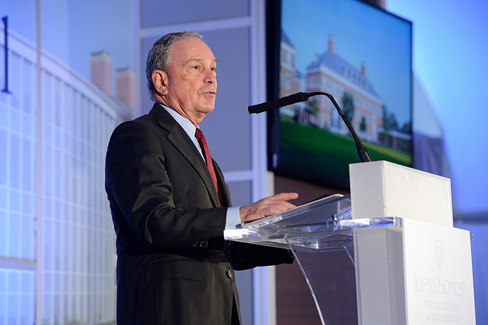 Pictured above: Michael R. Bloomberg speaks at the October 2014 dedication of Johns Hopkins University's Malone Hall. Photo courtesy Will Kirk / Homewood Photography
According to a post on Johns Hopkins University website, philanthropist, business leader and three-term New York City Mayor Michael R. Bloomberg will commit a record-breaking $1.8 billion to support undergraduate financial aid at Johns Hopkins, the university announced today, the largest-ever single contribution to a U.S. college or university.
"This historic gift reflects Mike Bloomberg's deep belief in the transformative power of higher education and his insistence that it be accessible to all qualified students, regardless of financial means," Johns Hopkins University President Ronald J. Daniels wrote in a message to the university community today. "It also affirms Mike's profound devotion to this university for the role that it played in enriching his life."
Bloomberg, a 1964 Johns Hopkins graduate, announced his historic gift in a New York Times op-ed in which he identified college affordability as a national challenge.
"America is at its best when we reward people based on the quality of their work, not the size of their pocketbook," Bloomberg said. "Denying students entry to a college based on their ability to pay undermines equal opportunity. It perpetuates intergenerational poverty. And it strikes at the heart of the American dream: the idea that every person, from every community, has the chance to rise based on merit."
For more on Bloomberg's gift, read the full text of Daniels' message to the community here.