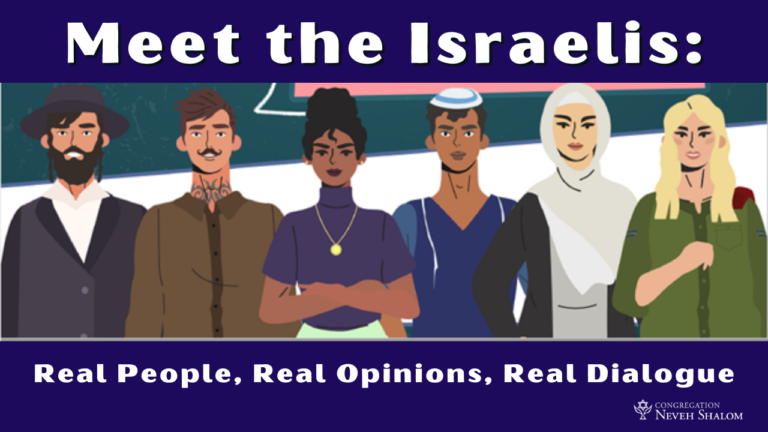 To know a land is to know its people. Experience the political and religious diversity of Israel through authentic and intimate conversations with young Israelis from across the length and breadth of the country. Meet an Israeli settler, a left-wing Peace Now! Activist, an ultra-orthodox yeshiva bucher, and a Muslim Palestinian in open and unscripted discussion, back-to-back.
Israel360, a pilot project of The Kindness Commons and housed at Congregation Neveh Shalom, is a series of regularly occurring programs that will consider many aspects of Israel–modern and ancient–from diverse viewpoints and approaches. Some sessions will have a cultural, political or military focus, while other events will examine Israeli history, sociology or the peace process.
For this event, Israel360 has brought together a diversity of voices and perspectives who together represent some of the largest cultural and political forces animating contemporary Israeli society. In partnership with Meet the Israelis and the magic of Zoom break-out rooms, we can engage in the honest and thought-provoking conversations even a tourist in Israel rarely benefits from. Ninety-two percent of past participants felt that "they had a better understanding of the complexities of Israeli society afterward." So, join us for an incredible event!
Date:   Sunday, February 28
Time:   11:30am-1pm
Location:    Zoom
To reserve your space, please register here.
Israel360 in collaboration with Meet the Israelis, the Harold Schnitzer Family Program in Judaic Studies, Portland State University's CHAI and PDXHillel.
For questions, contact: Lisa Marie Lynch at receptionist@nevehshalom.org; 503-246-8831.