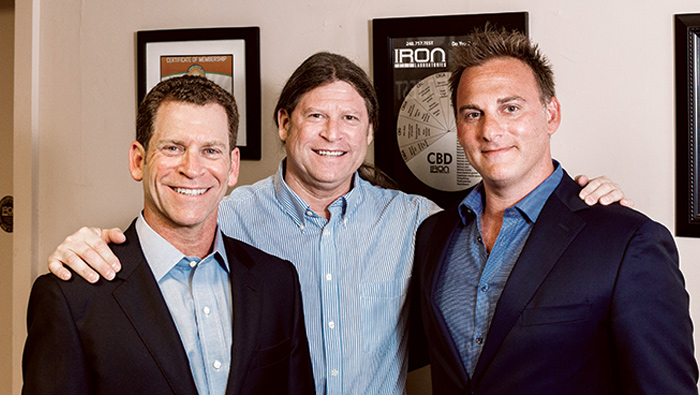 Oregon laws and regulations regarding both medical and recreational marijuana continue to evolve. But one thing is sure, knowing just what you are smoking or eating is not only a good thing, in some cases it is vitally important.
The Oregon Liquor Control Commission, which also regulates marijuana, licenses labs approved to test marijuana sold in dispensaries around the state. Currently marijuana sold in Oregon must be tested for pesticides. Rules on what is tested and how the tests are performed are still in flux, with final regulations scheduled to take effect in June.
On Jan. 11, the OLCC released a list of 250 pesticides that cannabis growers are permitted to use on their crops. However, they must still follow pesticide labels, which must list agriculture use and broad leaf applications.
One lab arrived in Oregon last fall, bringing the experience they developed helping another state create its testing benchmarks. Three Jewish businessmen – CEO Howard Lutz, Vice President Rob Teitel and COO Mike Goldman  – from Michigan expanded their established lab, opening a marijuana testing lab in Eugene.
Iron Laboratories, the longest-running and first accredited cannabis testing lab in Michigan, opened in Eugene in October 2015.
"We are ISO 17025-accredited in Michigan, which makes us one of the few accredited (cannabis) labs in the county," says Iron Lab CEO Rob Teitel. (ISO 17025 is the main standard used by testing and calibration laboratories.) Rob is affiliated with the Downtown Synagogue in Detroit and became a bar mitzvah and was married at Reform congregations in Michigan.
In addition to testing for pesticides, Iron Labs tests for the presence of microbacterials (mold and bacteria) and potency.
"For the sickest of MMJ (medical marijuana) patients, testing for molds and other impurities is definitely critical," says Rob. The Iron Labs website notes that more than 80% of marijuana shows traces of mold. Consuming high levels of mold and bacteria, for medical and recreational users alike, can cause severe health risks that can be avoided with the proper screening process.
Potency information is also important for patients.
"Potency testing is vital," says Mike. "This information can be provided to the primary physician so the patient can be properly dosed."
Rob adds Iron Labs tests the levels of THC, CBD and other cannabinoids, so a patient or consumer of cannabis products won't face unintended effects from improper dosage. "For example, cancer patients or patients with seizure disorders require specific content information to properly dose for their disorders," he says.
Determining the strain of the cannabis is also important for medical marijuana. Iron Labs website notes that potent sativa strains can cause sever anxiety and potent indica strains can cause sudden drowsiness.
Howard says he believes testing and structure are very sensible approaches to legalized marijuana. Mike adds that he believes Oregon is taking a good approach to the fledgling industry.
"Everyone deserves safe cannabis products," says Mike. "Oregon's legalization and medical markets are regulated and controlled with oversight by professional groups and state officials. It's a pleasure to see an organized approach, which eliminates individuals that should not be in this industry."
He believes that Oregon is setting a "fantastic example" for other states to follow. With Iron Laboratories, he is eager to provide "the best safety measures" for medical and recreational users.
In addition to following Oregon's guidelines for testing, Mike says Iron Labs also provides testing and consulting services not required by law. For instance, the lab offers visual scoping, a test that detects any pests on the product.
"As a Jew I feel it is my responsibility to help people," says Mike, who is affiliated with Temple Israel and the Friends of the IDF. "With Iron Laboratories testing for potency, impurities, pollutants and any contaminants that could be in your cannabis products, a new platform for safety, quality and reliability is here. Think of it like this – without testing, consumers would not know what could be on or in the products they use."