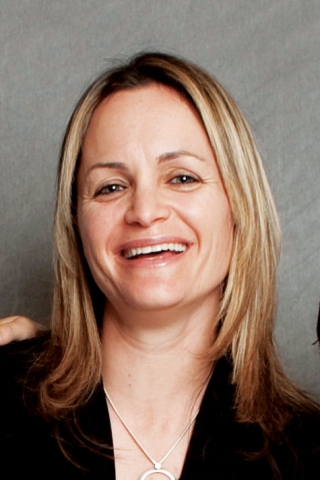 Matchmaking is the process of matching two people together, usually for the purpose of marriage, but it is often used in the context of sporting events, such as boxing, and in business.
It is in the latter context that leading Portland Jewish business folks got together with Michal Miasnik, the West Coast representative of the Israeli foundation known as BIRD – the acronym for Binational Industrial Research and Development.
Michal is an Israeli who is based in Palo Alto and has represented the BIRD Foundation for 11 years. She flew into Portland on Aug. 13 to address a breakfast meeting sponsored by the Oregon-Israel Business Alliance – an organization created in 2010 to help facilitate then Gov. Ted Kulongowski's nine-day trade visit to Israel, during which he signed a memorandum of understanding with Israeli Prime Minister Benjamin Netanyahu.
OIBA's members include Steve (Rosy) Rosenberg, president of OIBA; Greg Semler of Lucid Technology; Eric Rosenfeld of the Oregon Angel Fund; Richard Hurwitz and Michael Bloom of Sinotech; Barbara Steinfeld of Travel Portland; and Jeff Katz, all of whom were present at the meeting.
"Miasnik also met with heads of various local Portland-based companies throughout the day, including one of Portland's major semiconductor companies, and discussed the BIRD model and the possibilities of potential projects with Israeli companies. Another visit was to a leading edge alternative energy company. This meeting focused on the technology of the company and its wish list. One of the local venture capital firms introduced Michal to two companies: one is a biotech working in the area of immunology and the other an information technology company easing the path from hand transcription to digital data," according to an OIBA spokesperson, who declined to name the companies due to the sensitive nature of the interactions.
The spokesman continued, "Dennis McNanny, executive director of the Oregon Biosciences Association, introduced Michal to a company aiding in the development of drugs targeting specific cancers. OHSU's commercialization staff introduced Michal to a company working on vaccine vectors. She was also introduced to a company working on simplified ways of assessing hydration levels in patients, currently an expensive, time-consuming process for hospitals. Finally, Michal met with the Oregon Angel Fund to explore potential relationships with companies OAF funded."
BIRD was founded in 1977 as a joint venture between the Israeli and U.S. governments to generate mutually beneficial business and trade relations between Israeli- and U.S.-based startup and established companies, primarily in the high-tech industries.
This is where matchmaking comes into play for joint ventures by suitable U.S. and Israeli companies. It is also where the provision of funds by BIRD, covering up to 50% of the product costs of development and commercialization, becomes such a vital element in the success of the partnerships.
Since 1977, BIRD has branched out into many more industries and ventures, including the growing alternate energy business, the life sciences and even Homeland Security.
The BIRD Foundation works in full cooperation with the Chief Scientist's Office at the Ministry of Industry, Trade and Labor in Israel, and with the U.S. Commerce Department's National Institute of Standards and Technology (NIST).
Since its inception it has managed in excess of 800 successful projects, including such names as EMC, General Electric, Applied Materials, AOL, Bayer Pharmaceutical, Eastman Kodak, IBM, Johnson & Johnson, and others who partnered with Israeli companies; many being startup businesses.
Essentially, Michal's job is to ask U.S. companies what they are looking for. Armed with the information, she then contacts up to10 Israel companies and helps bring together their decision makers in the U.S. and Israel.
Sometimes the talks lead to significant trade, which benefits both companies and their respective national economies. Sometimes the talks merely begin a conversation, which may sow the seed for future talks and mutually beneficial trade.
Michal's experience in corporate matchmaking is evident in the success she has earned on the West Coast. But equally, her knowledge in helping fund bilateral business trade agreements has significantly aided startup companies in both Israel and the U.S. So when it comes to the push, Michal and BIRD are there to help.
As Michal pointed out to the members of OIBA, U.S. and Israeli companies wishing to jointly apply to BIRD must demonstrate capabilities to carry out joint development and commercialization. Their willingness to share in the financial risk of product development, as well as in the financial gain of commercialization, are key factors in BIRD's subsequent evaluation.
According to the BIRD foundation, "… the role of the larger company is product definition and specification, sales, and service, while the role of the smaller company is in product development and some manufacturing. Up to 35 full-scale projects and 20 mini-projects may be approved each year.
"The BIRD Foundation offers conditional grants for joint development projects on a risk-sharing basis. The Foundation funds up to 50% of each company's R&D expenses associated with the joint project. Repayments are due only if commercial revenues are generated as a direct result of the project.
"If a project fails, BIRD claims no repayments. However, over 40 Israeli companies that have had projects sponsored by BIRD are now traded on Wall Street, adding to Israel's surge in the high-tech and industrial fields."
BIRD estimates that since 1977, the cumulative sale of products it has helped develop exceeds $8 billion, and BIRD has received nearly $100 million in royalty repayments from projects.
But here is the challenge for the Oregon Israel Business Alliance. The top five states in which BIRD has funded and developed ventures up to December 2011 include 266 projects in California, 90 in Massachusetts, 88 in New York, 64 in New Jersey and 26 in both Virginia and Florida.
The benefit of OIBA's meeting with BIRD's West Coast representative, Michal Miasnik, cannot be overstated. As the only country with free trade agreements with both the United States and the European community, and with a pool of talent in high-tech industries and applications, Israel can act as a bridge for international trade between Oregon and Europe, China and India.
And, according to YNET News and Yediot Ahronoth, the Chinese are very impressed with Israel's economy. A major Beijing university will soon establish an Israeli economics and Judaism department, which will study Israel's high-tech business culture.
Meanwhile, a report in the July 2, 2012, edition of The American Interest, a Washington, DC-based bimonthly magazine, points to Israel as being a future energy superpower with the headline, "Canada and Russia are moving to step up energy relations with Israel."
Many Oregon companies have already discovered the benefits of doing business in Israel, including EDX Engineering Inc., Mentor Graphics and Electro Scientific Industries. But the opportunities exist for so much more.
The result of the breakfast meeting with BIRD's representative may thus have the potential for a significant increase in trade, in employment and in the prosperity of the peoples of the State of Israel and the State of Oregon.
Business people wanting more information may contact Michal Miasnik at michalm@bird.com. They may also contact Dr. Eitan Yudilevich, Executive Director – BIRD Foundation at eitan@birdf.com.
Victor Sharpe is a prolific freelance writer and author of several books including the highly acclaimed trilogy, Politicide: The attempted murder of the Jewish state.