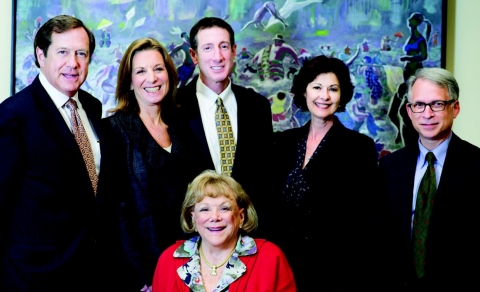 When the Harold Schnitzer family gifted the Park Tower Apartments to the Oregon Jewish Community Foundation, it was a winning proposition for all involved.
The Schnitzer family was able to fulfill the wishes expressed by Harold Schnitzer in the weeks leading up to his death in April 2011. The OJCF won with a boost to both its assets and its prestige. OJCF's policy to liquidate non-cash gifts opened the door for Cedar Sinai Park to purchase the building. CSP can now complete its plans for a four-building, low-income housing complex downtown that will offer a range of services for seniors. Proceeds from the sale, which was set to close in late December, will create the Harold and Arlene Schnitzer Family Fund at OJCF. In addition, the sale to CSP means the building's current low-income residents are assured the apartments will re- main as affordable housing for seniors and those with disabilities. The historic building, which has 162 low-income residential units and ground-floor retail space, is valued at $16.6 million, making this the single largest donation ever made to Portland's Jewish community. The transformational gift will increase OJCF's total assets under management by 33% to $67 million, bringing the foundation closer to its strategic goal of $75 million by 2015.
OJCF Executive Director Julie Diamond said the sizeable gift validates OJCF by demonstrating the Schnitzers' confidence in the OJCF's staff, board and financial manager, First Republic Bank. Diamond sees three benefits of the gift: charitable dollars will flow to the community (from the family fund at OJCF); the larger asset base strengthens the foundation; and it will encourage others to use the foundation for sophisticated giving.
"This is an exceedingly generous gift from an exceedingly generous family," said OJCF President Eric Rosenfeld. "If the strength of a community is measured by how it cares for its most vulnerable members, this wonderful gift – and the others we hope it inspires – will ensure the enduring strength of our community." Arlene Schnitzer said her husband indicated shortly before his death that he had not yet supported OJCF in the large way he had in mind.
Jordan Schnitzer, president of Harsch Investments, a company his father founded more than 60 years ago, said, "My father felt a great sense of responsibility to take care of the charitable institutions that serve our community. This gift reinforces his mission of creating greater sustainability for these organizations and to inspire others to join in the effort at whatever level is right for them." Jordan said he assured his father that, as always, he would continue to behis steward in all the civic endeavors he wished to carry out. In the weeks before Harold died, Arlene said he also wanted assurance that Cedar Sinai would get Park Apartments to become part of the housing program he thought was so important. "He had an interest in suitable housing for low-income (seniors); the entire community, not just the Jewish, concerned him," said his wife of more than 60 years. She said he recognized that it is difficult for those on fixed incomes to find suitable places to age in place.
That is a key ingredient of the project CSP plans for its four apartment buildings (all formerly Harsch properties) located within a few blocks of each other in downtown Portland. "We are so excited and thrilled we are being given this op- portunity to continue this legacy of Harold, Arlene and Jordan ensuring housing for those with low incomes," said CSP CEO David Fuks. The CSP campus includes Robison Jewish Health Center and independent- and assisted-living apartments at May Apartments and Rose Schnitzer Manor. The agency expanded its mission to include low-income housing downtown in 2007 with the purchase of the Clay Tower, later renamed Rose Schnitzer Tower, from the Schnitzers' Harsch Investments. When Jordan led Harsch Investments' development of Clay Tower at Southwest Clay Street and 12th Avenue in 1980, it was the first facility of its kind developed in Portland under the Department of Housing and Urban Development Section 8 contract program. The original HUD contract providing subsidized housing was due to expire, but as CSP has purchased each building, new 20-year HUD contracts have been signed, guaranteeing current residents continued affordable housing.
"For them (the Schnitzers) to feel confident CSP can continue that work is very special," said Fuks. "We are determined to live up to the very high standards they set. We are delighted OJCF was used by the Schnitzer family as a conduit to do other charitable good." Founded in 1989, OJCF's mission is to create, promote and facilitate a culture of giving and to serve as a guardian of permanent funds for Jewish communal life in Oregon and Southwest Washington. "It is so wonderful that we have generous people like Harold and his family who find so many ways to help and improve our Jewish and general community. We thank them for showing confidence in OJCF as their partner in philanthropy," said OJCF Founder Jim Meyer. Harold Pollin, another of the OJCF founders, added, "The extreme generosity of Harold, Arlene and Jordan has been so enormously helpful and important to our community. May they be blessed for all they do and have done for others over the years." The Schnitzers have long supported the community that they say has given them so much.
Born in 1923, Harold Schnitzer was the fifth of seven children of Russian immigrants Sam and Rose Schnitzer. His father's one-man scrap business grew into what is now Schnitzer Steel Industries. Though he graduated with a metallurgy degree from the Massachusetts Institute of Technology, Harold decided to leave the family business to create his own real estate investment company. His younger brother Leonard introduced him to Arlene in 1949. She proposed on their first date, and the couple married five weeks later. "He was a darling man," said Arlene, who knew the family due to the friendship her parents, Simon and Helen Director, had with Rose and Sam. She said she knew immediately Harold was the right man for her "because of everything he talked about" on that first date. "He was kind and smart and had enough intensity for me. And he was philanthropically tuned in to human need. He was a good son to his parents."
At the time of Harold's death, the family had donated more than $80 million to art, cultural, educational, health and Jewish venues and projects. Among the Jewish programs and institutions the family has funded are: the Harold Schnitzer Family Programs in Judaic Studies at the University of Oregon and Portland State University; Portland Jewish Academy; Hillel in Eugene and Portland; Congregation Beth Israel; and Congregation Shaarie Torah. In 2009 the campus that houses PJA and the Mittleman Jewish Community Center was renamed the Schnitzer Family Campus in recognition of the entire Schnitzer family's commitment to preserving the center and the school in difficult times. Jordan stepped in as board president in 2004 to help guide the center through a financial crisis. He remained the president though 2010 and served as board chair in 2011-12. Under his leadership, the MJCC was reinvigorated with substantial renovations from 2005 to 2007. The campus was dedicated to recognize Harold and his family, as well as the families of his brothers Manuel, Morris, Gilbert and Leonard.
"Harold very much wanted to see understanding between all people," Arlene said. "Education is very important to us. If people of all religions understood each other, he felt that is where peace would come from."
She said that belief gave rise to many of the education programs he funded, as well as the Harold Schnitzer Spirit of Unity Award, which annually recognizes individuals and organizations for developing student peace, human rights, conflict resolution, mediation and civil rights programs. She said his "concern for all peoples" was also the motivation for his development of HUD properties including Park Tower.