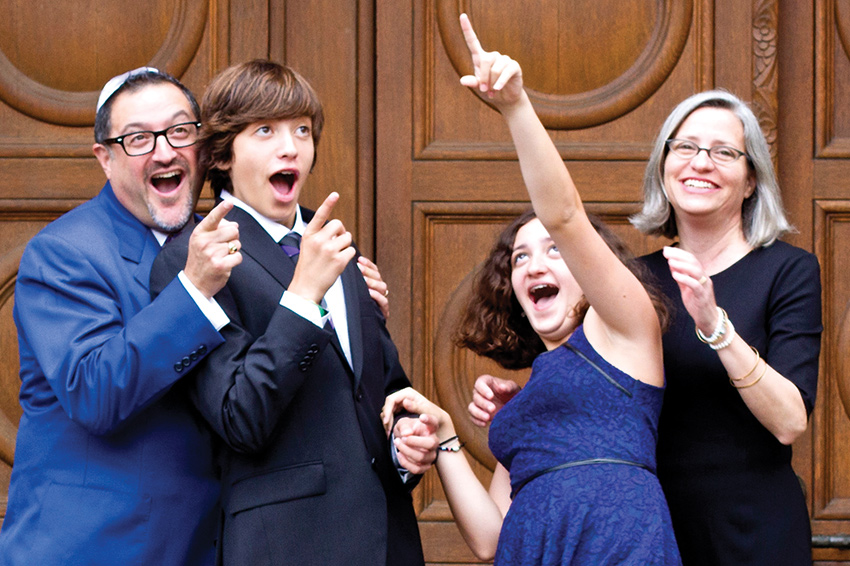 Metropolitan Group wins international award for social and environmental impact.
Taking to heart the socially conscious values of his religion, college and state, 26 years ago Eric Friedenwald-Fishman decided to create a business with that same ethos.
He definitely succeeded. In April Eric's Metropolitan Group was named "Best for the World," an award recognizing the firm as one of 119 companies from around the world that set the gold standard for using business as a force for good.
"Metropolitan Group is a social-change creative services firm," Eric says. The company helps mission-driven companies – such as land trusts, environmental groups, public health agencies, foundations and socially responsible businesses – build powerful brands, connect with consumers and change the world.
"At the time our company was founded 26½ years ago, there was not a socially responsible business movement," says Eric.
But he says renewable energy, socially responsible investing, social justice and sustainability were definitely gaining traction in Oregon; and Jewish values of social justice, tikkun olam (healing the world) and welcoming the other were key parts of his upbringing. Attending Willamette University (where he graduated with a double major in political science and art history) reinforced those values.
"Willamette University is focused on living its motto, 'Not unto ourselves alone are we born,' … and the importance of leading a life of achievement, meaning and contribution," says Eric.
Just months after graduation, Eric and three friends created a marketing/communications company "founded to have a social impact." Six years later, Eric bought out his partners but continued his efforts to redefine success in business. He believes that companies can benefit their shareholders while also being a force for social good that benefits their employees, their communities and the world, too.
"Twenty-six years later many companies do it, and it is a growing part of how our economy works," says Eric. "I argue that companies that make conscious decisions around the environment save money."
Describing Metropolitan Group's work, he says, "Half of what we do is design and implement campaigns that create social change. The other half is we help build the capacity of organizations that drive social change. We help our clients with strategic communication, multicultural engagement, organizational development and resource development to build a just and sustainable world."
Eric and Metropolitan Group have been at the forefront of the Benefit Company, or B Corp, movement. Eric worked closely with then-Secretary of State Kate Brown to draft the Benefit Company legislation that became Oregon law in 2013. Metropolitan Group became an inaugural Oregon Benefit Company that same year. Oregon now has one of the highest concentrations of B Corps in the country, says Eric.
The firm was also one of the first companies certified by B Lab when it began offering certification in 2006 to companies that meet "rigorous standards of social and environmental performance, accountability and transparency." Now 1,247 companies in 38 countries and 121 industries are certified as B Corps. It was from that group that B Lab named the "Best for the World."
Eric encourages all company owners and managers to take the free assessment available at bcorporation.net. Though there is a fee if the company seeks certification, the assessment is free and offers valuable insights on best practices that can help all companies make decisions that are good for their bottom line, their employees and their community. While not all practices are relevant to all industries, Eric believes every company can benefit from seeing how its practices compare.
Though Metropolitan Group was essentially a benefit corp before the term was even coined, Eric says company leaders still learned a lot when they did the assessment.
"We were already doing a lot, but we hadn't codified it," he explains. "We absolutely saw and learned things that had us do things differently."
For instance, though the company had talked about green transportation as a priority and encouraged employees to bike to work, "we hadn't systemized and codified it."
After completing the assessment, Eric says they changed some compensation policies to create more incentives for employees, and they also tightened their procedures around purchasing such as asking vendors about sustainability and locally sourced products.
"I'm thrilled to get this award and be considered one of the best companies in the world at healing the world," says Eric of the recognition.
Eric says that concept became a part of him growing up in Oregon and attending Jewish summer camps and classes at the Mittleman Jewish Community Center. While volunteering at Oregon Public Broadcasting, he met his future wife, Rebecca. The two have been married 19 years. The family is deeply involved at Congregation Beth Israel, where Eric sits on the board and Rebecca co-chairs the social action committee with her sister, Elizabeth Friedenwald. Their son, Max, a sophomore at Cleveland High School, is active in the National Federation of Temple Youth. Daughter, Sophie, is in eighth grade at Hosford Middle School and has continued to attend Hebrew High after her bat mitzvah. The two have often spent summers at Camp Kalsman, but this year Max will be in Israel on a NFTY trip. Last month the two volunteered at the Mitzvah Day event their mom co-chaired at Beth Israel.
So all signs are go. It appears the next generation is poised to continue their parents' commitment to tikkun olam!
Metropolitan Group: metgroup.com | B Lab: bcorporation.net