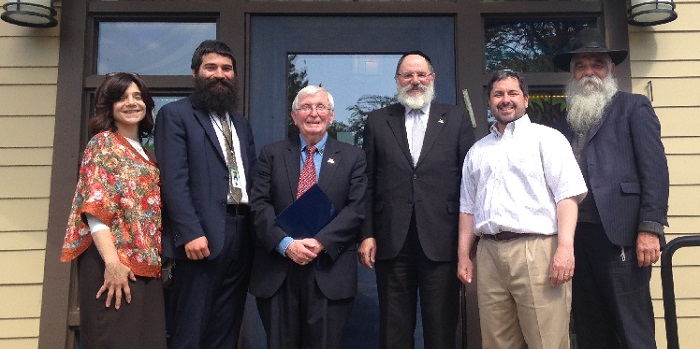 PHOTO: Maimonides Jewish Day School and accreditation team.
In October, Maimonides Jewish Day School became the first Jewish day school in the Pacific Northwest to earn accreditation of both its general studies and Judaic curricula from Merkos L'Inyonei Chinuch. Merkos is the only national Jewish accrediting agency, and Maimonides is the only Jewish day school in the Pacific Northwest to earn accreditation from it. In addition, the National Council for Private School Accreditation has accredited Maimonides.
These credentials give Maimonides national recognition as a faith-based private school that offers kindergarten through eighth-grade students a comprehensive education in Judaics, science, math, English and social studies.
The Merkos committee report recommending accreditation sums it up best: "The students are at the heart of this school. They are a blessing, and
their behavior and ability to stay on task is … exemplary. The atmosphere, school environment and culture have a wonderful student-centered focus that is both caring and supportive."
Two years ago, the school hired Shelley Sanders as general studies director and asked her to focus on shepherding the school through the accreditation process. As a former early education director at Congregation Beth Israel and a Head Start review teacher who reviewed Portland Head Start classrooms for annual recertification, Shelley was well equipped to help the Jewish day school.
She guided the school through a self-study of the Judaic and general curricula to ensure they conformed to Oregon core standards. She also rewrote or created parent and employee handbooks and safety and emergency manuals.
MJDS Development Director Devora Wilhelm says, "This was an ideal process to go through. It really solidified everything."
MJDS Principal Rabbi Shnuer Wilhelm says the process helped clarify the school's motto, "Where learning is personal, meaningful and empowering."
He says that a core of volunteers help the school offer tremendous one-on-one sessions to create a personal experience for students. Making learning relevant to daily life adds meaning. Students are empowered through the annual Hanukkah essay contest, weekly assemblies, weekly visits to Rose Schnitzer Manor to connect with seniors, and community involvement such as clean up or planting projects in city parks.
The school had more than a 200% increase in kindergarten enrollment this fall.
A five-year plan envisions building additional classrooms on the school's nearly 2-acre campus, which has a large undeveloped section behind the playground.
PortlandJewishSchool.com | 503-977-7850