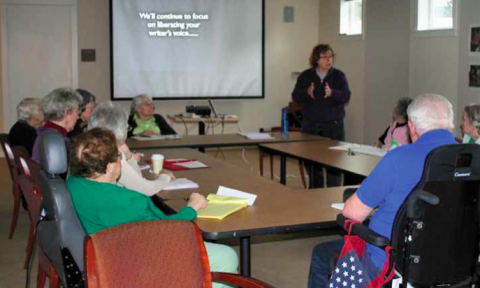 "The Point of the Lesson is to Liberate our Internal Editors" is displayed in large letters across a projection screen. The Rose Schnitzer Manor's upstairs activity room is dimly lit so residents can read easily. Elderly students, some in wheelchairs, gather around a large wooden table for the weekly writing class led by veteran artist and educator Eddy Shuldman.
"There's always a part of our brain that says, 'I can't say that,' " she begins. "I say, 'Yes you can.' Edit it out later if it's harsh or too personal. But don't silence creativity." Over the years, creativity has flourished under Eddy's leadership of the class through nuances of fiction, nonfiction, poetry, prose, memoir, fantasy and drama. This day's exercise in free association helps students loosen up. They began by writing a story around the word "private" and every minute incorporate a new word … tire… clogging … .
"I wrote rubbish," says Sam, the only man in the room, as the session ends.
"We feel everything we write must be a gem," Eddy replies. "I would like to give us all permission to practice."
Cedar Sinai Park resident Diane Budner has attended Eddy's class for three years. "I hadn't written since my high school newspaper," she says. "I thought, 'What would I write about,' but Eddy draws it out. She gives us a prompt like 'She put her book down, got up and went into the room.' From there I start writing. My stories seemed to be lying there waiting to get out."
Evelyn Hirsch, 85, moved from New York to be near her daughter. "I used to write plays and short stories and still do," she says. CSP residents recently preformed her musical "The Purim Spiel," with Rabbi Abby Cohen playing the high executioner. The writing class has introduced her to genres such as rhyming poetry. "Eddy brings out the best," she says. "I've been taking the class for four years and hope to continue for many more. We love her."
Others with expertise join the group for special projects. Carole Glauber, author of Witch of Kodakery: The Photography of Myra Albert Wiggins, integrated her photography workshop into the writing class.
"Eddy decided they should write poetry about their photos," Carole says. "I discussed and demonstrated new ways of looking at their environment. They're at Rose Schnitzer Manor and used to seeing things the same way." On a field trip around the campus using mainly borrowed cameras, Carole urged students to look up and down, find patterns and zoom in on details. A poetry reading and exhibit in Zidell Hall followed.
"To have someone professional as a guide for how to take pictures was a new and refreshing experience," says CSP resident Marion Gans, who moved from Connecticut in 2012. "And Eddy not only knows her subject but has teaching skills and sensitivity to people. If Rose Schnitzer Manor didn't offer anything else, I'd stay here for this class."
Still Marion's poem "Portrait of a Bitch" drew uneasy gasps during the Zidell Hall poetry reading – until her corresponding photo of Precious the service dog flashed across the screen. "Of course, the dog's parents got the biggest kick out of it," Marion says. "I don't know if they showed Precious her photo, but they did have it framed."
A March writing class ushered in a new and unusual topic. "We're going into the realm of Magical Realism," Eddy an- nounced as students pulled up their chairs and arranged their notes. "It's a relatively new genre where magic elements are embedded in an otherwise realistic story. Imagine Chayim walking down the hall with his walker and suddenly he is elevated above the floor and floating. I want to use the book Like Water for Chocolate. It's an imaginative love story with recipes and home remedies. It takes place in Mexico in the early 1900s and uses Magical Realism. For example, when Pedro gives Tita pink roses, they turn red when she touches them."
The class would not begin by writing Magical Realism, but rather step-by-step study elements leading up to it. "We're brainstorming," Eddy said. "When you make a nice roast you marinate it. That's what you're giving your brain."
Exercises began with two lists. "Think about your own life or a fictional character's and list times you wanted to rebel," Eddy said. "Now make another list. Think about a time you struggled to figure out how to assert your personal identity. Maybe you wanted to be independent, and someone wanted you to just stay home and get married. I would love to hear one possible scenario from each of you."
After concentrated writing for several minutes, some students put down their pens and began to read.
Marion: "My fictional character rebels against her family and works for a Republican candidate."
Diane: "In college, I saw someone my father didn't want me to see."
Sam: "In 1948, instead of flying home, I join the Israeli army. It's asserting identity. The war is real, but my idea is fantasy."
Eddy continued with examples from greats like Beloved by Toni Morrison and 100 Years of Solitude by Gabriel Garcia Marquez. Then it was time to break until the next week. Homework meant finding someone with Netflix and streaming the film version of Like Water for Chocolate. "The movie is pure Magical Realism," Eddy said. "It would be great if you could get together and have a movie party. There's a Roku here. Have popcorn."