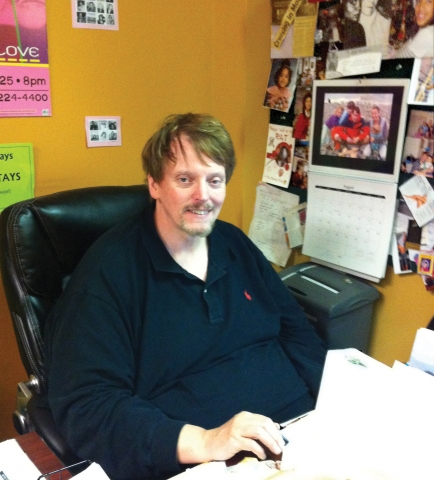 Gregg Simon loves to reflect on how his family created and grew the Portland Luggage Company over the past 96 years.
Gregg's grandfather Robert Ganapole, who came from Russia in 1905, made a living using his hands as a craftsman, or, as Gregg calls it, "building stuff." In 1910 Helen Sigel arrived from the same village and married Ganapole. They opened a luggage store in 1916. Robert built trunks and valises that Helen would sell. Robert could not make products fast enough, so they began buying merchandise and doing repairs. When the Depression hit, the store would open seasonally in one of the numerous vacancies downtown.
Gregg likes to tell the story of how his dad met his mom.
Bill Simon, a New Yorker, was in Portland on business and was told to visit the Portland Luggage Store to meet Muriel Ganapole. Muriel was not immediately smitten, but Bill was persistent. After they married they opened a store on 10th and Washington, not far from Portland Luggage on Park and Alder. With Bill's New York connections, they sold hard-to-get pots and pans, nylon stockings, dresses and luggage.
In 1944 Bill bought out the Ganapoles and became part of Portland Luggage. For 30 years they operated two stores four blocks apart.
When it was time for a new generation to join the business, Gregg says his sister, Wendy Liebreich, loved the store, but he was not sure about being involved.
"I had no interest in the business," he says. "My Aunt Fannie had told me my dad's heart was breaking because I didn't want to work at the store. I took the summer of '81 to work at the store before going to NYU Law School. I soon realized I had a natural affinity for retail and never left."
Wendy married Howard Liebreich, raised three kids and was involved in a ton of volunteer work, even while she was involved with the store. Though she recently left the business, Gregg says, "Wendy will always be a part of the store."
He says their Realtor credited Wendy for her diligence in closing the sale for Portland Luggage's current location on Fourth Avenue when the Church of Scientology sold the building in 1999.
For years Wendy was convinced that there should be a tote bag on wheels and proposed the idea to many of their suppliers. Though Gregg says he thought it was economically impractical, Wendy persisted, and soon the tote on wheels went on the market and became the third best-selling size for many years.
Now Portland Luggage has 21 employees and two locations – downtown Portland and Beaverton Town Square.
Gregg says the store is flourishing: "Our customer retention is 81%. We have long-standing Portland families that know us. We also have tourists and the traveling shows. We have the most comprehensive selection in the country. Plus we carry all the latest travel innovations. Our Internet site has been around 10 years and business is up. We are never undersold and offer extended warranties."
He describes the store's repair department, The Luggage Doctor, as fourth-generation artisans who repair thousands of cases and donate generously to those in need.
Asked what today's traveler wants in luggage, Gregg replies "lightweight and durability."
One popular item is a quad-wheel carry-on that has two regular wheels with two more wheels that can pop out so you can tip it back and push it like a cart.
He says, "Joan Rivers purchased 20! She buys about 20 a year and gives them as gifts."
Gregg explains that Rivers found Portland Luggage online.
They also carry the Rimowa line with bags weighing just five pounds.
"People going overseas with weight restrictions want the bag to weigh as little as possible," says Gregg, who notes it is the hottest line in the store. Made in Canada out of German polycarbonate, the carry-on piece starts at $495. "They are not cheap but last forever," says Gregg.
Gloria Hammer divides her time between Portland and Hood River.