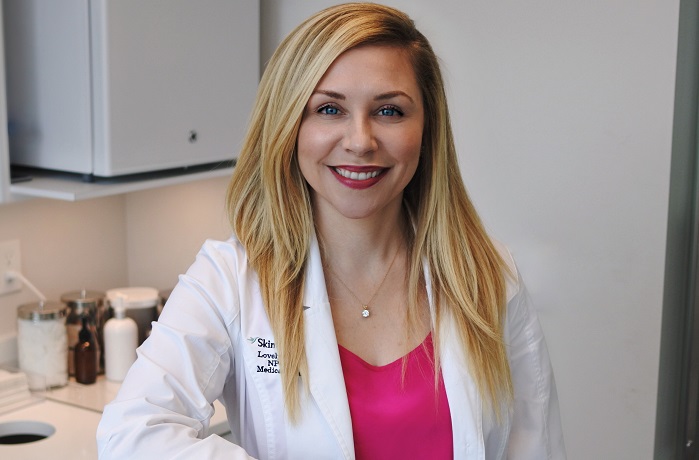 Born in a progressive hippie community in Seattle, Lovely Laban loves to share her personal appreciation for natural beauty and help others look and feel their best.
"I have always been fascinated with aging and the restoration of our bodies," says Lovely. "During graduate school, I took a position as a laser nurse and fell in love with making people feel better and more confident."
After being trained in aesthetic injectables, Lovely says, "I felt that I would have a much more positive impact in people's lives through this field. I was around for the launch of Allergan's Juvederm and was able to participate in a split face study comparing it to Galderma's Restylane. My love and passion for the aesthetic industry was ignited!"
She launched her aesthetic medicine practice in California in 2009 and expanded to Portland in 2014. Lovely will open the second Oregon location of Skin by Lovely in June. "Lake Oswego will have a beautiful retail theater for skin care with state-of-the-art facial aging technology," she says. "It will also serve as our flagship training center for physicians and other medical professionals from around North America to come and learn how to use products such as Botox, Juvederm and Restylane."
Shortly after her first child was born in California, Lovely's father was dying of cancer, so she decided to return to the Pacific Northwest to be closer to him.
"When we came to Portland, we noticed a hole in the market for what we do, so it was a good move for our family and for our business," she says. With the opening of the Lake Oswego office, she adds, "We are excited for this opportunity to introduce our products and procedures to a new market.
"A lot of time, thought and planning went into every last detail of this space. We really wanted to focus on creating a relaxing environment and providing patients with a truly luxurious experience."
The new office will be located at 6000 SW Meadows Road, Lake Oswego. As in her other clinics, the Lake Oswego site will help people age gracefully by enhancing their natural beauty.
"Many people, especially women, feel guilt when they invest in themselves," says Lovely. "When you feel beautiful and confident, there is a strength and power that comes from that. It is energizing and empowering! Also, many people fear looking unnatural and that others will know they had work done.
"At Skin by Lovely, our expert providers offer a select menu of services and focus on only the safest and most effective FDA-approved treatments," she says. "We want to enhance your natural beauty – not make you look like a different person. Our focus is always on restoration, not augmentation. We are very passionate about what we do, and we strive to give all our patients the best possible experience with amazing results."