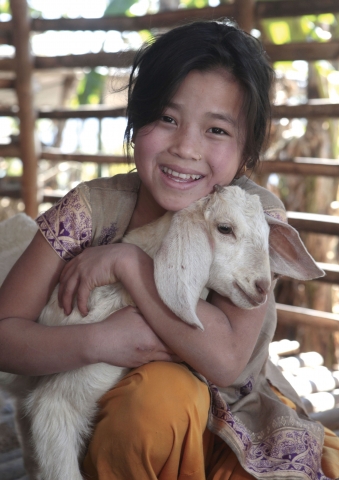 Unlike the reaction Ed Asner received when he tried to introduce Heifer International to his rabbi, Portland synagogues have long supported that charity's efforts to end poverty and hunger.
This year Asner helped launch Heifer at Hanukkah and Congregation Shaarie Torah accepted the challenge to raise funds to buy a heifer.
When Shaarie Torah Education Director Dorice Horenstein asked her Wednesday night school students if they wanted to devote their tzedakah efforts this season to buying a heifer for a hungry family, some of the students had one question: What is a heifer?
Fortunately, they had an expert on hand. Rabbi Arthur Zuckerman spent five years on an agricultural kibbutz in Israel before deciding to go to rabbinical school. Having been in charge of the milk cows on the kibbutz, he was able to tell the youth not only that a heifer is a female cow that has not yet had a calf, but also how much it would mean to a family after it gave birth and began supplying milk.
The gift of a heifer provides up to four gallons of milk a day, which enables a family to nourish its children and sell the extra to pay for food, clothes, school and medicine. When the heifer is a gift from Heifer International, the recipient's impoverished village also benefits when the family fulfills its promise to give the first female calf to another member of their village – an especially appropriate concept given the Jewish tradition of dor l'dor (generation to generation).
After the students watched the Heifer at Hanukkah video featuring Asner and Mark Feuerstein, they immediately began to brainstorm ways to raise money. Though the middle school and high school students at Wednesday night school have taken the lead, all Shaarie Torah students from preschool to 12th grade are raising funds for the Heifer project in November and December. Within two weeks they had more than half of the $500 needed to buy a heifer, so they upped their goal to $990 to buy a Cheeses of the World Gift Basket, which includes a heifer, a goat, a sheep and a water buffalo – four animals that produce milk families can use to make cheese.
"It's a life-changing mitzvah," says Horenstein.
Students have pledged to donate money they earn from babysitting and gardening during the two-month project. Zuckerman has pledged to match any money the Wednesday night students earn and donate themselves (no, he won't match money their parents donate). In addition, if that amount comes to $100, he will dye his hair Beaver orange and blue to fulfill a promise suggested by Jordan Runstein, who got the idea at a leadership conference. If students donate another $100, Horenstein will go an entire week without wearing makeup, jewelry or heels.
Three Shaarie Torah youth (Ben Mansfield, Aedan Mills and Jonah Bloom), who also attend Portland Jewish Academy, are making flyers about Heifer and plan to sell glowsticks to fellow PJAers as a fundraiser. Joanna Friedman has asked her Peace Club at Lake Oswego High School to set up a booth with Heifer information at lunch time. Deanna Jennings is selling PartyLite candles, and Kiara and Israel Miles, with the help of their parents, Pamela and Perry, have created a website for friends to donate through PayPal: www.pamelamilesltd.com/fundraiser/.
Shaarie Torah is just the latest Portland congregation to give a Heifer gift. The local Jewish community's awareness of Heifer preceded the Heifer at Hanukkah launch this year.
About eight years ago, as part of Congregation Neveh Shalom's annual efforts to alleviate hunger at Passover, Rabbi Daniel Isaak encouraged congregants to donate enough to buy an entire ark of animals. The congregation donated $7,500 – enough for one and a
half arks!
Isaak said he was introduced to Heifer by Sandy Axel, a past president of Neveh Shalom whose daughter used Heifer as a centerpiece theme for her bat mitzvah.
Isaak says Jewish support for Heifer is very consistent with the famous lesson from Hillel found in Pirke Avot: "If I am not for myself, who will be for me? But if I am only for myself what am I? And if not now, when?"
Isaak notes, "As Jews we refuse to look out upon the world wearing blinders, only seeing Jewish pain, Jewish suffering, Jewish need. We are religiously mandated to identify the struggles of others as an extension of our own. Heifer works in the third world with the poorest of the poor, those fighting to survive. Rather than simply distributing food, the Heifer Project recognizes as did Maimonides in his eight levels of charity that the highest level of assistance is achieved when one provides the means by which the needy can become self-reliant and not dependent on others."
Congregation Beth Israel has also made Heifer gifts.
"Heifer International is a top pick for a lot of our school-related tzedakah projects," according to Jemi Kostiner Mansfield, CBI's congregational affairs director.
In 2007, CBI middle schoolers raised enough to purchase a sheep, a goat, a flock of chicks, two New Beginning Baskets (lambs), three Flocks of Hope (chickens, geese and ducks) and two Earth Baskets (bees and tree). This June CBI donated $350 from preschool and religious school classes to purchase a variety of items from the Heifer gift catalog, including flocks of chicks, ducks and geese; honeybees; a hope basket; an Earth gift basket and a llama. And Early Childhood Education Director Deborah Kaplan plans to make another donation to Heifer from the preschool and kindergarten tzedakah funds in the spring.
Students at Oregon Episcopal School, which attracts many Jewish students, recently raised about $11,600 for Heifer. OES Chaplain Jenny Cleveland notes, "In both the Jewish and Christian faiths, the commandment to love God and others is in practiced through Heifer in a way that makes profound sense for children… People, animals, all of creation is important in the Heifer story and that is why Heifer speaks so powerfully to the children, I think."
Whether they have heard Asner's message or not, Oregonians obviously share his sentiment: "If your neighbor is starving, it doesn't matter what religion he is; he needs to be fed."