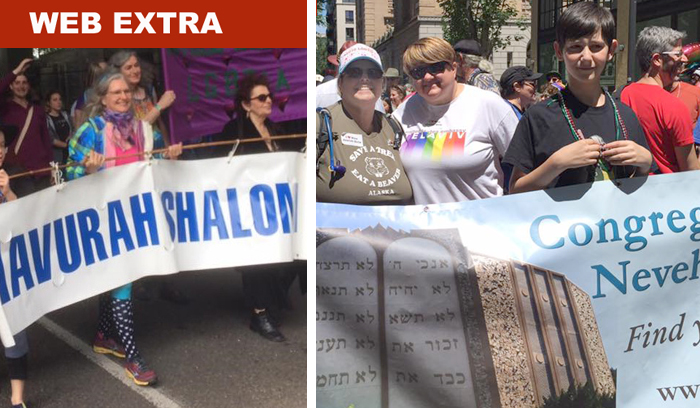 In the week following the shooting that killed 49 and injured 53 patrons of a gay nightclub in Orlando, Portland congregations and rabbis reacted to what was reportedly the worst mass shooting in U.S. history.
Several congregations, including Havurah Shalom and Congregation Neveh Shalom (above), and Congregation Beth Israel, marched in the June 19 Portland Pride Parade. The parade drew more than 150 groups and about 8,000 marchers to show support for the LGBT community.
Following are excerpts from statements from local rabbis after the shooting in Orlando.
Rabbi Debra Kolodny
Executive Director, Resolutions Northwest
What a blessing to be at the Q Center two nights in a row (June 15-16), allowing me and so many others to ground and move beyond anninut – that place of wild despairing grief – back to the world of the living.
I have immense gratitude for last night's memorial, where it looked like 2000 gathered to mourn, experience comfort in community, feel loved and know strength again.
I love that two photos where I was tagged show a window of 49 beautiful souls, one from the inside of the Q Center and one from the outside. You can see the mostly young LGBTQ Latinx lives, cut tragically short at the Pulse nightclub.
Remember Joni Mitchell's song 'Both Sides Now'? "I've looked at love from both sides now, from give and take, and still somehow, it's love's illusions I recall. I really don't know love at all."
Last night I got re-acquainted with hope. Today what is flowing through my head unbidden: I've looked at love from both sides now, from win and lose and still somehow, its loves endurance I recall. We really can grow love, after all.
Remember Rita Mae Brown: "An army of lovers shall not fail."
In the wake of this tragedy, that is my prayer.
As an army of lovers we shall not fail. These deaths will not be in vain. We will mourn. We will support those injured in healing, and the families and friends of those killed in grieving, and the community of those lost in rebuilding. We will give blood and we will give money and we will give time and shoulders to cry on and ears to listen and eyes to witness.
Yes, we will mourn and then we will organize. We will strengthen our communities. We will ban guns. We will dissipate hate. And safety and love will reign.
Rabbi David Kosak
Our national tragedies and traumatic events are too large to ever mean one thing. They quickly become symbols, calling forth our tribal responses. Everyone wants to own the piece that confirms their world view.
For some, Pulse cogently reminds us that our gun control laws need drastic updating.
For others, the Pulse is a vivid example of our country's rampant homophobia, or toxic masculinity or fear of anything queer.
Still another camp sees in Orlando a trenchant call to resist "Islamofascism" in any way possible.
For me, the deepest, most significant and enduring lesson of our latest massacre is that we must reduce human hatred. All of the other lenses by which people view these events seem like bandaids to me, addressing symptoms and not root causes. When we address symptoms, the disease will simply mutate and appear again.
We've had a great deal of success using a small teams approach to address civil rights issues, workers' protections and minority empowerment. The small team approach isn't going away. But the limitation to this is that the root problem never goes away, it simply becomes dormant or finds a new avenue of expression.
I think one of the reasons that our species hasn't devoted significant resources to address the scourge of hatred is because we imagine that hatred is a fixed feature of our nature, and is thus unchangeable. Or that combatting hatred can only be approached tangentially, via a particular issue. That is not a perspective I hold. We don't need to change our natures, but to train ourselves and create institutional structures that reduce the likelihood of hatred rooting itself in our behaviors.
…(We need to) focus on encounter, relationships and dialogue provides a robust and ongoing answer to the persistent problem of hatred and its root causes.
Because in life, one can never dream too big, only too small. And we are all in it together.
Rabbi Michael Z. Cahana, Senior Rabbi 
Cantor Ida Rae Cahana, Senior Cantor
Rabbi Rachel L. Joseph, Associate Rabbi
"They cry 'Peace, Peace!' But there is no peace." – Jeremiah 6:14
The clergy of Congregation Beth Israel are devastated at the news of what is being called the deadliest act of domestic terrorism since 9/11 – and the deadliest mass shooting in U.S. history. The horrific violence that was unleashed at the Pulse Club in Orlando, FL, is also the deadliest attack aimed at the LGBTQ community.
We pray for the victims and their families – pray for all those injured, and pray for our nation once again facing senseless violence, fueled by bigotry and hatred. Early reports show that the perpetrator claimed allegiance to ISIS. We pray that the hateful ideology, which promotes mindless violence and is rejected by most of the world's Muslims, will be uprooted from this world.
But we will not give in to fear or terror. We will not rejoin bigotry with bigotry. As President Obama said:
"In the face of hate and violence, we will love one another. We will not give in to fear or turn against each other. Instead, we will stand united as Americans to protect our people and defend our nation, and to take action against those who threaten us."
We also join with the President in calling for common sense protection from gun violence.
We stand with the LGBTQ community today and in the future, knowing that to threaten any part of us is to threaten us all.
We will continue to cry "Peace, Peace!" Until there is peace.
Rabbi Joey Wolf
The Jewish community mourns the senseless loss of life this week, the joyous cadence interrupted. We are heartbroken that guns have shattered the peace and happiness in Orlando and all around the country. We stand with our LGBTQ brothers and sisters, sons and daughters, next door neighbors, and we reject the fear and rage that stigmatizes them the same way we would oppose religious bigotry and racism.
As a nation, when we ignore the appetites of human beings on the fringes of society, we do so at our own peril: they live a life divided, one that devolves to domestic violence, homophobia and predatory crime. It saddens us that so many of those tragically slain on the dancefloor were the innocent children of immigrants, mostly Latinos, who came to America in the hopes of making better lives for themselves the way our own grandparents once did.
In the hour of grief, we oppose the kind of rhetoric that scapegoats our Muslim friends with whom we stand in solidarity. We would all do well to scrutinize our doctrinal tropes that justify shaming others on the basis of whom they love. And we should enact common-sense gun laws that would go a long way to keep those who are a danger to others from wreaking devastation.
We know from our own historical experience as Jews that the only way to resist hatred is to encounter the human faces that only yesterday we scorned. As the Proverb says, "May kindness and truth not abandon you. Bind them on your throat and inscribe them on the tablet of your heart." (Proverbs 3:3) In this hour of sadness, may the loving, jubilant stories of those who lost their lives too soon inspire us so that we learn to live in peace.
Rabbi Ken Brodkin
Congregation Kesser Israel mourns the loss 49 innocent lives which were struck down in the brutal terrorist attack in Orlando. We extend our deepest condolences to all the bereaved families, their friends and community in this time of profound pain. Our thoughts and prayers are with all of the wounded for a speedy and full recovery.
In addition, we condemn all hatred and violence which is perpetrated in the name of religion. This attack is the antitheses of monotheism which beckons us to recognize and honor every human being as created in the image of G-d.
The philosophy and actions of radical Islamists who promote such terrorist acts are deeply destructive to coexistence and Shalom. We call on world leaders to continue the fight to protect innocent people from the violence motivated by ISIS and those sharing its cruel and inhumane philosophy.
As we remark in the Rosh Hashanah liturgy, we pray for the day that "the reign of terror will dissipate from the earth."