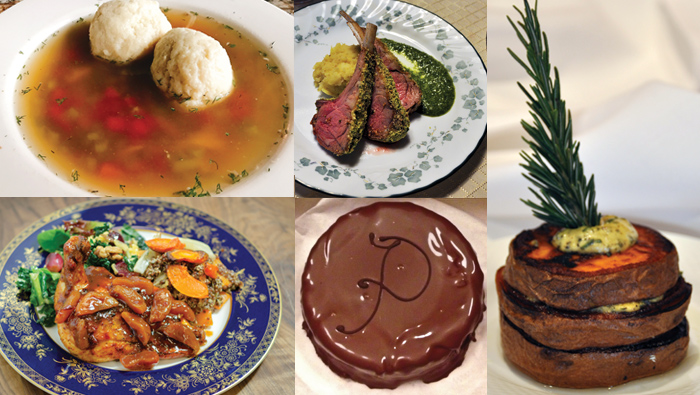 To help our readers enjoy a tasty week of Passover meals, we asked some local chefs and bakers to share their Passover favorites. Following are some recipes to consider whether you want a traditional Passover dish such as matzah ball soup or a fresh idea for tantalizing your taste buds during a week without chametz.
---
Lisa Schroeder is the chef/owner of Mother's Bistro & Bar in Portland and author of Mother's Best cookbook. She attended high school at Akiba Hebrew Academy in Philadelphia and Hebrew University in Jerusalem. She is a graduate of The Culinary Institute of America and was chosen as a Top Student Chef by Food and Wine Magazine. She honed her cooking skills at Le Cirque and Lespinasse in New York and Moulins des Mougins and L'Auberge de L'Eridan in France. She opened Mother's Bistro & Bar in 2000 to rave reviews and the "Restaurant of the Year" title from Willamette Week.
Lisa is also an active member of the community, participating in a numerous charities and causes focusing on equal rights and justice. She donates to Jewish Federation of Greater Portland and the Carl Preschool, where her twin grandsons attend.
For our Passover issue, Lisa shares this matzah ball soup recipe handed down from her mother, Belle.
Belle's Matzah Ball Soup
10 servings
Chicken Soup
2 whole chickens and other carcasses, if available
2 onions, peeled and left whole
4 stalks celery, peeled and left whole
4 carrots, peeled and left whole
4 parsnips, peeled and left whole
1 bunch flat leaf (Italian) parsley, stems and all
Fresh cold water to cover
Salt and freshly ground pepper, to taste
2 cups finely diced carrots
2 cups finely diced celery
1 bunch chopped fresh dill (for garnish)
In a big pot just large enough to hold the chickens, put in the chickens and vegetables (up to the diced vegetables). Add only enough cold water to cover the chickens (about 1½ gallons). Bring to a boil; skim any scum that rises to the surface and discard.
Season soup lightly with salt and pepper.
Simmer the broth, uncovered, for at least 3 hours. Lift the chicken from the pot and set aside until cool enough to handle. Strain the rest of the broth into a clean pot. Discard the whole vegetables.
Add the diced celery and carrots to the strained broth, bring to a boil and cook until just tender.
While the vegetables are cooking, pick through the chicken, trying to leave the pieces as large as possible, discarding the bones. Set aside.
Matzah Balls
¼ cup chicken fat, melted, or vegetable oil
4 eggs, slightly beaten
1 cup matzah meal (available in the kosher section of the supermarket)
2 teaspoons salt plus 1 tablespoon for water
2 tablespoons cold chicken soup
2 tablespoons soda water
In a large mixing bowl, whisk together the chicken fat, eggs, matzah meal and salt. Add the soup and soda water and mix well. Cover mixture and place bowl in the refrigerator for about 30 minutes.
Place one gallon of water and one tablespoon of salt in a large pot and bring to a boil.
Remove matzah ball mixture from refrigerator; using an ice cream scoop (this ensures that the matzah balls are uniform in size) scoop out equal amounts (about 1 inch in diameter) onto a cookie sheet. With wet hands, roll each scoopful of the matzah mixture so that it is shaped like a ball and drop the balls into the boiling water.
Reduce the heat so the water is at a simmer, cover pot and cook matzah balls about 20 minutes. Lift lid, stir balls, cover and cook another 20 minutes, for a total of 40 minutes.
To Serve:
Add some of the cooked, picked chicken back to soup pot (you can make chicken salad with the rest of the boiled chicken), taste soup for seasoning, adjusting with salt and freshly ground pepper as needed.
Place the matzah balls into serving bowls. Ladle broth, chicken and vegetables into bowls; sprinkle with fresh chopped dill and serve.
Note: If making the matzah balls ahead, keep them in the cooking liquid until ready to serve, then lift them out with a slotted spoon and place in serving bowls. This will prevent the balls from drying out.
Lisa Schroeder, C.C.P.
Executive Chef/Owner
Mother's Bistro & Bar
212 SW Stark Street
Portland, OR 97204
503-464-1122
mothersbistro.com
---
Elephants Delicatessen Chef/Owner Scott Weaver is a native Portlander who started his career in food at The Town Club at age 15. He was mentored by James Beard and worked for Horst Mager. In 1979, at 21, he received particular notice as Portland's youngest chef – helming the kitchen at the Norton House, one of Portland's first farm-to-table restaurants. In 1983, Scott took over the kitchen and bakery at Elephants Delicatessen, a pioneer in specialty foods and gourmet to go. More than 34 years (and 4,000+ recipes) later, he takes immense pride in the company he's helped build.
Scott's cooking philosophy remains grounded in the basics. "My lifestyle is centered on good food. It's what makes me happiest. Keep it simple, buy great ingredients and learn proper technique. Know your ingredients, taste everything and develop your taste buds."
 
Chicken with Apricot, Chipotle and Tamarind Sauce
Elephants Delicatessen's spice-laden twist on the classic chicken and apricot pairing.
6 to 8 servings
1 chicken, cut into 8 pieces
2 tablespoons achiote paste
1 teaspoon kosher salt
½ teaspoon freshly ground black pepper
¼ cup vegetable oil
¾ cup dried apricots, roughly chopped
3 tablespoons apricot preserves
3 tablespoons tamarind concentrate
¼ cup sugar
1 pepper and 2 tablespoons sauce from a can of chipotle peppers in adobo
Season chicken well with achiote, salt and pepper.
Add oil to large sauté pan. Heat the oil and add chicken pieces skin side down in a single layer. Reduce heat to medium and slowly brown, turning occasionally until browned on all sides.
Pour 4 cups water over chicken, raise heat to medium-high and bring to a simmer. Stir in dried apricots, apricot preserves, tamarind, sugar, and chipotle pepper and sauce.
Simmer, adjusting heat as necessary, about 30 minutes or until sauce has thickened enough to coat chicken. Adjust salt and pepper to taste and serve.
Scott Weaver
Elephants Delicatessen
Seven Portland locations
elephantsdeli.com
---
Nathan Seldner is a graduate of Portland Jewish Academy, Thomas Edison High School and the Oregon Culinary Institute. He became a bar mitzvah at Congregation Kol Ami. He is a fourth-degree black belt in tae kwon do.
For the past four years, he has cooked at Mirabella Portland, a retirement community on Portland's south waterfront.
Three nights a week, he creates a special for the dinner service in Mirabella's 24th-floor Aria East Dining Room, the most formal atmosphere on campus with seated wait service and spectacular views of the Willamette River, Mt. Hood and downtown Portland. He also spends two nights preparing dishes for the buffet service in the 24th-floor Aria West Dining Room.
To create an elegant Passover feast, he adapted this recipe for Crusted Rack of Lamb from a Gordon Ramsay creation that appeared on the first episode of the first season of The F Word, Ramsay's British cookery program. Nathan dovetails the preparation of the lamb with his own Sweet Potato Mash. He adapted the Mint Pesto from a variety of online recipes.
Crusted Rack of Lamb
(plan 3 bones per serving)
2 large racks of lamb, cut in half
Salt
Pepper
Olive oil
Ingredients for the crust:
1 cup matzo meal
¼ cup vegan parmesan*
One sprig each of parsley, thyme, cilantro and rosemary
2 tablespoons crushed horseradish
Splash of olive oil
Preheat the oven to 400 degrees. Place lamb on cutting board fat side up. Lightly score the fat layer with a sharp knife. Next, generously sprinkle the lamb with salt and pepper. Mop up the excess seasoning with the rack of lamb, ensuring it's thoroughly coated. Heat some olive oil in a heavy skillet. Seal the lamb by holding each side in the oil long enough to develop color (careful not to burn your hands). Save oil in skillet for sweet potato mash (recipe below). Place the lamb on a roasting pan and bake for 15 minutes. Prepare the crust while the lamb is cooking.
Preparing the crust: Place all of the ingredients for the crust except the horseradish into a blender and pulse several times until it looks nice and green. Make sure you don't overdo it with the olive oil, just a splash. Pour the mixture into a deep dish (bowl or plate) and set aside.
Putting it all together: Remove the lamb from the oven and brush generously with horseradish. Dip the lamb into the crust mixture coating it completely. Dip several times to ensure an even coating. Allow meat to rest for a bit. Place it back into the oven for 3-4 minutes when you're ready to serve.
*Vegan Parmesan: Place 1 cup Brazil nuts, 1 teaspoon chopped garlic and ⅓ teaspoon salt in the food processor and pulse until combined. (Store extra in sealed container in the refrigerator.)
Sweet Potato Mash
2 large sweet potatoes, peeled and cut into chunks
Salted water – enough to cover potatoes
2 medium shallots, chopped
Salt and pepper to taste
2 tablespoons olive oil
Boil potatoes till soft. Drain. Sauté shallots in olive oil used to brown lamb. When shallots are caramelized, mash cooked potatoes in skillet and stir thoroughly to incorporate shallots. Salt and pepper to taste.
Mint Pesto
4 cups lightly packed mint leaves, rinsed and spun dry
⅓ cup almonds, blanched
2 medium cloves garlic, peeled and minced
Grated zest of one lemon
Salt and freshly ground black pepper
Juice of one lemon
⅓ cup olive oil, plus more if necessary
Use a food processor or blender to grind the mint leaves, almonds, garlic and lemon zest together until finely chopped. (You'll need to stop the machine a few times to scrape down the sides of the bowl or blender.) Season with salt and pepper, then slowly add the lemon juice and the olive oil while the machine is running until the mint is a loose paste. Taste, and season with more salt and pepper if desired.
Storage: The mint pesto can be made a day or two ahead, and refrigerated, but will lose some of its nice green color.
Nathan Seldner
Mirabella Portland
3550 SW Bond Ave.
Portland, OR 97239
503-245-4742
www.retirement.org/mirabellaportland
---
A graduate of Le Cordon Bleu in Portland, Colt Gilbertson says he works for Allen Levin, but Allen says the two work with each other.
Colt worked for several Portland-area restaurants and caterers before joining Allen last year. "I love working for Allen. It's a nice mix of family and work. I have time to make new foods, and I have time for my family."
"And our customers are family too," adds Allen.
Born in South Africa, Allen began working for a kosher restaurant while still in school. When he graduated, he began managing the restaurant and soon became part owner. By the time he was 19, he was the sole owner. After moving to Los Angeles he worked in a non-kosher restaurant. He moved to Portland in 1984 and started his kosher catering business as well as opening the Cajun Café and a Garbanzos Fresh Mediterranean Restaurant. For the past 12 years, he has devoted himself to kosher cooking.
When Allen and Colt learned this feature would include rack of lamb, Colt decided to create a side dish to complement it.
Sweet Potato Stack
Serves 4
1½ pounds sweet potatoes
Olive oil
2 tablespoons mayonnaise
1 tablespoon Passover "mustard" (made with turmeric and other spices)
1 teaspoon fresh rosemary needles (no stems), chopped
½ teaspoon salt
½ teaspoon black pepper
Slice potatoes into half-inch rounds. Boil in water until fork tender. Remove from water, drain and fry in olive oil till brown.
Mix mayonnaise, mustard, rosemary, salt and pepper to make aioli.
Layer potato slices and dollop of aioli, ending with aioli on top.
If desired, garnish with a sprig of rosemary.
Allen Levin & Colt Gilbertson
Café at the J
6651 SW Capitol Hwy., Portland
503-535-3630
Century Catering
centurycatering@msn.com
503-849-2605
---
Terri Burke moved to Portland in 2009 to bake at her daughter's (Jessie Burke's) café, Posies Bakery & Café. "Jessie lured my husband and me out because she wanted me to bake for her coffee shop. … Before I came Jessie bought sweet breads and cupcakes from another baker."
Posies Bakery & Café was recently voted one of the best 30 bakeries in Portland by Air B&B.
Terri studied baking at L'Academie de Cuisine in Gaithersburg, MD. She spent seven years as a pastry chef at Sofitel, a French hotel one block from the White House.
Jessie and her husband, Jonathan Cohen, have three children and are members of Congregation Beth Israel.
Jessie told some CBI friends about her mom's flourless chocolate cake (recipe below), and people have begun to order it for Passover. Orders need to be made five days in advance.
Other Passover-friendly treats the bakery offers are coconut macaroons dipped in chocolate and a flourless chocolate walnut cookie.
Flourless Chocolate Cake
Terri adapted this recipe from an old cookbook called Growing Up on the Chocolate Diet by Lora Brody.
Ingredients
8 ounces unsweetened chocolate
4 ounces semisweet chocolate**
½ cup water
1⅓ cups sugar, divided
½ pound unsalted butter* at room temperature, cut into small pieces, plus more for greasing the pan
6 large eggs at room temperature
Preparation
Preheat oven to 350 degrees.
Butter a nine-inch cake pan and place a neat circle of parchment or wax paper on the bottom, covering it completely. If wax paper is used, butter it. If parchment is used, it is not necessary to butter it.
Chop both the chocolates into fine pieces and set aside.
Combine the water with one cup of the sugar in a heavy two-quart saucepan. A large copper saucepan is ideal for this. Bring to the boil over high heat and cook about four minutes or to a temperature of 220 degrees.
Remove the saucepan from the heat and immediately add the chocolate pieces, stirring until they are melted and smooth. The mixture may ''seize'' but that is all right; it will blend when the butter is added. Immediately start adding the butter.
Place the eggs and remaining sugar in the bowl of an electric mixer. Start beating on high speed and continue until the mixture is quite thick and pale yellow, and tripled in volume. This may take about 15 minutes.
Start mixing the egg and sugar mixture on slow speed. Add the chocolate mixture, stirring only until it is fully incorporated. Do not overbeat. This would cause air bubbles to form.
Spoon mixture into the cake pan. Set the pan in a slightly larger pan and pour boiling water around it. Do not allow the sides of the pans to touch.
Bake 25 minutes. Insert the sharp point of a knife into the center of the cake; if it comes out clean, the cake is done. If it does not come out clean, continue cooking for up to 20 minutes until toothpick inserted in center is no longer very wet, though some cake may cling to toothpick.
Let cool until completely cool. Run a sharp knife around the edge of the cake and unmold onto a cookie sheet. Invert a serving plate over the cake and turn it right side up. The cake is very fudgy, but can be fragile.
When cool, pour chocolate ganache over top (recipe below).
Serve with raspberry puree (recipe below) and whipped cream. If you are making the cake pareve, skip the whipped cream and chocolate ganache and serve with the raspberry puree.
* You can make this cake pareve by substituting margarine for the butter.
** 1 ounce baking chocolate = 3 tablespoons unsweetened cocoa powder plus 1 tablespoon oil or melted margarine. Alprose and Gross & Co sell Swiss Baking Chocolate that is kosher for Passover.
Chocolate Ganache
9 ounces bittersweet chocolate, chopped
1 cup heavy cream
1 tablespoon dark rum (optional)
Place the chocolate into a medium bowl. Heat the cream in a small saucepan over medium heat. Bring just to a boil, watching very carefully because if it boils for a few seconds, it will boil out of the pot. When the cream has come to a boil, pour over the chopped chocolate and whisk until smooth. Stir in the rum if desired.
Allow the ganache to cool slightly before pouring over a cake. Start at the center of the cake and work outward.
Raspberry Puree
12-ounce bag frozen unsweetened raspberries
¼ cup sugar, or to taste
½ teaspoon of freshly squeezed lemon juice (optional)
Thaw raspberries in a fine mesh strainer placed over a large bowl. Once the berries have completely thawed, force the juice from the berries by gently pressing the berries with the back of a spoon. Discard the seeds. Stir together strained juice, lemon juice (if using) and sugar.
Terri Burke
Posies Bakery and Cafe
8208 N Denver Ave.
Portland, OR 97217
Posiescafe.com
503-289-1319