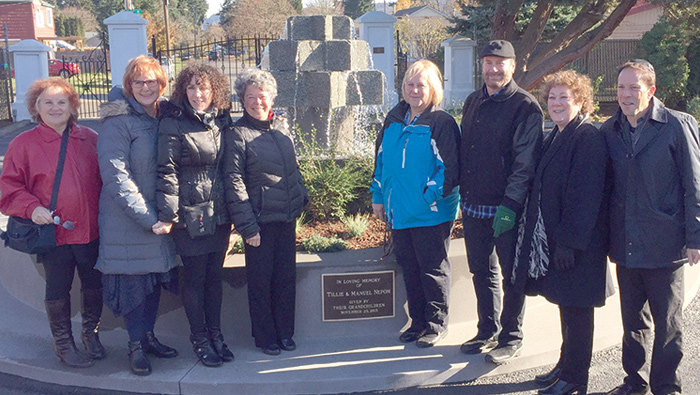 By Gail Mandel
With the completion of the community's second successful year in the Life & Legacy planned giving program, the Oregon Jewish Community Foundation has announced its commitment to continue sponsoring the initiative in Oregon and Southwest Washington through 2017. This exciting development is possible thanks to the Harold Grinspoon Foundation's strategic decision to expand the original two-year Life & Legacy program to a four-year partnership, given its goal of permanently changing the culture of philanthropy in a community.
"OJCF's board of trustees is thrilled with the impact Life & Legacy has had on our community and wholeheartedly supports the continuation of the program to provide our partner organizations with the resources needed to build vibrant legacy programs," says OJCF Executive Director Julie Diamond. "Our partnership with the Grinspoon Foundation strengthens the foundation's leadership role in many ways that will continue long after the formal program concludes."
The Life & Legacy initiative has motivated the 10 participating organizations to work together to integrate after-lifetime giving into the cultural fabric of their institutions and to build their endowments for future financial sustainability. "I've been at Temple Beth Israel for over 10 years, and this program has been such a blessing," says Nina Korican, executive director of Temple Beth Israel in Eugene. "For the first time I feel secure about our ability to maintain a legacy program and ensure the synagogue's future."
"Incorporating legacy giving into the culture of an organization and a community takes time," says Life & Legacy National Director Arlene D. Schiff. "With the success of the program to date, it only makes sense for HGF to continue to partner with communities and organizations like OJCF, to not only secure declarations of intent for legacy commitments, but to train, support and provide monetary incentives to get them to the next phase – working with donors to legally formalize their commitments and to ensure that organizations have strong stewardship practices in place that keep donors engaged, feeling appreciated and satisfied that they have made a good investment."
During the first two years of Life & Legacy, the local community secured 396 Declarations of Intent with an estimated future value of $17.7 million to benefit our Jewish organizations.
"We are beginning to experience the cultural shift here in Oregon and see the practice of legacy giving take root," says Schiff. "The Grinspoon Foundation is excited to expand upon its existing partnership with OJCF and its legacy partner organizations to assure that the vibrant Jewish community that currently exists is here for future generations."
In years three and four of Life & Legacy, OJCF will continue to fund the program, in financial partnership with HGF, and provide training, resources, tools and guidance for the participating organizations. Incentive grants for meeting annual goals of formalizing commitments and securing new declarations of intent will continue at a reduced level.
In addition, the foundation has launched Life & Legacy Abridged, an accelerated version of the legacy initiative for OJCF partner organizations that are not a part of the formal Life & Legacy program. The new Abridged program will further increase the reach and impact of Life & Legacy throughout the community.
"Life & Legacy has introduced an unprecedented level of collaboration among our community's organizations," says OJCF Board President Jeff Wolfstone. "It is a privilege for the foundation to sponsor this program that fosters camaraderie and respect among our Jewish institutions while helping secure the future of our shared community."
The initiative's impact on Jewish communities across the country continues to grow. Life & Legacy now works with 29 communities and 13 Hillel campus affiliates. As of Sept. 30, 2015, Life & Legacy trained teams, representing 289 organizations across the country, had secured more than 6,700 legacy commitments with an estimated value of more than $257 million in future gifts to the Jewish community. To date more than $23 million in gifts have been received, helping the recipient organizations build their endowments.
"As planned, Life & Legacy is on track to achieve its goal of integrating legacy giving into the philanthropic culture of the North American Jewish community," says Schiff.
On Feb. 17, OJCF will host its second annual legacy celebration to thank and honor our community's legacy supporters and to acknowledge their commitments to the organizations they value and treasure (see story, page 58).
"Life & Legacy is enabling OJCF to work with the entire community to change the language and landscape of giving in Oregon and Southwest Washington," says Diamond. "It is an honor to do this work and be a part of this nationwide legacy program that will help ensure strong futures for Jewish communities across the country."
Gail Mandel is the legacy development and marketing manager of the Oregon Jewish Community Foundation.