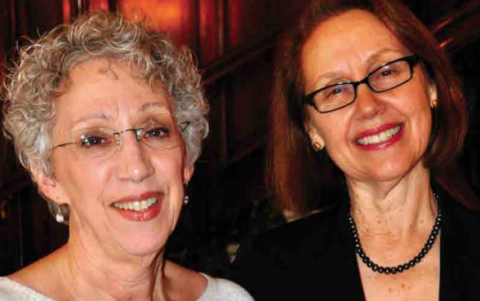 While Jews can trace their affinity for law to biblical days, two women now serving as legal leaders in Oregon had few female role models when they entered law school in the 1970s. Oregon Attorney General Ellen Rosenblum and Oregon State Bar Executive Director Sylvia Stevens, who graduated from law school in 1975 and 1981, respectively, both say female lawyers and women in general have come a long way in the decades since, but they still don't have a "full seat at the table."
Both women consider their posts to be in the service of Oregon residents. The state bar "regulates the practice of law for the protection of the public," says Stevens. Rosenblum says she ran for office to be "the people's attorney general. That means advocating for and protecting Oregon's most vulnerable citizens – seniors, families and kids."
At the Judge Learned Hand Awards Oct. 29, which honored two women lawyers and featured Rosenblum as keynote speaker, Rabbi Daniel Isaak explained Jews' propensity to pursue justice. Calling Abraham the original litigator and God the defendant in the debate over the fate of the wicked cities of Sodom and Gomorrah, Rabbi Isaak said Abraham appealed not just for the righteous but for everyone. "If there are 10 righteous people, all must be saved," Isaak said of Abraham's logic. "He was appealing for society in general. Maybe that's why we have a lot of Jewish lawyers."
Rosenblum also refers to biblical origins: "Justice, Justice … is part of our DNA and what we learn if we are at all learned in Judaism." Stevens adds that history contributes to the drive to "do justice and love mercy." She notes that the Jewish experience as a persecuted people over the millennia has contributed to the Jewish quest for justice: "Justice, mistreatment and survival are themes … As a (historically) persecuted people, we recognize you can't always rely on the good faith of other people."
That knowledge combined with the "law embedded in Judaism" has made the legal profession "a calling. We've had some excellent lawyers and judges throughout history and currently," says Stevens, noting that the Jewish attorneys and judges she had in mind seek justice and protection for society in general, just as Abraham did.
Yet women's entry into the legal profession has been more recent.
Speaking at the Judge Learned Hand Awards lunch, which was hosted by the Oregon Area Jewish Committee, Rosenblum touched on women, law and equality.
"1972 – the year I started at the University of Oregon School of Law – was the first year to have more than a token number of women students," said Rosenblum. "It was as if female college seniors had suddenly taken note that there were virtually no women lawyers, and that perhaps we could do something about
that. … There was this pervasive – and wonderful – sense that the law was the best agent for social change."
At the time there was a dearth of women role models – just one woman on the faculty and one female judge in Lane County. Women now make up more than half of law school graduates nationally. But Rosenblum says gender bias still exists. "While women have come a long way from the days I was escorted out of the men's grill, we don't have a full seat at the table yet," says Rosenblum, referring to an incident in the late '70s when her new partners tried to take her out for a celebratory dinner at a Eugene country club.
"As recently as two years ago, as I was completing my tenure on the Court of Appeals, I was mistaken for a secretary by counsel about to appear before me – I guess because I was a woman carrying a pile of briefs in the elevator," said Rosenblum in her address. "Imagine his surprise when a few minutes later, I was one of three black-robed judges who entered the courtroom to hear his argument."
Such unconscious bias can be eliminated through conscious efforts, says Rosenblum, who notes that as one of the pioneering women of the class of 1975, she has been able to blaze some trails toward that goal. For instance, in 1984 she took her newborn daughter, Cate, to eastern Oregon so she could continue to nurse her while prosecuting a case. Judge Owen Panner asked what she needed and made sure she had the time and space needed.
"Although I was fortunate and grateful to have Judge Panner's support of my dual roles (prosecutor and mother) … I'm glad that Oregon women no longer have to depend on the kindness and understanding of their supervisors – it's now the law that many Oregon employers must provide breaks to accommodate breastfeeding mothers!"
Rosenblum is especially conscious of that law now that Cate is a first-year medical resident expecting her first baby soon. Dr. Cate Meeker Kent and her husband, Dr. Kyle Kent, live next door to Rosenblum and her husband, Richard Meeker. Rosenblum's son, Will Meeker, and his wife, Megan, live in California.
Rosenblum learned the power of negotiation in pursuit of fairness at the dinner table of her youth. The daughter of Louise, a social worker, and Victor Rosenblum, z"l, a law professor who served as president of Reed College in the late '60s, she says her career as a lawyer started early as she negotiated for fairness and equal protection for her younger siblings. She was the middle of three sisters followed by five boys – "a rather large family, especially for a Reform Jew."
"I saw the law as a way to make positive changes," says Rosenblum. "I did not go to law school to make money." As a child of the '60s, Rosenblum says, "The idea only men make decisions for so many women and children on such important issues … was amazing to me. Women need to be at the table in law and in other professions."
"Any difference brings diversity, and diversity is critical," says Rosenblum.
Stevens also chose law school as a way to make a difference and expand diversity. "I decided law would be a way to do something useful in society and improve women's and children's lives. … Changes women wanted to see weren't going to happen if we waited for men to do them."
In terms of diversity, Stevens adds, "Women bring in more diverse perspective, which I think results in better justice. … I think we've increased law firms' tolerance for all types of lawyers." After women got their feet in the door, Stevens says a number of ethnic minorities found a more welcoming environment in law firms.
But both women agree obstacles remain. Though women now make up just over half of law school graduates nationally, they fall behind in terms of earnings and partnership opportunities. About 35% of Oregon Bar members are female, with the female/male ratio of under-40 attorneys being closer to half, says Stevens.
To meet the challenge for more equality, Stevens says, "Women have to continue into positions of leadership. Because family roles are still mainly traditional, not many women stay on partnership track in law firms, especially in large firms."
Rosenblum's keynote address also addressed that issue: "Women enter the profession at the same rate as their male peers, but fall behind somewhere on the way to the top of the career ladder." She pointed to a national study that reports a 20% gap in pay between the genders after 12 years in the profession. "Men get promoted faster and paid more, and women don't make it to the top of the career ladder in the same numbers as men do." Oregon's first woman (and first Jewish) attorney general, Rosenblum says that is also reflected in the fact that she is one of only nine women attorneys general in the country. And Oregon has few women district attorneys. But both Rosenblum and Stevens say there is good news.
"Women have made progress," says Rosenblum, noting the increase in women in middle management and the first female chair of the Federal Reserve, who has pushed society's obligation to promote economic opportunity. "As a society we are starting to realize that men, children and families all benefit when we give women the chance to succeed." "Increasing numbers of women are making it," says Stevens.
The Judge Learned Hand recipients (see story page 42) are representative of that success. Rosenblum said, "We need more women law partners" like Lifetime Achievement honoree Lisa Kaner and Community Leadership Award recipient Amy Edwards. Stevens says she found that being in a roomful of people honoring the two women was inspiring. "Lisa and Amy have been able to do it and so has Ellen," says Stevens. "They are wonderful role models for the rest of us."
OREGON ATTORNEY GENERAL – ELLEN ROSENBLUM
Ellen Rosenblum was elected to a four- year term as Oregon's 17th attorney general in November 2012. She is the state's first woman and first Jewish attorney general.
When she retired from the bench after 22 years as a state trial and appellate judge, Rosenblum says she did not intend to run for attorney general. But when she got a text from her husband that John Kroger had decided not to seek re-election, it was suddenly clear that was the logical next step in her legal career.
A "proud double Duck," Rosenblum has lived in Oregon since transferring from Scripps College to the University of Oregon to complete her bachelor's degree before entering the UO School of Law in 1972. After graduation she joined a small Eugene law firm, where she soon rose to partner. When U.S. Attorney for Oregon Sid Lezak, z'l, asked her to help open a branch of the U.S. Attorneys office in Eugene. A year later Lezak learned she was dating Portlander Richard Meeker (who bought Willamette Week in 1983); Lezak, "a good facilitator of our relationship" promptly invited her to join the Portland office, which she did in 1981. During her 10 years as a federal prosecutor, she and Richard had two children Cate in 1984 and Will in 1987.
Active in local and national organizations of lawyers, judges and attorneys general, she has also found time to volunteer in the Jewish community.
She has served on the board of Congregation Beth Israel, where she still sings in the choir. She started CBI's book group, and lead it for 15 years, stepping down last year. "It was a big part of my enthusiasm for bringing in people who might not otherwise connect," says Rosenblum. "A lot of women new to the community would find their place in book group. … I always loved being the leader; I loved bringing coffee and bagels, and it was a way to get me reading."
Her introduction to the American Jewish Committee was through Emily Gottfried, z'l, with whom she sang duets at the Mittleman Jewish Community Center when Gottfried was the cultural arts director there before she became head of AJC's Oregon Chapter (now Oregon Area Jewish Committee).
She says you don't have to be in shul to learn from Jewish people, and she has learned a lot from talking to Oregon Court of Appeals Judge Rick Haselton, a member of Kesser Isreal.
The Jewish values she has learned throughout her life fit right in with her priorities as attorney general. As attorney general her priorities include advocating for and protecting Oregon's most vulnerable, including especially
its families and children, its seniors, Oregonians whose first language is not English, and students who have incurred significant education-related debt.
"If I can help ensure people are pro-tected financially and physically through the work we do at the department of justice, then it's a great job."
OREGON STATE BAR EXECUTIVE DIRECTOR – SYLVIA STEVENS
Sylvia E. Stevens is the executive director of the Oregon State Bar. She joined the OSB staff in 1992. She served as deputy general counsel for 14 years and general counsel for four years before her appointment as executive director in 2010. Prior to joining the bar, Stevens was a partner in a Portland law firm where she had a varied civil practice that included commercial and family law.
Stevens is the daughter of World War II veteran Dr. Zanly Edelson, z"l, and Barbara "Bunny" Edelson. The family belonged to Congregation Beth Israel, where Sylvia attended religious school. She has two sisters and two brothers. A Portland native, she has lived in Oregon her entire life except for the four years her first husband was in the military. Following graduation from Oregon State University, she worked in retail and office jobs during requent military related moves. The couple were married 19 years. Her son Jacob Stevens, 28, is a chef at the popular Portland restaurant Beast. For the past 22 years, she has been married to Alan Newbauer.
A long-time volunteer in professional organizations, Stevens served on the OSB Board of Governors before joining the bar staff and was OSB vice-president in 1991- 1992. She has served as president of the Multnomah Bar Association, Oregon's largest voluntary bar, and was a founding board member of the Multnomah Bar Foundation, an organization dedicated to promoting civic education about the rule of law and the legal system.
She has been a member of the American Bar Association Standing Committee on Client Protection and has served two terms on the ABA Standing Committee on Ethics and Professional Responsibility. She serves on the ABA Center for Professional Responsibility's Policy Implementation Committee.