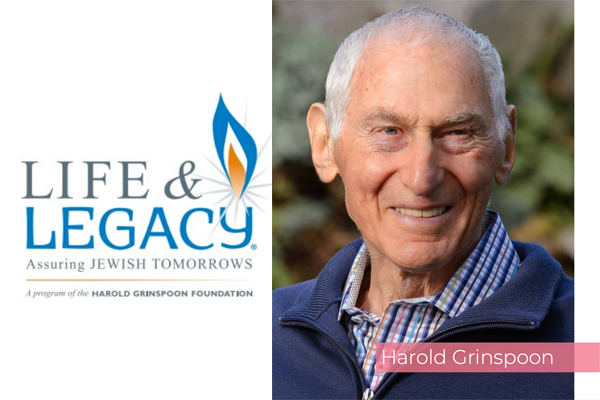 The Oregon Jewish Community Foundation is pleased to continue its long partnership with the Harold Grinspoon Foundation's LIFE & LEGACY initiative for the first North American Legacy Donor Appreciation Event. This virtual event will take place on May 25 at 4:30 pm and will celebrate the 18,000 donors from 71 communities who have made legacy commitments through the initiative. This includes local donors who have made more than 550 legacy commitments to Jewish organizations in Oregon and Southwest Washington.
The event will feature the stories of donors from across North America who have made legacy commitments, as well as greetings and reflections from Harold Grinspoon, founder of the Harold Grinspoon Foundation and Winnie Sandler Grinspoon, the Foundation's president. Jonah Kaplan, an award-winning political and investigative reporter at WTVD, the ABC-owned station in Raleigh-Durham, NC, will serve as the evening's host.
There is no charge for the 45-minute event.
"Through LIFE & LEGACY, we are sustaining vibrant communities so future generations will be able to enjoy our rich Jewish culture and heritage," says Harold Grinspoon, the founder of HGF. "I am thrilled to have the opportunity to honor all those who have made a legacy commitment to date and to encourage others to join us in this endeavor."
OJCF's LIFE & LEGACY donors have made commitments to 19 local organizations, including:
Cedar Sinai Park
Congregation Beth Israel
Congregation Kol Ami
Congregation Neveh Shalom
Congregation Shaarie Torah
Congregation Shir Tikvah
Greater Portland Hillel
Havurah Shalom
Jewish Family & Child Service
Jewish Federation of Greater Portland
Jewish Federation of Lane County
Maayan Torah Jewish Day School
Mittleman Jewish Community Center
NCSY Oregon
The Oregon Hillel Foundation
Oregon Jewish Museum and Center for Holocaust Education
Portland Jewish Academy
Temple Beth Israel, Eugene
Temple Emek Shalom
"We are excited to celebrate the legacy donors who made 550+ legacy commitments here in Oregon and Southwest Washington, along with the legacy donors from the other communities in the LIFE & LEGACY network, who have already committed to ensuring the long-term financial health of valued local organizations," says OJCF's Director of Donor Relations & Development Officer, Tara Siegman. "It is our hope that every member of our community will join us by making legacy commitments to the organizations they value in our shared Jewish community."
If you have not yet had a chance to make your legacy commitment and would like to participate in the May 25 event, please contact the organizations named above or Tara Siegman at taras@ojcf.org or 503-248-9328.
Legacy donors who would like to join in this celebration may register by visiting surveymonkey.com/r/2021LegacyDonorEvent.