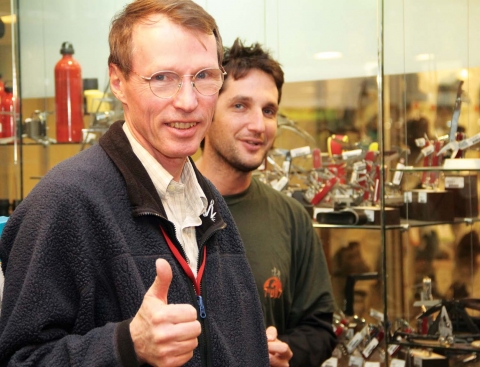 When I first came to Portland, I quickly learned that Portland (or actually, Beaverton) is the hometown of Nike. With all the Ducks merchandise going around, you just can't miss it.
But, as time went by, I was surprised to find out more companies I really liked are based here, including Columbia Sportswear, Gerber Gear and Laika Studio (creators of the stop-motion animation movie Coraline). For me, the top discovery was to learn Oregon is home to Leatherman, the manufacturer of the famous multi-tool.
I did not think that the mania around Leatherman multi-tools was unique to Israel until I met so many people in Oregon who hadn't even heard about this brand. Growing up in Israel, a Leatherman always seemed to be the coolest gadget to have on hand in the outdoors. In my youth movement, camp people did not consider you a professional scout if you did not have one; in the army it was the most popular thing soldiers would buy at home to add to their army vests.
The Leatherman – or, as people in Israel pronounce it, ledder-man (Hebrew and the "th" sound just do not go together) – became so popular among men in the army that the nickname for the kippah clips religious soldiers use became "ledder-dos" ("Dos" being a nickname in Israel for religious Jews). The nickname arose because the religious soldiers have found so many everyday uses for those clips other than simply keeping the Kippah on their head, that it is just like the multi-tool. There is even a long list circulating in online discussion groups about all the different uses of the almighty clip.
Last February Tim Leatherman, the native Oregonian who came up with the idea of this multi-tool while traveling with his wife in the 1970s, came to visit Israel. He gave a long interview to Blazer, the popular men's magazine in Israel (our version of Maxim). His visit at a mall in Tel Aviv created a line of people waiting for him to engrave an inscription on their tool.
So why is Leatherman so popular in Israel? Maybe it's a trend, maybe it's the army service, but Tim thinks it's in the culture. During an interview he gave to a national television channel, he said, "Israelis are quite self-reliant. You have the kind of culture and spirit that makes it a good place for Leatherman." Be that as it may, I am definitely planning on bringing some very useful souvenirs when I return home after my year in Portland.
Amos Meron is the Israeli shaliach (emissary) to the Jewish community of Portland, and can be reached at amos10@gmail.com or on Facebook (Amos Meron Shaliach).