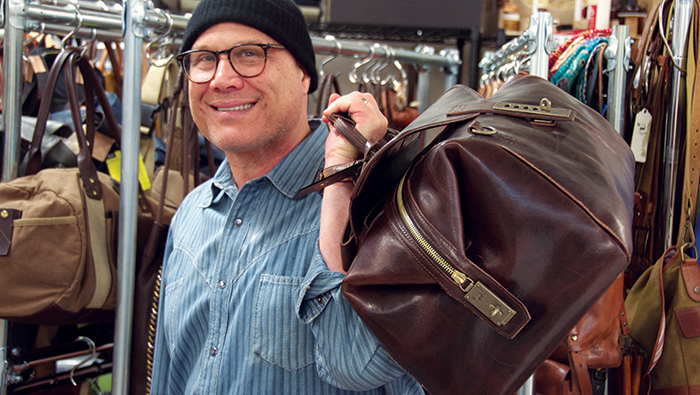 International traveler, leather virtuoso, philanthropist and entrepreneurial innovator Will Adler dared to dream big. During the past two decades, the Jewish CEO and founder of Will Leather Goods has brought those dreams to fruition in Eugene and Portland, as well as in four other U.S. cities, and soon, overseas.
A one-time Shakespearean and Hollywood actor, Adler's 30-year career in leather began serendipitously.
"My wife, Sandy, was about to give birth to our first child when there was an actor's strike in Hollywood," Adler says. "I needed a sudden career change. Growing up in a mixed Jewish neighborhood in Detroit, I was heir to a century of retailing. My father was a merchandising manager, and the garment industry was in my blood, so that was my first instinct."
Adler started small, selling leather belts and wallets on the Venice Beach Boardwalk in Los Angeles. "During the next decade, we went from three people in a garage to 150 employees. Today, our global team is closer to 200, but it's still very much a family-run business. Each family member has their own area of expertise. My daughter, Shane, for example, is our branding and marketing director."
Being family-run keeps things personal, but Adler feels that leather itself is a very personal material. "For many people, the sensory touch or aroma of leather and oil triggers some kind of nostalgia – a grandfather's briefcase, a polished saddle, the first genuine leather belt or wallet you ever owned – generating positive emotions. Here at Will Leather Goods, we also connect to the animal itself, never slaughtering only for hides but becoming part of a process that involves an appreciative tip-to-tail philosophy resulting in zero waste. We honor the spirit of the animal, but also the spirit of the artisans who get creative with it, fabricating products of inspired beauty."
Extending that concept to many global points of origin is also part of the process. Early on, Adler's interest in meditation took him to India for studies with the Maharishi Mahesh Yogi, overlapping with a similar journey taken by Beatles John, Paul, George and Ringo. There he became enamored of traditional Kantha quilts, made from fabric scraps brought home by workers at sari factories that were then stitched into bedding. More recently, he returned to India and brought back about 200 vintage Kantha quilts in order to repurpose them into reversible tote bags reinforced with eco-friendly, vegetable-tanned leather to ensure that the end product is durable.
"Durability is not just a slogan," Adler says. "We guarantee all of our bags for life, no questions asked. It's a belief in the reliability of our products that other manufacturers seem to have misplaced."
In several locations worldwide, skilled local artisans are employed directly by Adler with no go-between corporations diluting the compensation paid to these workers. "In Africa, for instance, we source deep blue indigo cloth that has had symbolic and monetary meaning for generations. In Oaxaca, Mexico, we connected with Teotitlán weavers to produce Oaxacan wool rugs dyed with berries, moss, tree bark and larvae to achieve vibrant, varied colors. Fashioning the rugs into other uses, we maintain steadfast construction standards by adding leather panels to bolster stress points, just as in our canvas with leather collections."
The Will Leather Goods catalogue has gone miles beyond the first belts, wallets, bags and backpacks that started the enterprise. They even produce a novelty collection of Golden Age leather-craft sporting memorabilia, including historically inspired basketball, football and soccer ball replicas that are hand-stained and hand-burnished to create an antique patina.
It's in the realm of tzedakah projects, however, that Adler's company truly chooses a unique path. "I know that traditional Jewish charitable giving is typically seen as a moral obligation," Adler says, "but we want to take it a step further toward tikkun olam, healing the world by direct action."
To that end, at the start of every school year, Will Leather Goods sponsors the "Back-to-School Get & Give Will" social initiative, offering a "buy one, give one" program designed to support students in underfunded schools across America. For each backpack or messenger bag purchased, the company donates one high-quality backpack filled with essential school supplies to an American child in need. Their ultimate goal is to donate a half-million backpacks nationwide by 2025. To date, they've donated more than 8,500 backpacks to schools in Oregon, California and Michigan.
Adler, who attended public schools and Hebrew school in Detroit, says the backpacks are distributed at special assemblies that either he or other top staffers or family members attend. "The best part is that each colorful bag has a designated space on it for the child to write his or her future aspirations. That's why we call them 'a bag to carry your dreams.' The idea is to encourage kids who have limited resources to consider real goals, gain confidence and then carry that inspiration with them every day."
In short, a new generation of students who can dare to dream big.