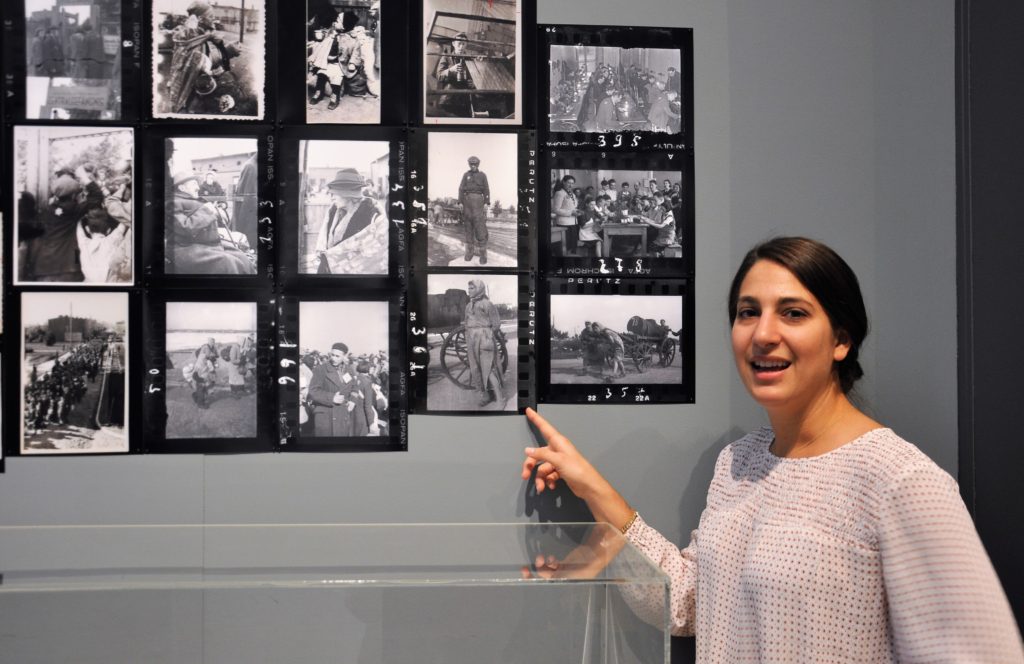 PHOTO: Museum and Holocaust Educator Amanda Solomon points to a photo from the Lodz Ghetto. She says when students see real people in the photos, they ask important questions that have no easy answers.
After four years as a middle school math teacher, Amanda Solomon wanted to have a greater impact. On the March of the Living Holocaust study trip to Poland and Israel, she saw the power
of learning in the field.
On her fourth day working at the Oregon Jewish Museum and Center for Holocaust Education, Amanda took 200 students on tours of the museum's exhibit of clandestine photos from the Lodz Ghetto. As the students explored that exhibit and the museum's permanent exhibit on discrimination and resistance, she knew this was the impact she had sought. "Both exhibits complement each other. If they see the Lodz exhibit first and then go upstairs (to the permanent exhibit), they ask, 'How did this happen, and is it still happening?' "
"The kids very much responded to … the parallels to contemporary history; it relates to where you are living," says Amanda, who became OJMCHE's museum and Holocaust educator Oct. 9, 2018, the same day the museum opened "The Last Journey of the Jews of Lodz."
Museums get students out of the classroom and give them the opportunity to see primary source material. Amanda says when students look at the photos of people in the Lodz Ghetto, it moves them in ways a textbook cannot. In addition, she says learning outside the classroom caters to different learning styles.
"It is a different environment that allows students a different opportunity to learn," she says. "They can ask different questions, and they can approach different topics."
OJMCHE Executive Director Judy Margles says this approach is a movement that started in recent years. "Museums are not neutral," she says. "Every exhibit takes a position. Since 2016, museums are much more articulate and brave about position taking."
After Amanda went on the March of the Living, she enrolled in the master's program in Holocaust and Genocide Studies at Stockton University. She also attended a Peacebuilding Institute in Rwanda and a study tour of the Netherlands and France with three Holocaust survivors.
She is currently working on her thesis, entitled "From Warsaw to Baltimore: Escaping World War II and Contemporary United States Ghettos." Amanda describes her thesis as an examination of largely overlooked parallels between World War II and contemporary black American ghettos. "While noting important differences, I build on recent scholarship that demonstrates how mass violence solidifies and perpetuates the constructed identities of both victims and perpetrators."
She says her thesis doesn't offer solutions, but it will make students think about the word "ghetto" and its impact on people living in contemporary inner city violence.
"I tell students, 'I never want you to leave thinking you have all the answers. I want you to leave with more questions,' " says Amanda. "We challenge people to think how they can contribute to a just world."
OJMCHE's Lodz exhibit is presented in partnership with Portland Art Museum's Memory Unearthed: The Lodz Ghetto Photographs of Henryk Ross. Both exhibits continue through Feb. 24.