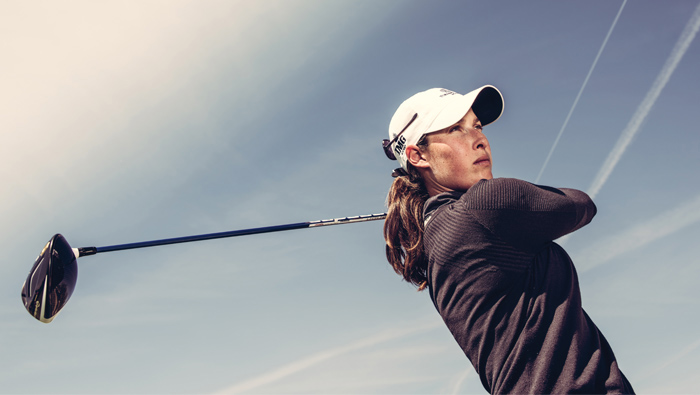 Laetitia Beck started playing golf when she was 9 years old. That may not be unusual, but Laetitia was living in Israel where there is only one 18-hole golf course in the whole country and no professional golfers.
Laetitia was born in Antwerp, Belgium. Her family moved to Israel when she was 6 years old. "I loved sports; even in Belgium I remember playing different sports," says Laetitia. "Then when we moved to Israel, golf [became] my hobby. We had classes at the country club in the center of town." Her family lived in Caesarea, where she played at the Caesarea Golf Club.
When Laetitia was 12, the lead golf pro at the club told her and her mother that Laetitia should compete in the Israeli Ladies Championship. At that time, she had only competed in junior tournaments. In this competition, she would be playing against women four times her age! "My mom caddied for me, and I ended up winning," she recounts of that day.
At that time, in 2004, she was the youngest person ever to win the country's championship. At Laetitia's school the next day, they called all the students outside, announced that she had won and surprised her with a trophy.
FOCUS ON GOLF
She quit all other sports and started playing golf five days a week. "The next year, I really saw an improvement," says Laetitia. She started to win every tournament she entered – and not by a small margin; at times, she won by as many as 30 strokes.
When Laetitia was 13, her family realized that Israel lacked the resources, including professional training facilities and coaches, to provide her with a future in golf.
"If I really wanted to get to the next level, I would have to leave Israel," she says.
Another young golfer from Caesarea, Roi Steinberg, had left a couple of years earlier to attend the IMG Academy in Bradenton, FL. IMG is a boarding school that offers academic and athletic college-preparatory experiences in golf and seven other sports. The Becks decided the transition might be easier if Laetitia knew someone at the school. At 15, she left for the United States.
She was always very independent in Israel, going to the golf course to practice after school before returning home in the evening.
Still, that first year was a struggle. She even thought of going back to Israel but realized that if she returned, she would probably quit golf. She spent time with Roi speaking Hebrew and playing tennis, but her socialization was limited. She concentrated on golf.
During her sophomore year, college scouts started attending the tournaments. After a scholarship offer from Duke University in North Carolina, she set her sights on college. In 2010, she started at Duke and joined the women's golf team. The team of seven players played tournaments together.
"It was fun! It was the first time I had a team," says Laetitia.
She also became involved with the Jewish student community. "I keep kosher and it was much easier for me [at Duke] than in high school," says Laetitia.
She found the sports/school balance and graduated with a degree in psychology with All-American honors in both her junior and senior years. She was only the 11th Duke golfer to earn All-ACC (Atlantic Coast Conference) accolades during each of her four years.
TIME TO TURN PRO
Laetitia's goal after college was to become a professional player. "[I] always wanted to turn professional, I wanted to [play golf] for a living and represent Israel and my family," she says.
After graduation, Laetitia moved to Montreal, Canada. She divided her summers between Israel and training with her coach, Andrew Phillips, at the Elm Ridge Country Club in Île Bizard, an island near Montreal.
Her first professional event took place in Canada in 2011. "I was still an amateur, but I qualified to play at the Canadian Women's Open [at the Hillsdale Golf and Country Club]," says Laetitia. "It's funny, because the tournament was held at a Jewish club. So my first professional event with the LPGA was as an amateur at a Jewish club."
Laetitia's focus now turned to getting her Ladies Professional Golf Association Tour card. Anyone can turn professional but qualifying for membership on the LPGA Tour is an arduous process. She began that process in 2010 with more than 400 other women golfers, 20 of whom went on to receive cards.
Laetitia received her LPGA Tour card in December 2014 at age 22, becoming the first Israeli to qualify as a full member of any major golf tour.
In the fall of 2014, a golf friend from Belgium suggested that she stay with his family in Aventura, FL, near Miami. They offered her a room in their home and the chance to play golf at the Turnberry Isle Miami Resort and Golf Club. She liked it so much, she decided to stay in Aventura – and Turnberry is currently sponsoring her.
"It's a resort with a lot of Jewish people. I love it there! Every other person is wearing a Star of David," jokes Laetitia.
OLYMPIC MOMENT
Laetitia competed at ages 13, 17 and 21 in the the Maccabiah Games, also known as the "Jewish Olympics." She took home gold medals in the individual competition at age 17 and in both individual and team competitions at age 21. But she also wanted to compete in the "real" Olympics.
In 2016, she qualified to compete in the Summer Olympics in Rio de Janeiro, Brazil. She even designed her own uniform, shoes and golf bag. "It took me a long time to design my golf bag, because I wanted [it] to represent the culture and religion – not just Israel," explains Laetitia.
Laetitia is extremely proud of her Jewish identity and was uncomfortable hearing that she shouldn't wear her uniform with the Star of David emblem outside of the Olympic Village. She has not encountered much anti-Semitism on tour or in everyday life, but she did encounter anti-Semitism at the Olympics. As the Israelis went to board their assigned bus to go to the Opening Ceremonies, a member of the Lebanese team, which had already boarded, stood in front of the bus and ordered the driver to close the door and not allow the Israeli team on the bus.
"That was the first time I had experienced anything like that," recounts Laetitia. "[It was] frustrating to see how this was happening at the biggest event in the world."
Around 30 Israeli athletes were not allowed on the bus. "But they got us another bus – for just us," she says. Fortunately, Laetitia had no further contact with the Lebanese athletes for the rest of the Olympic Games and no more unpleasant encounters.
THE PASSION BEHIND THE PLAYER
When asked what has influenced her most, Laetitia's answer is not another golfer or athlete –  it is her history. "I think of how my grandparents had to go through a lot of things [that] I didn't have to," says Laetitia solemnly. "What my grandparents came from – almost dying – and I can be at this level [of success]. Two of my grandparents were in Auschwitz and the other two were in hiding in Belgium. I felt I had to do something to show the world that we are strong people."
Golf lets Laetitia represent the country of Israel, the Jewish culture and her family's heritage.
"I get a lot of joy from seeing someone identify Jewishly," says Laetitia, adding she especially enjoys it when someone "comes to the golf course, watches me and says 'Shalom, we are so proud of you.' For me, what's important is how proud they are."
She also hopes that her success on the greens can help her reach her goal of making a difference. "If I can reach a really high level, then I can reach more people," she says. "It all depends on how well I do in golf – and that will give me a stronger voice. I still have to find that passion and what I want to do. I'm hoping to do something that will make the world a better place than before, [to] use the power that I will have to try to do something better."
She is already used to making history – so making the world a better place is right on par for Laetitia Beck.