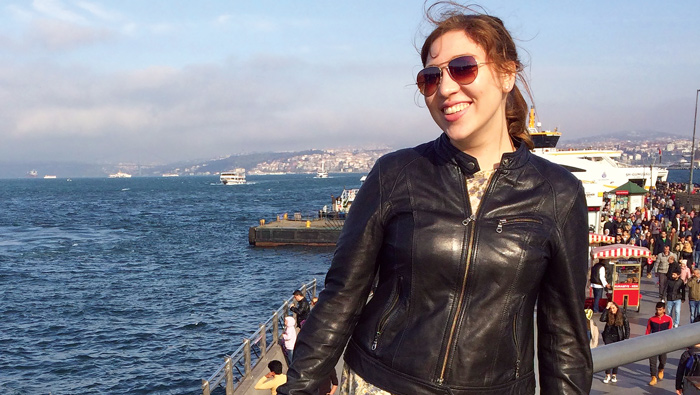 Just 22 years old, Jennie Spector has already taken steps to elevate women's voices on the bimah and the world stage.
From her bat mitzvah decision to her college co-op in Istanbul, she has worked to move women's voices onto equal footing with those of men.
The daughter of Marshal Spector and Sharon Pollin, Jennie attended Portland Jewish Academy and Congregation Shaarie Torah, which was then a traditional congregation. Since women could not read from the Torah at her congregation, she had a private bat mitzvah at the Sheraton Airport Hotel. Shaarie Torah is now an egalitarian Conservative synagogue; could the voices of Jennie and some of her contemporaries have contributed to that shift?
"My interest in women's issues and feminism started at a young age," says Jennie.
While attending Riverdale High School, she was active in NCSY and the Jewish Student Union. Now a senior majoring in international affairs at Northeastern University, she focuses on examining the roles and rights of women in the world. NU is known for global experiential learning opportunities, with most students participating in at least two co-ops (4-6 month internships), says Jennie, noting that means most students take five years to complete their degree.
Jennie's first co-op involved helping Cambridge terrorism expert Dr. Jessica Stern complete her book, ISIS: The State of Terror. This experience provided Jennie with important insights and understanding when she was in Paris as an exchange student last fall during the terrorist attack and again in Istanbul when two ISIS bombings occurred while she was in the middle of her second co-op.
"From working on the book it seemed less random and put it in perspective, so I understood why this happened," says Jennie. "It was also interesting to see the recovery and to see the world respond."
She says that after the ISIS attacks in November, Paris was a somber place – the next day parks were closed and no one was smiling on the street. "The different energy continued for my last month there."
In Istanbul, she could hear the blast across the water. But she says people were very casual and immediately kept on with daily life. She notes, however, the Istanbul bombings were much smaller and, since she does not understand Turkish, she did not understand street conversations as she could in France.
The second suicide bombing in Turkey, in which three Israelis died, prompted Northeastern to pull Jennie out of Turkey in late March. She is completing her internship remotely and visited family in Portland during Passover.
Jennie's January-June co-op is with two Istanbul-based organizations, The Fuller Project for International Reporting and Foreign Policy Interrupted, which share the goal of amplifying women's voices in foreign policy journalism. The Fuller Project focuses on encouraging journalists to tell women's stories, while the FPI helps mid-career foreign policy experts improve their ability to speak to the media with a focus on increasing the number of women the media speaks to.
The name of the second organization is based on a quote from Madeleine Albright, the first woman to serve as U.S. Secretary of State: "My motto … for young and medium-aged women is that we have to learn to interrupt, because you don't get called on just because people think you should be. You have to have some thoughts and interrupt."
Jennie says her boss at FPI describes the team's tone as "the energy of a cheerleader who will beat you in a debate on foreign policy."
FPI co-founder Lauren Bohn is someone Jennie considers a mentor. "She is a ball of light. She has taught me a lot about having an idea and making it happen. If you think the world needs it, probably hundreds of others will appreciate you making it happen."
During her three months in Turkey, she met a lot of impressive women, from foreign correspondents to influential community leaders. She says Istanbul lives up to its cliché as the crossroads of the East and West. Religious women in hijabs mix with women in business power suits – "I didn't notice any barriers based on what they wear," she says.
Having connected with the organizations and the women involved during her time in Turkey, Jennie says she is able to continue her internship remotely.
One of her FPI roles is to seek out women authors and connect with them to share their stories online; she recently interviewed journalist Kim Barker, whose book, The Taliban Shuffle, inspired the movie "Whiskey Tango Foxtrot" starring Tina Fey.
She also works on FPI's "Interruptor Series," interviewing women involved in foreign policy for the FPI website and newsletter. She recently interviewed Natalie Sambhi, a research fellow at the Perth USAsia Centre, where she publishes on Indonesian foreign and defense policy, and Southeast Asian security.
"There's a lot of work yet to be done to elevate women's voices – as journalists, as quoted experts and as story subjects," says Jennie.