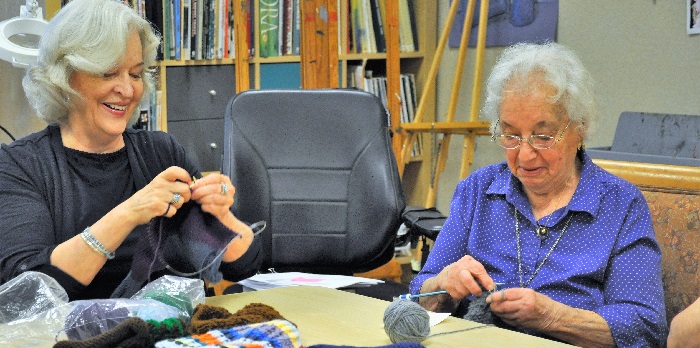 PHOTOS: Above, Julie Anne Feinstein, left, and Annette Gerard knit and chat during a recent gathering of Purls of Wisdom. Below, Marion Ross knits outfits for infants at Doernbecher Children's Hospital. Photos by Deborah Moon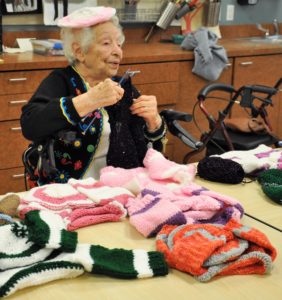 Twice a week, three to eight women gather in the art room of Rose Schnitzer Manor and knit, chat, laugh and exercise their hands. The treasures they create keep homeless people warm and cover the heads of women undergoing chemotherapy. (see related story)
Annette Gerard has coordinated the Purls of Wisdom group since moving to the manor about eight and a half years ago. Since then, the group has donated more than 3,100 items to local charities and organizations such as Raphael House, Central City Concerns, homeless organizations and Compass Oncology.
Annette began knitting as a child when she made some of her own clothes for school. "I can give back to people in need. And it is social; this is a nice group – we knit, we meet, we work."
Some of the women are lifelong knitters and others dabbled in knitting when they were children and took it up again when they moved to the manor. Purls of Wisdom provides friendship and the chance to do something to help others.
Julie Anne Feinstein, who has lived at Cedar Sinai Park for 15 years, says knitting is relaxing, and "It is wonderful to have our things dispersed throughout the city; you feel good you still make a contribution."
One member, Marion Ross, knits complete outfits – hats, sweaters and booties – for infants at Doernbecher Children's Hospital. This fall she sent a box of 56 outfits to the hospital.
Marie Godfrey moved to RSM a year ago and joined two groups: Purls of Wisdom and the RSM Choir. She still enjoys both, but is happy that the hats and scarves keep homeless people warm.
Faye Roth says she has a tremor and knitting "keeps my hands doing something."
The group relies on donations of yarn and knitting needles. Donations can be dropped off in the RSM Lobby at 6140 SW Boundary St., Portland.