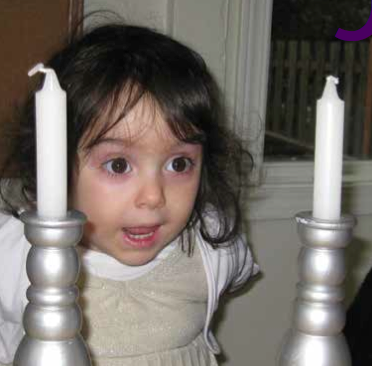 Last February my family was about to sit down to Shabbat dinner. As we gathered in the dining room and took our seats, my then 5-year-old son, Leo, was nowhere to be found. My wife and I called out his name, and suddenly he emerged from his bedroom, running up to us with a big smile on his face. All by himself, he had managed to put on his button-down shirt, black pants and dress shoes, and completed his ensemble with a clip-on tie and kippah! beaming with pride, he exclaimed, "I wanted to dress up for Shabbat!" At 5, he "got it." Shabbat is special: a day to celebrate life and family.
If Shabbat has kept the Jews more than the Jews have kept Shabbat, it is especially true for families with young children.
Consistently observing Shabbat has been instrumental in helping our children forge strong Jewish identities from an early age. The rhythm of their week is punctuated by that one moment of Zen when the family comes together to say the blessings and break bread.
Young children really groove on structure and ritual, and Shabbat provides both in abundance. As soon as my 4-year-old, Sela, notices me setting up for Shabbat she wants to pitch in. Her special jobs are to choose two candles, which I put into our silver candlesticks, and to carefully lay over the challah three covers that the kids decorated at religious school. These are simple to make and give kids a real sense of pride, as their handiwork becomes part of every Shabbat. (using a translucent white fabric and a Shabbat template from the Internet, your child can trace the design with colorful permanent markers.)
After the kosher grape juice and Manischewitz are poured, we turn off the TV, dim the lights and take our seats. The candles are lit (our kids get a kick out of blowing out the match), we wave the light in three times and welcome Shabbat into our home. We raise our cups high as we sing the Kiddush. A cacophony of clinking cups generally ensues as the kids shout "L'chaim" and merrily drink their juice. As we touch the challah and chant the hamotzi, a tangible connection is made with the bread that sustains us, G-d who created the ingredients necessary to bake it and with each other.
One of Shabbat's many blessings is the respite it can bring from the digital age. Put down that smartphone, iPad or whatever else is distracting you, and read a book with your kids. After all, the Jews are the "people of the book," not the people of the Kindle! The Children's Illustrated Jewish Bible by Laaren brown is an excellent introduction to the Torah. It's Challah Time! by Latifa Kropf will teach your child the fine art of baking challah. My First Shabbat Board Book by Clare Lister is perfect for babies and toddlers. A truly delightful book is Shabbat Can Be by Raymond A. Zwerin and Audrey Friedman Marcus. This 1979 title is out of print but is still readily available from used booksellers. This book perfectly encapsulates everything that
is special about spending Shabbat with your family, and the illustrations by Yuri Salzman are classic. Dig those groovy '70s sideburns on the hip young rabbi! Mark Shulman's Bagel Books are another fun way to spend a Saturday morning. These clever books are aimed at toddlers but are fun for everyone, using pictures of bagels for learning shapes, colors, opposites and counting. Sit down with your little ones and a dozen bagels, and let your imagination run wild!
As any parent of young children can attest, kids crave your undivided attention. When I am about to leave for work and am asked, "Daddy will you play with me?" my Jewish guilt inevitably conjures up a "Cat's in the Cradle" scenario, with my kids all grown up and too busy for me. Why not make Saturday a dedicated day for a family walk or trip to the park after the morning soccer game? If you have musical instruments, bust them out and play some Shabbat songs. "Shabbat Shalom (bim bam)," "The Dinosaur Song" and "Shabbat is Here" are all Shabbat classics. "My Sweet Lord" by George Harrison is another fun one to sing along to. Whether or not you attend services, make it a day all about family.
When three stars appear in the sky, it is time to conclude your Shabbat with Havdalah. This brief service brings a sense of closure to your observance and provides a moment of transition between Shabbat and the rest of the week. Our children delight in passing around the spice bags they made at preschool and listening for the telltale crackle of the braided candle's flame as it is extinguished in the wine. Spice bags and spice boxes are easy to create, and instructions for making them can be found at kveller.com. Watching their dreamy smiles as they inhale the spicy aroma is enough to make every week a Shavua Tov, or a sweet week!