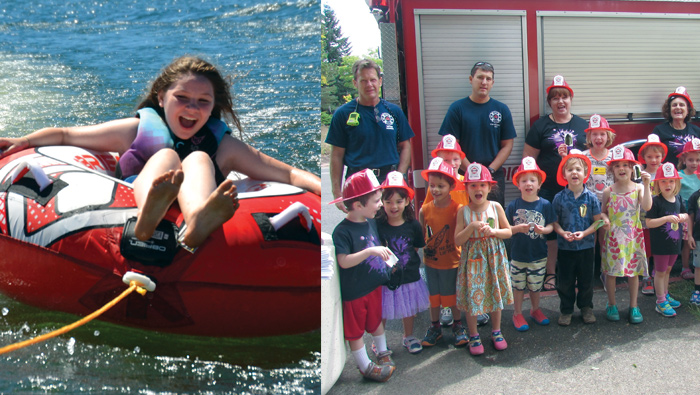 The calendar may insist that it's still winter, but summer will be here before you know it. It's not too early to start thinking about how your kids are going to spend their summer. If you're considering summer camp, those slots are filling up fast, so start looking now to find the right camp for your child, one that will provide a fun, exciting summer while building skills and creating memories that will last a lifetime.
For generations of children, attending summer camp has become a rite of passage as American as apple pie, and Jewish children are no exception. The benefits of camp are self-evident. Campers can discover new passions, develop skills, gain confidence and create lifelong friendships.
For some children, sleep-away camp may be the first time they have been away from home for an extended period of time. This separation is healthy and helps build self-confidence and a sense of independence. For city kids, camp puts them in touch with nature in a way they may never have experienced before.
For many of us, our memories of camp consist primarily of making lanyards or singing songs around the campfire. That type of camping experience is still popular, but in recent years there has been an explosion in the number of specialized camps that cater to a specific skill or interest. Examples include computer camp, science camp, Lego camp and, hey, remember that one time at band camp?
If you decide to send your children to a Jewish summer camp, the Pacific Northwest is blessed with a plethora of top-notch Jewish camps. Jewish summer camps help strengthen the bonds of the community by bringing Jewish kids together in a fun and healthy environment.
A 21-page report from the Foundation for Jewish Camp in 2011 concluded: "What do children bring home with them from a stay at Jewish overnight camp? The analysis indicates that they bring, first of all, an increased inclination to practice Jewish behaviors in their lives, from Shabbat candle lighting to using Jewish websites, and to appreciate the value of Jewish charity. Secondly, they bring an increased inclination to value and seek out the experience of Jewish community. These acquisitions will enrich the lives of campers now and in their adult future."
B'nai B'rith Camp, located on the Oregon coast, has been attracting campers from across the west for nearly a century. A seamless blend of Jewish culture and traditional summer camp activities, BB Camp has become a home away from home for its campers and counselors.
My wife, Leslie, was both a camper and counselor at BB camp, and her parents were counselors, as well. Now that we have children of our own, they are BB campers, too. BB camp has become a legacy for many families, the very embodiment of the Hebrew concept of L'dor v'dor or generation to generation. In Leslie's words, "BB camp is a gift. If you're lucky enough to go as a camper or work there as staff, you experience Judaism as in no other setting. Nature, sport, song, friendship, G-d all culminate in a way that made me feel the most Jewish I had ever felt."
My son, Leo, age 9, absolutely loved his BB camp experience and says, "BB camp has lots of fun activities, including swimming, camping outside, spending a day at the beach, inner-tubing, canoeing, watching movies, counselor skits and more!"
Camp Solomon Schechter has been creating memories since 1954 by weaving Judaism into the fabric of camp life on its sprawling property in Olympia, WA. With roots in the Conservative movement, this kosher- and Shabbat-observant camp provides a bucolic setting nestled among emerald-green forests, wetlands and the sparkling waters of Joshua Stampfer Lake. With activities running the gamut from ultimate Frisbee, arts and crafts, tennis, drama, lacrosse, music and dance, your child might not want to come home!
Jewish day camps can also provide an enriching experience for your child. Day camps at congregations have the additional benefit of deepening the connections among children that have been forged during the year in Hebrew school.
Jewish camps allow children the opportunity to experience and express their Judaism in a new way. At camp, children discover Judaism isn't just services and Hebrew school.  "Camp Sababa features creative and fun morning activities at our home of Congregation Beth Israel with afternoon field trips exploring the great Portland area," says Camp Sababa co-director Ziva Sholin. "With our attachment to Congregation Beth Israel, campers create year-round friendships that are able to grow throughout religious school. This connection fosters lifelong relationships between both campers and staff and continued Jewish involvement."
Melissa Haviv of Kalama, WA, describes how her 7-year-old son loves attending Camp Sababa. "Dylan has been to many different summer camps but has never before come home bursting to tell me all about his day. … Every day he has come home just beaming, running in the door, eager to share detailed stories about what happened at Camp Sababa. There seems to be a special kind of magic there."
In the 1950s, the Chabad Lubavitch movement created what has become the largest network of Jewish camps in the world. Gan Israel Day Camp is named after the founder of the Hassidic movement, Rabbi Israel Bal Shem Tov, who championed a campaign to love and look out for others.
"The basis of our camp is all about thinking about others," explains Rabbi Chayim Mishulovin, who runs the Portland Gan Israel Day Camp with his wife, Simi Mishulovin. "On a daily basis we do general things in song and activity that preaches putting others first, and in particular we do things like have the kids bring some change daily to give to tzedakah."
Gan Israel campers participate in meaningful projects such as making blankets for homeless shelters. Field trips are both fun outings and often have a social action component as well. Entertaining seniors, helping meet people's basic needs and visiting police and firefighters are among such outings.
Summer is also a time to explore new activities or become more proficient at a budding skill, with locales ranging from alpine to aquatic.
Think you can't hone your snowboard skills over the summer? Oregon is the only state in the contiguous United States to offer year-round, lift-serviced skiing and snowboarding on 11,249-foot Mount Hood. The High Cascade Snowboard Camp is located in Government Camp and offers snowboard lessons on the epic Palmer snowfield.
Sports enthusiasts have myriad options ranging from multi-sport explorations to single-sport skill-building. Google "sports camps" in your city, and you'll likely find thousands of options in seconds. The Portland area alone is home to The Harlem Globetrotters Camp, Rip City Hoops and the Nike Basketball Camps at Lewis and Clark College, and that's just basketball!
Those who attend a camp located near the water can experience exhilarating new activities such as waterskiing, wakeboarding and sailing. Camps with a ropes course, zip-line, or climbing wall help kids hone strength and endurance. Classic camp sports such as archery, softball, basketball and soccer give campers the opportunity to test themselves and discover new skills.
The possibilities are limited only by the campers' own imaginations.
Music camps also abound.
Summer Rocks held in the historic Alberta Rose Theater in Portland is essentially a weeklong version of the Sound Roots School of Music. This camp breaks kids up into bands based on their ages and skill level. At week's end, brace yourself for the mother of all rock concerts, starring your kid! Like AC/DC once sang, "It's a long way to the top if you want to rock and roll!"
Perhaps you have a budding Steven Spielberg among your brood. Then Cinema Arts Camp in Tigard is just the ticket for your little director.
If your child dreams of becoming a veterinarian or simply loves caring for animals, there's a camp for that! Animal lovers can learn to respect and care for dogs and cats, or they can become advocates for endangered species.
The Oregon Zoo introduces campers to animals and habitats from around the world, while the Oregon Humane Society summer day camp plants the seed of empathy, creating future animal advocates, adopters and donors.
"In addition to spending time with shelter animals, our campers learn early on about things like animal behavior and body language, humane investigations and animal medical care," says Jessica Wiseley, of the humane society.   "All of this knowledge helps them to better understand and respect animals."
The best summer camps will not only help your children to become better Jews or better people, but will also show them that they can make a difference, maybe even change the world. Tikkun olam or "repair of the world" can be practiced every day, even if it is something as simple as making a new friend.
No matter the camp experience you choose for your little ones, one thing is certain, the sky's the limit!