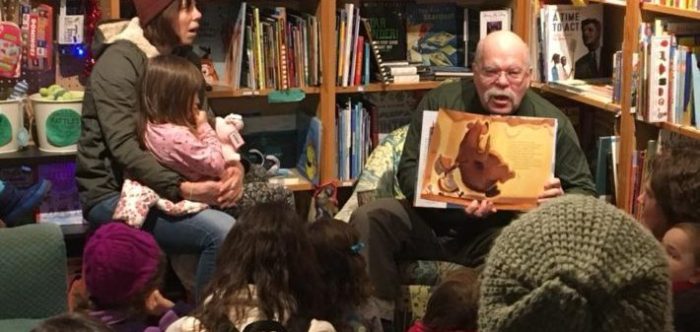 PHOTO: Eric Kimmel returns to Green Bean Books on Dec. 2 for his annual Hanukkah reading for PJ Library.
NOV. 14
PORTLAND JEWISH ACADEMY OPEN HOUSE: 10 am at PJA, 6651 SW Capitol Hwy., Portland. Come tour the campus, meet the faculty and see the school that is an inclusive community school providing a rich Judaic and secular education for children from 6 weeks old through eighth grade. 503-244-0126
DEC. 2
PJ LIBRARY HANUKKAH READING: 11 am at Green Bean Books, 1600 NE Alberta St, Portland.  rachelr@jewishportland.org or 503-892-7415
DONUTS + DANCING: 2-4 pm at the Mittleman Jewish Community Center, 6651  SW Capitol Hwy., Portland. Make decoration, enjoy Israeli dancing and eat sufganiyot at this family-friendly Hanukkah celebration. $10/family. oregonjcc.org/donuts
DEC. 6
HANUKKAH JEWISH HERITAGE NIGHT: Jewish Heritage Night returns to the Moda Center as the Trailblazers take on the Phoenix Suns on Dec. 6, the fifth night of Hanukkah. Chabad of Oregon and the Portland Trailblazers have partnered to present the event eight times since 2007. The night features a pre-game menorah lighting and Hanukkah party in the concourse, limited edition Hebrew Trailblazers T-shirt giveaway and post-game free-throw shots. Tickets: RipcityChanukah.
eventbrite.com; group tickets: Rabbi@JewishNortheast.com.
VACATION DAY CAMPS
BB CAMP PORTLAND VETERANS DAY CAMP: Spend your vacation days at camp! Campers and friends in Kindergarten – Grade 5 are invited to join BB Camp Portland for a day of camp fun. Come for camp favorites such as cooking, art, and gaga. Kindergarten-Grade 5. Nov. 11, 9 am-3 pm, at Congregation Shaarie Torah, 920 NW 25th Ave., Portland. http://bbcamp.org/vetday/
MJCC VACATION DAY CAMPS: Need something for your kids to do during school breaks? Keep them busy and having fun at the MJCC with sports, swimming, gymnastics, arts and crafts, games and more! Ages 3-11.  Nov. 12, 19, 20, 21; and Dec. 21, 26, 27, 28 and 31 (half day only). All other days have two options Half Day (8 am-1 pm) or Full Day (8 am-5:30 pm). Mittleman Jewish Community Center, 6651 SW Capitol Hwy., Portland.  https://www.oregonjcc.org/camps-childcare/vacation-camps
ONGOING:
SUNDAYS
PJ Library North Portland Story Hour: 9:30 am Sundays at New Seasons Market, 3445 N Williams Ave., Portland. Share in a weekly intergenerational story hour for young families with music, PJ Library books. (No story hour Nov. 25 and Dec. 23 and 30. rachelr@jewishportland.org or 503-892-7415
WEDNESDAYS
CHAI BABY + PJ LIBRARY INDOOR PLAYGROUND: 10 am-noon, second Wednesdays at the MJCC, 6651 SW Capitol Hwy. For parents and their children up to 5 years old. Playing and kosher snacks. Free. 503-244-0111
THURSDAYS
PJ STORY HOUR YAD B'YAD: 11 am, Thursdays. Cedar Sinai Park, 6140 SW Boundary St., Portland. Share in a weekly story hour for young families with music led by Kim Schneiderman and PJ Library books. rachelr@jewishportland.org or 503-892-7415
FRIDAYS
FOURTH FRIDAYS WITH RABBI EVE POSEN: 5:15-7 pm, fourth Fridays. Welcome Shabbat with music and stories for ages 0-6. Potluck dinner follows. For location: 503-246-8831 or eposen@nevehshalom.org
SATURDAYS
TOT SHABBAT WITH MINI MENSCHES: 9-10:30 am, first and third Saturdays at Congregation Beth Israel, 1972 NW Flanders, Portland. Music, dancing and fun for the youngest congregants. 503-222-1069
SHABBAT STORYTIME: 9:45-10:15 am, second Saturdays, at Congregation Shir Tikvah, 7550 NE Irving St., Portland. Stories, songs and crafts for toddlers and their caregivers; older siblings welcome. Stay afterward for bagels and coffee with Rabbi Ariel Stone. Free. 503-473-8227
KESSER KIDS' TIME: 10:45 am-noon every second and fourth Saturday at Congregation Kesser Israel, 6698 SW Capitol Hwy., Portland. Games, songs, learning, food activity for ages 2-11. Free. 503-222-1239