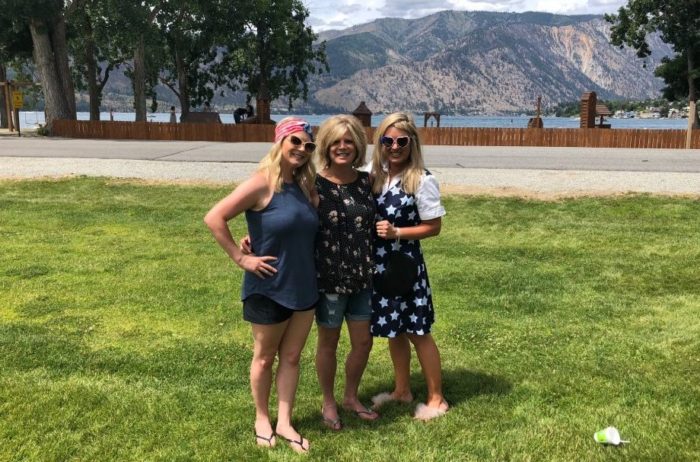 PHOTO: Cindy Meyer (center) with her daughters, Angie, 38, and Alicia, 32.
Vancouver, WA, resident Cindy Meyer needs a kidney and she faces long odds.
Cindy has 99% antibodies, which means that the antibodies in her blood would react to and reject the kidney from 99% of the U.S. population. That means Cindy needs as many people as possible to be tested as a possible match.
"I have had over 45 people test for me and have all been rejected," says Cindy.
Cindy has lived in Vancouver for the last 20 years, but frequently attends High Holiday services in Seattle where her four sisters and mother live. On a recent visit to Seattle, her hopes for a kidney were buoyed when she joined the eighth 'kidney-versary' celebrating her cousin Lea Hanan's kidney donation to her father Albert Behar.
"It is so cool to see the two of them celebrate on their kidney anniversary," says Cindy.
Lea also brought Cindy's plight to the attention of her friend Chaya Lipshutz, an Orthodox Jewish woman from Brooklyn, NY, who donated a kidney altruistically and now has a matchmaking website (KidneyMitzvah.com) to unite kidney donors and recipients.
"My goal is try to help as many people as possible, of all races and religions, who are in need of a kidney and to try to find kidney donors for as many people as possible," Chaya wrote on her website.  "I hope through this website I would be able to encourage more altruistic living kidney donation. I don't get paid for doing this and don't charge a fee."
Cindy found out she had kidney disease a little over four years ago.
"Over the last four years it had gotten progressively worse," says Cindy. "I was listed on the transplant list at OHSU in Portland a year ago in January. … I then was listed at the University of Washington in Seattle this past January."
Cindy is the mother of two daughters: Angie, 38, who lives in Meridian ID , and Alicia, 32, who lives in Auburn, WA.
"I have a grandson, Hudson. He is 5 years old and is the apple of my life. He lives in Meridian, Idaho."