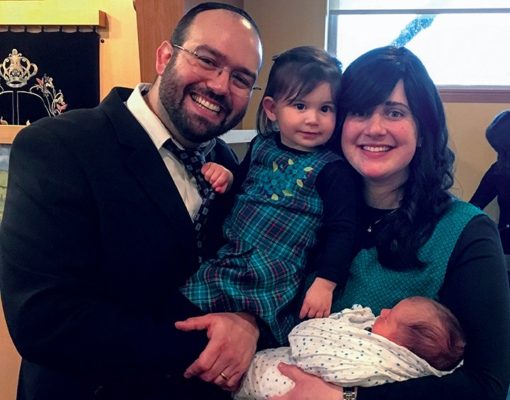 By Leanne Dall
My family joined Congregation Kesser Israel 20 years ago. As immigrants from South Africa, my parents appreciated the committed and welcoming community, as well as the traditional services.
At that time, the 100-year-old synagogue was in its original location in South Portland, where it had been founded by immigrants who were committed to establishing an Orthodox synagogue. My brother, sister and I became part of the "Kesser Kids," and our weekly synagogue visits on Shabbat served as an infusion of Judaism into our lives.
In 2006 Rabbi Ken Brodkin led the community in a move to the heart of the Jewish community in Southwest Portland, making Kesser more accessible as a center of Jewish life. Initially, during its transition, Kesser held services at the Multnomah Arts Center, and for the first time in my life, I realized that Kesser Israel was more than just a synagogue – it was a community.
Kesser purchased its current building in 2007.
Shortly after the congregation's move, I left Portland to attend university in Montreal and Toronto. Wherever I went, I told people about my community back home, Kesser Israel, and its unique role in Portland as an Orthodox synagogue serving Jews from all backgrounds. When I moved back in 2014 with my husband, I was impressed to find that since Kesser's move, the community had grown tremendously.
Today, we have outgrown our building. Now 125 member families span all ages and demographics. Every Shabbat morning, the stroller parking area is full, on Chagim it is standing room only in the sanctuary, and the crowded weekly Shabbat Kiddush is replete with treats and conversation. As my daughter plays with her friends, singing Jewish songs and Tefilot at "Kids' Time," the children's program, I reflect fondly on my time running around the old Kesser social hall with my cousins and friends.
Holidays at Kesser are also an experience, complete with spirited services, community celebrations (such as the Chanukah Bash and Sukkot Falafel Fest) and kids' programming. Kesser is the place where my family celebrated my bat mitzvah, my mother's wedding, our daughter's naming and our son's bris.
We love participating in the community's simchas. My husband attends the minyan daily, and there is a full calendar of Torah study programs.
Kesser also meets everyone where they are with year-round programming such as the summer BBQ. This comprehensive experience makes Kesser Israel an integral part of the Portland Jewish community and is what inspired new members, Amy and Adam Sohn, to choose Kesser Israel. "Kesser is a community, education center, social platform and source of inspiration," they say. "Kesser is a special and diverse synagogue that impassions us to build our Jewish identity and that of our children. We grow with every event and holiday." My own family's experience is similar. Every day, we take advantage of what the Kesser community has to offer.
Today, Kesser's growth has brought it to another crossroads: the congregation has plans to significantly expand its building.
Kesser Israel is engaged in a capital campaign to raise a minimum of $1.5 million. During the silent phase of the campaign, more than $900,000 has been raised. The public phase of the campaign will launch at a community open house Jan. 11. This adult-only event will feature renderings, details of the planned renovations, an open bar and hors d'oeuvres.
The building plans include renovation of the current facility into programming space and building a new and larger onsite sanctuary. There will be classrooms, a Jewish children's library and programming space.
"Our goal is to build a synagogue for the Portland community where we will inspire Jewish lives for many generations to come," says Rabbi Brodkin.
Sharon Stern, a lead philanthropist in the campaign, says, "Our family has always supported community building in Portland. We could not think of a more fitting way to honor our father Jerry Stern's blessed memory than by participating in this project and helping expand Kesser Israel's capacity as a vital part of our Jewish community." A couple of months ago, I couldn't help but smile as my 2-year-old glowed with pride over the decorations she made and hung in the Kesser sukkah. I know that Kesser Israel now provides my family with so much more than a weekly infusion of Jewish pride. At a time when American Jews are facing an identity crisis, I turn to Kesser Israel as the base of my family's Jewish existence, and when I do so, I know it is so much more than a synagogue.
Kesser Israel Open House
Capital Campaign Kickoff Celebration
All adults welcome
Thursday, Jan. 11, 7-9 pm
Congregation Kesser Israel, 6698 SW Capitol Hwy., Portland
RSVP by Jan. 3 to kesserisrael.org/campaign