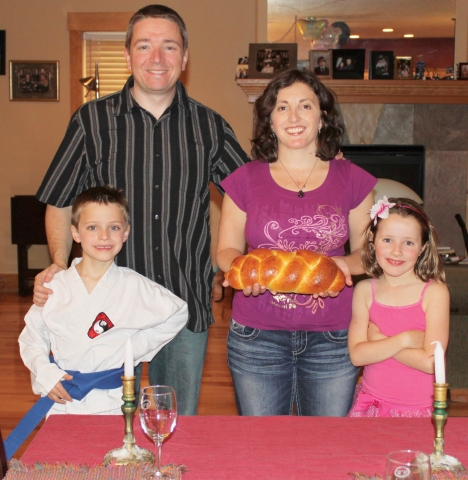 You could call them modern Jewish pioneers or parents struggling to keep tradition alive. Like parents in any town far from a synagogue, Hood River residents find it hard to raise their children with a sense of Jewish identity.
For about 20 years, Columbia Gorge families have had a little help from "The Keeper of the List." According to Emily Kohner, the keeper is a cheerleader for celebrating holidays, a contact person and an opportunity to stay connected. About 30 families now populate the list. Emily, a teacher and single mom of 14-year-old Victoria, is the current keeper.
Growing up in Shaker Heights near Cleveland, Emily says, "Judaism was always in my DNA." In 1992, after graduating from the University of Michigan, Emily decided to move west. When she interviewed for a ski patrol job at Mount Hood Meadows, the interviewer suggested she check out Hood River. The attraction was instant; now it's the place she calls home.
When Emily married Jeremy, they agreed they would not celebrate Christmas and she told her mom they would not raise their child with any religion.
Yet even before Jeremy passed away when Victoria was 11, the couple had changed their minds. Asking herself how she wanted to parent, Emily discovered that "Judaism is a conspiracy for effective parenting. All the holidays have the touch it, smell it, taste it and listen to it element. This is all engaging."
She likes the fact that "Judaism was the year-around marking of the seasons. Judaism offers so many opportunities to show appreciation and gratitude."
As she was considering her parenting options, her mom in Ohio told her about a family friend who lived in White Salmon. So 10 years ago, Emily called the Schwartz family and was invited to a Break the Fast where she met other Jewish families. Emily and the Wiesfelds were soon carpooling twice a month to Havurah Shalom for Shabbat School. Victoria now goes to Camp Miriam in Canada each summer.
Occasionally Emily gets a call from someone inquiring about schools and Jewish life in the Gorge.
One such call was from the Trager family.
Three years ago, Eric, now a manager for Google in The Dalles, and Rebecca, a freelance science writer, moved from Washington, DC, to "The Hood," as the locals call it.
Rebecca remembers Emily describing Hood River as a different kind of religious environment. People are more into their spirituality, which many find – windsurfing, skiing, biking, being in the outdoors.
When the Trager twins were in preschool in DC, Eric and Rebecca didn't have to think about Jewish life; they just flowed with the school's agenda. Moving to Hood River meant becoming proactive.
Two Saturdays a month they drive to Portland for Shabbat School at Havurah Shalom. Rebecca notes the reality of being a parent is different from talking about theoretical children before marriage. Raised a Catholic, Eric was turned off by all religion. Now Rebecca says Eric is learning to enjoy Judaism.
Until this year when Knead Bakery started making challah, Rebecca says she would buy Pillsbury French rolls and braid them into challah for Shabbat.
Will the Tragers stay?
A big part of the decision is the Jewish part. Rebecca knows it is not easy being Jewish in a town with no organized Jewish community. All their family is on the East Coast. They want their kids to have a Jewish identity, and that is difficult in Hood River. For now, Rebecca and Eric treasure their time in "The Hood," whatever the future brings.
Gloria Hammer divides her time between Portland and Hood River.