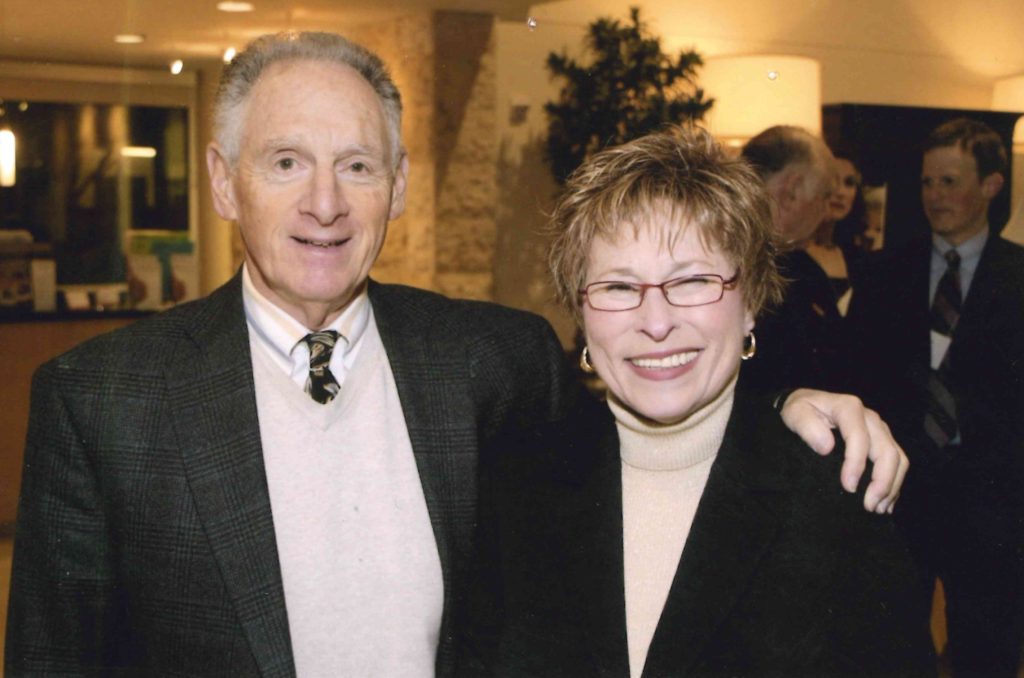 PHOTO: Garry and Judith Kahn
By Priscilla Kostiner
Judith and Garry Kahn's commitment to community will be recognized this month when they receive the Rabbi Joshua Stampfer Community Enrichment Award (see details below). The Kahns are well known throughout the community for the many roles they have played in both religious and secular circles.
The Rabbi Joshua Stampfer Community Enrichment Award was initiated by Dr. Merritt Linn (z"l) and was created in 1999 to honor Rabbi Stampfer on the occasion of the 50th anniversary of his ordination. The award is sponsored by the five organizations Rabbi Stampfer helped establish: the Institute for Judaic Studies, the Oregon Jewish Museum and Center for Holocaust Education, Camp Solomon Schechter, the Harold Schnitzer Family Program in Judaic Studies at Portland State University and Congregation Neveh Shalom, where he served for 40 years. The purpose of the award is to honor an individual(s) or organization that has enriched Jewish culture, educational and/or community life with the dedication that is exemplified by Rabbi Stampfer. The honoree(s), chosen by a committee of past awardees and the five organizations noted above, can be Jewish or non-Jewish, living or deceased, and can be recognized for lifetime achievement or for a specific project.
Judith Kahn, a Portland native, says that her focus in life has always been family and community. She holds a degree in teaching ESL and Spanish. In addition to her teaching career, Judith was the administrator for Camp Solomon Schechter for six years, the program director for USY and the Shabbat Club at Neveh Shalom, and the executive director of the Oregon Chapter of the American Jewish Committee.
Judith served as president of the Portland/Ashkelon Sister City Program, which was initiated by Portland's City Hall. She also chaired Portland's Jewish Federation Partnership 2000 with Kiryat Malachi and Hof Ashkelon. Together, she and Garry participated in SAR-EL, the National Project for Volunteers in Israel.
Judith has a deep love of education. She served on the Board of the Jewish Education Association and was co-president of the Melton Jewish Education Board, receiving the Song of Miriam Award in 2014 for her work with that organization. Presently she's on the board of the Institute for Jewish Studies, serving on the Education Committee. Judith is a perpetual student who continues to study at PSU.
Garry Kahn was born in San Francisco. The family moved to Portland in 1945. After graduating from Grant High School, Garry spent three years in the U.S. Marine Corps. Back in Portland, he attended college at PSU and law school at Northwestern College of Law.
Garry's career as a trial lawyer spanned 54 years, during which he volunteered in various capacities including many committees of the Oregon State Bar. He was active in the Oregon Trial Lawyers Association (president 1968-69) and the Western Trial Lawyers Association (president 1972-73). He was elected to the Oregon State Bar Board of Governors (1986-89). He served as president of the Oregon State Bar (1988-89). Garry was appointed by Governor Barbara Roberts as a Judge of the Multnomah County Circuit Court, State of Oregon, in 1991. He resigned after two years, returning to private practice. Since retiring in 2016, Garry has worked part time as a pro bono lawyer representing clients referred by Oregon Legal Aid Services.
In the 1980s, the Kahns sponsored a 12-member refugee family from Vietnam, providing shelter in their own home until housing and work could be found. They continue to work with international refugee programs as well as Meals on Wheels.
Judith and Garry married in 1959. They have four children and 10 grandchildren. They believe their offspring have become mensches, as evidenced by their sense of "giving back to the community." This is a Dor l'Dor family, as one generation teaches the next.
Rabbi Joshua Stampfer Community Enrichment Award 2018
Dinner and Award Presentation
HONOREES: Judith and Garry Kahn
WHEN: 6 pm, Oct. 25
WHERE: Congregation Neveh Shalom, 2900 SW Peaceful Lane, Portland
COST: $60
RSVP: to Marg Everett, meverett@nevehshalom.org or 503-293-7318
PAST RECIPIENTS: Rabbi Joshua Stampfer, Hershel Tanzer (z"l), Jerry (z"l) and Helen Stern, Milt Carl (z"l), Henry Blauer (z"l), Victor and Toilette Menace, Shirley Tanzer (z"l in memoriam), Alan and Eve Rosenfeld, Irwin and Renee Holzman, Madeline Nelson (z"l) and Family, Min Zidell (z"l) and Family, Ruben and Elizabeth Menashe, Priscilla Kostiner, Merritt Linn (z"l), Arden and Lois Shenker, James Winkler, Jakob Kryszek, Paul and Alice Meyer, Gary and Carolyn Weinstein, and last year, Dr. Jill Ginsberg, Tracy Oseran and Sharon Strauss.