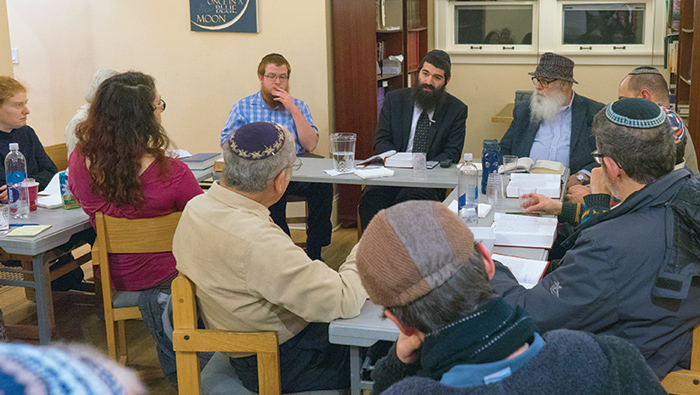 It started as a 10-week class – but nobody wanted to stop. That's why Kabbalah of the Soul is celebrating its first year with no end in sight. Led by Rabbi Shneur (pronounced Shnare) Wilhelm and taught each Monday evening at Chabad House on Southwest Vermont, the class inspires everyone who comes – and even many who don't.
Each class is recorded and posted on the Soundcloud website (soundcloud.com/kabbalah-of-the-soul). More than 2,000 people from places such as Brazil, the United Kingdom, France, Israel, Russia and Turkey have tuned in.
Based on the Tanya, a book written by Rabbi Shneur Zalman of Liadi (1745-1812), the founder of the Chabad-Lubavitch movement, the class examines the big question: "What am I and what is my potential?" This is done in a practical and accessible way.
"The Kabbalah is deep and difficult unless it's explained," Rabbi Shneur says. "The Tanya is the practical application of the Kabbalah to our day-to-day life. The class is not something out of this world. It's taking the lofty and inaccessible and making it applicable.
Jim Stone has been curious about the Tanya for many years, so he welcomed the chance to learn. "This class provides insight into the Kabbalistic side of Chabad," he says. "It's stimulating and gets you thinking. The people in the class are very friendly, and there are always snacks. I can't believe it's been a year."
Melissa Bloom has also participated since the class began. "We are going though the Tanya chapter by chapter, verse by verse," she says. "Rabbi Shneur does an amazing job by not only focusing on the week but also encouraging spontaneous questions and discussions. I've taken breaks. Over the summer I couldn't go for the most part, but when I came back I didn't feel lost.  Anyone on any Judaic level can jump in and walk away inspired. Every week, I have something to talk about over Shabbat dinner."
Join Rabbi Shneur for Kabbalah of the Soul each Monday from 8:15 p.m. to 9:00 p.m. at Chabad House, 2317 SW Vermont St., Portland. The class is in English, so no Hebrew is required. Men and women at all levels of Jewish experience are invited to drop in; suggested donation is $5. For more information, visit soundcloud.com/kabbalah-of-the-soul or email rabbishneur@chabadoregon.com.