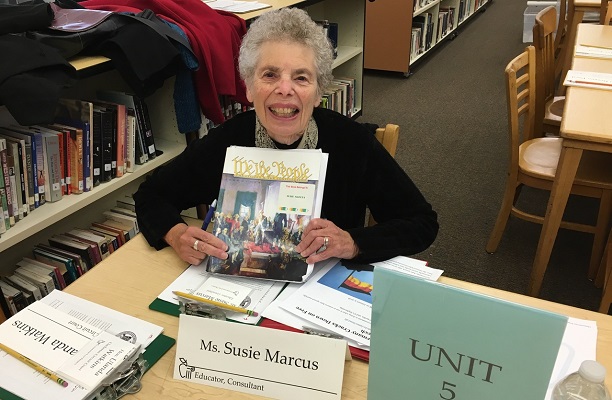 "Classroom Law Project is a nonprofit organization of individuals, educators, lawyers and civic leaders building strong communities by teaching students to become active citizens." Classroomlaw.org
When Susie Marcus graduated from Grant High School and headed to Stanford in 1954, college girls, she says, could either be teachers or librarians. So she graduated in 1958, got her master's degree in education at the University of Oregon and landed a job teaching American history at Madison High School. A move to Bridlemile to teach Spanish followed, and then on to West Sylvan to teach Spanish and social studies. Susie added a law class to her teaching schedule and soon incorporated mock trials into the law curriculum because she was a teacher who believed in engaging her students in active class participation. She loved her job.
Governor Kate Brown's general counsel, Misha Isaak, was one of Susie's seventh-grade Spanish students in 1994. "She exuded enthusiasm every day, even for mundane vocabulary lists of animals or groceries," says the son of Congregation Neveh Shalom's rabbi emeritus Daniel Isaak.
Susie is also driven by the Jewish values with which she was raised. The active study of the Constitution is, she says, "all about helping kids look at issues with an eye to equality and respect. Put in context, the preamble to the Constitution, as it was designed, has a direct connection to the Jewish value of justice."
This has led to a lifelong calling. Through classes, mock trials and constitutional competitions, Susie teams with a variety of organizations and experts to help children learn how to ask the important questions, study the principles, use reputable sources to find the answers and arrive at the conclusions – and sometimes the next set of questions. It's a process she believes will yield the next generation of responsible citizens.
She also conducts workshops to teach teachers how to encourage active participation in their civics classes. In the 1980s, Susie was a coordinator for a program called We the People: The Citizen and the Constitution, funded by the Center for Civic Education. "1987 was the anniversary of the Constitution, and Chief Justice Warren Burger decided that kids should know more about the Constitution and the law," she says. "Congress agreed and began funding educational programs." Susie and Marilyn Cover, director of the Classroom Law Project, actually went to Croatia to teach educators how to teach about the law using activities rather than the lecture/notes/exam model. They created a mock trial program, she says, "with the help of two of their Supreme Court judges. It is still going on. They write cases every year with Croatian content, alternating each year between criminal and civil cases."
Now long retired, Susie continues to lead teacher workshops and coach students engaged in activities that bring the Constitution to life in schools across the state. She notes with pride that teams from both Lincoln and Grant high schools have won national titles at We the People's Constitution competition more than once. She attributes some of their success to ongoing, enthusiastic help from Oregon lawyers and judges – even Supreme Court justices.
"They give us so much time; they are always available," she says. "It tells the kids that the subject is important enough – that they are important enough – for these people to spend their time with students."
One of those consistent volunteers is Susie's former student, Misha Isaak of Governor Brown's office.
"I spend time working to prepare high school students for a civics competition, because a group of volunteer lawyers did it for me when I was in high school," says Misha. He has nothing but admiration for Susie's work. "Susie has brought her trademark enthusiasm to the arena of civic education. Working with high school students to prepare them for civics competitions, Susie is always a fount of knowledge and encouragement."
"At a time when it feels like cynicism about government is at an all-time high and knowledge about government is at an all-time low, it has never been more important to educate young people about our civic institutions," says Misha. "It's important. And it's also fun. And it wouldn't have happened without Classroom Law Project to bring it together."
United States District Judge Michael Simon is an active volunteer, as well. Susie admires that he speaks to the kids in a way that shows them respect. He in turn admires a lot about Susie.
"Susie is passionate about instilling an appreciation for every person's role in the continuing American experiment," says the judge. "She recognizes the urgent need to teach each generation anew that our system of constitutional, representative self-governance is immensely valuable yet also fragile. Her enthusiasm is contagious and inspiring."
Today Susie works with CLP Program Director Barbara Rost on a weekly current events newsletter that is available free of charge to Oregon teachers who subscribe to it. The goals, according to classroomlaw.org, are to:
Promote interest and dialogue about current issues.
Connect current issues and citizenship in a democracy.
Provide vetted resources to teachers and students.
Encourage civil discussion about the news by asking open-ended questions that reflect democratic values (such as justice, equality, responsibility, participation).
Stimulate a continuing awareness of events locally, nationally and globally.
Each packet includes questions to consider, vetted sources, lessons plans, and constitutional and legal connections. Recent subjects include net neutrality and Measure 101.
"Jerusalem is on my radar, but I want it to be more about the history: I don't want to fight the battle between the Palestinians and the Israelis," Susie says. "We focus on the rule of law, and it's difficult. The Constitution is like the Bible in that there's no way to know who is citing (it) correctly. The goal is to get a balance of source materials … to keep it so we are not partisan."
Lest you think that Susie is sitting around eating bonbons in her spare time when she is done with all this, she also leads a book club for teachers, through the CLP, that meets six times a year to discuss books with constitutional themes. Next up is Doris Kearns Goodwin's Lyndon Johnson and the American Dream: The Most Revealing Portrait of a President and Presidential Power Ever Written. In addition, she serves on the Board of Trustees of Cedar Sinai Park, chairs its board education committee, and serves on its executive and quality control committees. She is also CSP's representative on the Jewish Federation's Community Relations Council. She likes that the council keeps current with issues that "affect people's status, legal or otherwise. When we take a position against wage theft or any of a variety of issues, I see a huge connection between that and what we do at the Classroom Law Project."
Robert Kennedy once said, "The glory of justice and the majesty of law are created not just by the Constitution – nor by the courts – nor by the officers of the law – nor by the lawyers – but by the men and women who constitute our society – who are the protectors of the law as they are themselves protected by the law."
Susie Marcus is doing her bit to grow the next generation of protectors.
Liz Rabiner Lippoff is a marketing consultant, freelance writer and community volunteer. LizInk.biz