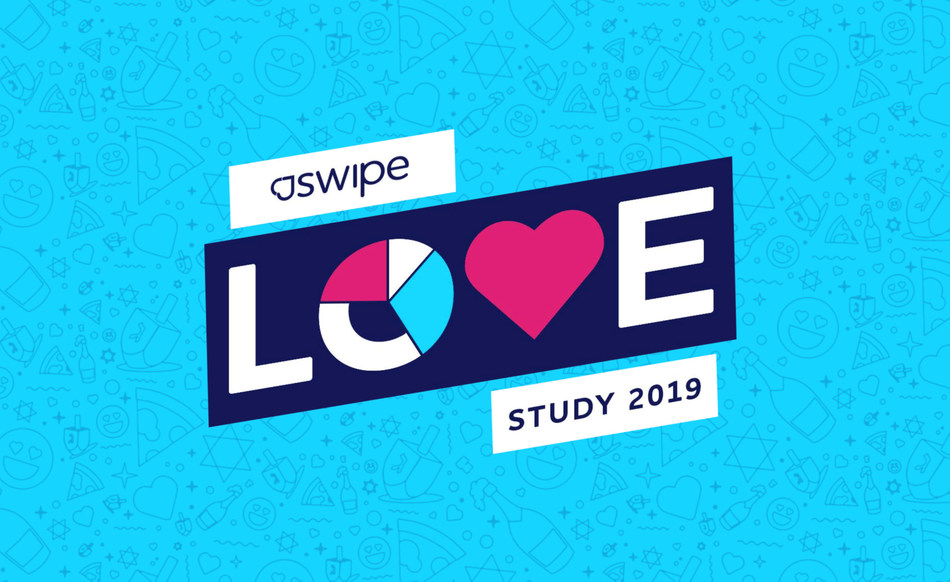 JSwipe has released its findings from the first-ever JSwipe Love Study – the largest and most comprehensive report on Jewish Singles from across the world exploring Jewish identity, Israel, modern dating, and the often charged topic of interfaith marriage.
They surveyed 4,000 Jewish singles in February 2019. The survey was made available to JSwipe users of all ages, allowing for the observation of trends between different age groups, with the majority of responses coming from their core 25-35 demo.
The world is a different place than it was just 10-20 years ago. Our sense of connection to each other and the world around us, how we go about finding love, and the role of organized religion in our lives all look very different than our parents' and grandparents' generations. Organizations, federations, and foundations across the Jewish world are struggling to understand and engage younger audiences. And yet, it's rare to find the establishment simply and actively listening to them. Much of the research on Jewish millennials is funded by organizations or individuals looking to validate a specific idea, program, or initiative.
JSwipe began this process to give people a voice. No agenda, no preferred outcome, nothing to prove – rather, to start a conversation with the generation rather than about them. As they became more aware of how unusual it was to have Jews of all backgrounds sharing space, in their case within the app, they felt called to step further into their role of "open tent," welcoming and celebrating ALL – one of their core values. It is through this lens that they now share a glimpse of what that looks like.
Some of the findings from the study are:
81% say their Jewish identity is important to them
87% practice Judaism in some form. With
69% celebrate Shabbat in some form
87% had a bar/bat mitzvah
48% went on a birthright trip
88% have been to Israel
80% believe in "true love"
50% feel pressure to get married
80% feel it's important to marry someone Jewish
81% say it's important that they have a Jewish wedding
The full report can be found at: http://JSwipeLoveStudy.com
What was most important to JSwipe in pulling together this study was to present the individual views, thoughts and experiences shared in the most pure, accurate and non-biased way possible. They originally intended to interpret the findings through a corresponding narrative layered throughout the report, but found that near-impossible to do without jeopardizing the ultimate intention of simply being a vessel to honor and amplify the voices of young Jews around the world. While acknowledging that surveying 4,000 JSwipeusers is not the same as a randomly selected sample of the Jewish population for us, this was more an exploration of the underlying concepts and nuances in language used to answer some of the contemporary Jewish world's most pressing questions. They hope that it sparks reflection and conversation between families, communities and generations.
About JSwipe
JSwipe is the largest and fastest-growing Jewish dating app with over one million users worldwide. Founded over Passover 2014, JSwipe is the #1 destination for Jewish millennials looking to find love and connection in their local communities and across the world. JSwipe is headquartered in NYC and is part of Spark Networks, one of the global leaders in online dating.