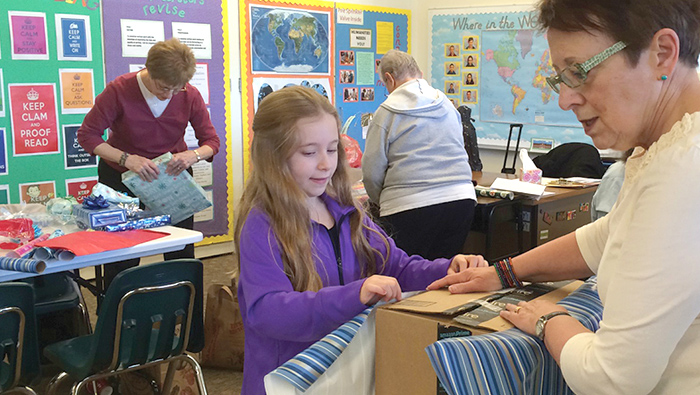 Come join the fun at the Mitzvah Menorah and Adopt-a-Family annual gift-wrapping jamboree. Held at the Mittlemann Jewish Community Center on Dec.18, this Jewish Family & Child Service and Cedar Sinai Park holiday event brings the community together to wrap and deliver gifts to others less fortunate than themselves. Families and groups are welcome.
The campaign began earlier this year by identifying needy families and helping them create wish lists just for them. Items include clothing, kitchen equipment and fun things for the kids. Community partners fulfill the requests, and by Dec. 18, it's time to wrap it up.
Former JFCS board member, Jennifer Zeidman, has helped out every year since 2012.
"Gift wrapping is a fun community event," she says. "It's held in a Portland Jewish Academy classroom filled with wrapping paper, scissors, tape and pens. The JFCS brings in a load of presents, and we label them Mom, Dad, 6-year-old boy… We don't know the names of the families receiving gifts, and not all are Jews. We have Hanukkah paper for celebrating Hanukkah and Christmas paper for Christmas. I've seen camping equipment, flashlights, sheets, towels, Crock-Pots – anything a family wants. After the gifts are wrapped, we hand them off to volunteers who drive them to the family's home."
Jennifer particularly recommends this event for families with children. "My daughter, Ruthie, has been involved for many years," she says. "She started by making cards to include with the gifts, and now she helps purchase and wrap. It's a great way to remind our kids to be grateful for what they have. It helps them recognize that others are less fortunate, and we can make their holiday a little brighter."
Adopt-a-Family present wrapping and delivery is Dec. 18. Gift wrapping is from 8:30 am to about 11:30 am, and driving and delivery runs from 11 am to about 1 pm. Each driver and delivery partner will deliver three or four gift bundles.
Volunteers must register by Dec. 14; contact Phoenix Barrow Cedar Sinai Park, Campus Volunteer Coordinator, 503-535-4055, phoenix.barrow@cedarsinaipark.org.
To see where you can make a cash donation or drop off gifts before Dec. 18, contact Carrie Kaufman at 503-535-4447, carrie.kaufman@cedarsinaipark.org.