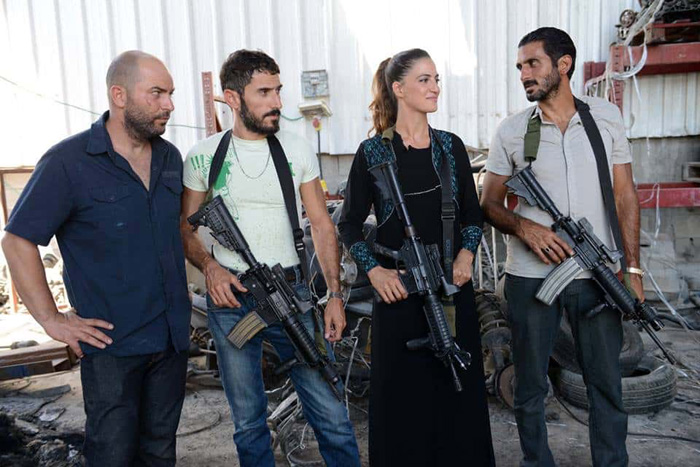 Photo: Lior Raz, Doron Ben-David, Rona-Lee Shimon and Tsahi Halevi on the set of "Fauda." Courtesy Rona-Lee Shim'on/IMDB
Stars of the binge-worthy Israeli Netflix hit series "Fauda" will be joining Jewish National Fund-USA (JNF-USA) and thousands of supporters across the country for the organization's annual Breakfast for Israel on April 18 at 10:30 am. While participants may have to BTOB (bring their own bagel) to this year's virtual breakfast, JNF-USA promises to deliver the same high-quality, star-studded complimentary event that community members have become accustomed to since the first annual Breakfast for Israel dazzled eventgoers in 2003.
According to The Wrap News Inc., "Despite the language barrier, "Fauda" (chaos in Arabic), somehow managed to break out of the dark corners of Netflix's foreign-language section and get noticed by both Hollywood heavy-hitters and New York Times TV critics." Guests who attend JNF-USA's 2021 Breakfast for Israel will hear from "Fauda" celebs, Tsahi Halevi who plays Naor and Rona-Lee Shimon who plays Nurit, live in studio — with Yoav Limor, a veteran military correspondent who has been covering the Middle East conflict for the last 33 years, moderating the interview and Q&A session. Today, Limor is the host of a morning show on Israel's Channel 2 Keshet, a defense commentator for Israel Hayom daily newspaper, and a regular contributor on i24 News.
In addition to her career as an actress, Rona-Lee Shimon is a trained ballet dancer who studied at the National Ballet Academy in Amsterdam. She also has extensive experience in Israeli theater, having performed the roles of Velma Kelly in Chicago, Anita in West Side Story, and Sally Bowles in Cabaret. In addition to his role in "Fauda," Tsahi Halevi also starred in the drama film "Bethlehem," which won an Ophir (Israeli Oscar) for Best Picture and he reached the finals in the first season of "The Voice Israel."
Event details:
What: Jewish National Fund-USA Breakfast for Israel
When: April 18, 2021 at 10:30 am PT
Where: Zoom. Register at Jnf.org/bfimountainstates
Cost: Free to attend
Questions about the event? Contact Boaz Meir, Executive Director, Mountain States and Pacific NW at bmeir@jnf.org or 303.573.7095 x977
Visit jnf.org/ondemand to view additional upcoming virtual events.